Chemical Hygiene Plan/Laboratory Safety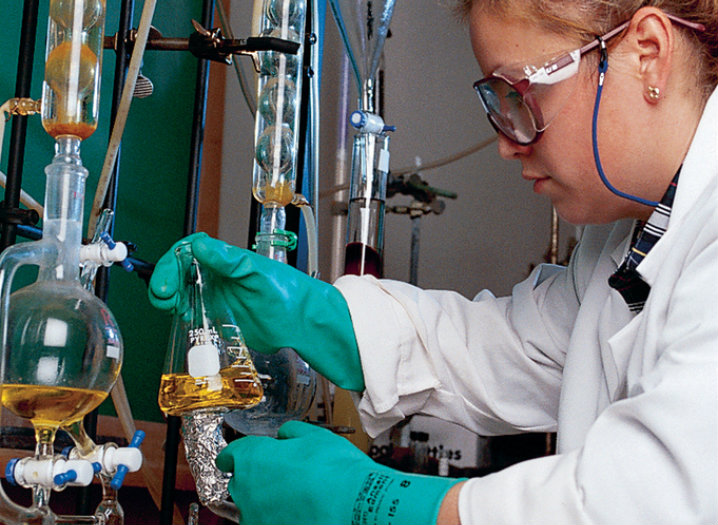 TWU is committed to protecting laboratory users from health hazards associated with the laboratory use of chemicals, as well as other laboratory safety hazards. To that end, TWU has developed a Chemical Hygiene Plan (CHP) that sets the minimum standards for all TWU laboratories, which also is in line with University Regulation and Procedure Number 04.430. Additional lab-specific procedures going above and beyond these minimum standards may also need to be developed for hazards not covered in the CHP.
Applicability
This program applies to all laboratory users working in laboratories, including TWU employees and students, as well as visiting scientists and laboratory personnel. All laboratory users are to follow the procedures set forth in the CHP. The employee supervising a student or other subordinate's activities is responsible for ensuring good chemical hygiene practices.
Laboratory users must follow all safe work practices, and complete all required training (both the TWU Chemical Hygiene training and lab-specific training required by the lab supervisor).
General Principles
The following principles guide the implementation of TWU's CHP:
Minimize all chemical exposure

- Because few laboratory chemicals are without hazards, general precautions for handling all laboratory chemicals should be adopted, in addition to specific guidelines for particular chemicals. Skin contact with chemicals should be avoided as a cardinal rule.

Avoid underestimation of risk

- Even for substances of no known significant hazard, exposure should be minimized; for work with substances that present specific hazards, special precautions should be taken. One should assume that any mixture will be more toxic than its most toxic component and that all substances of unknown toxicity are significantly toxic.

Observe exposure limits

- The Permissible Exposure Limits (PELs) of OSHA, Recommended Exposure Limits (RELs) of the National Institute for Occupational Safety & Health (NIOSH), and Threshold Limit Values (TLVs) of the American Conference of Governmental Industrial Hygienists (ACGIH) must never be exceeded.
Lab Safety Training
In accordance with the Chemical Hygiene Plan, all lab members must take lab safety training. The Lab Safety: Essentials module is required for all lab users who work in a research lab (regardless of whether they are an employee or a volunteer). Other modules may be required as well. In an effort to condense training, certain aspects of lab safety that may not apply to all labs are covered in other modules. These include compressed gasses, particularly hazardous substances, cryogenics & cooling operations, heating, vacuum, and pressure operations, and BSL-2 awareness. You must complete these modules if your lab contains these hazards even if you do not work directly with these hazards. Please consult your PI if you have questions about the hazards in your laboratory space/require assistance in determining which of the additional modules to complete.
The lab safety/chemical hygiene training program, including all modules, can be found in Bridge.
If you have further questions related to the training, or if you require reasonable accommodation to complete the training, please contact Risk Management at risk@twu.edu.
Additional Information
All laboratory users must be familiar with the requirements of the Chemical Hygiene Plan, including Hazard Communication.
If you will handle dry ice (including unpacking shipments containing dry ice), refer to the Dry Ice Factsheet for pertinent safety information. You must also complete the required Dry Ice Handling/Shipping training in Bridge.
For guidance on Reproductive Hazards, refer to TWU's Reproductive Hazards Guidance.
For guidance on responding to major or minor chemical spills, refer to TWU's Chemical Spill Response Guideline.
For guidance on hazardous/regulated waste, including links to the forms for waste pickup, refer to TWU's Hazardous/Regulated Waste page.
Templates for lab standard operating procedures can be found by clicking the button below.
The Office of Environmental Health & Safety (EH&S) functions as the Chemical Hygiene Officer and Radiation Safety Officer for TWU and should be contacted if you have any questions or concerns about laboratory safety.
Page last updated 2:49 PM, December 1, 2022