Ergonomics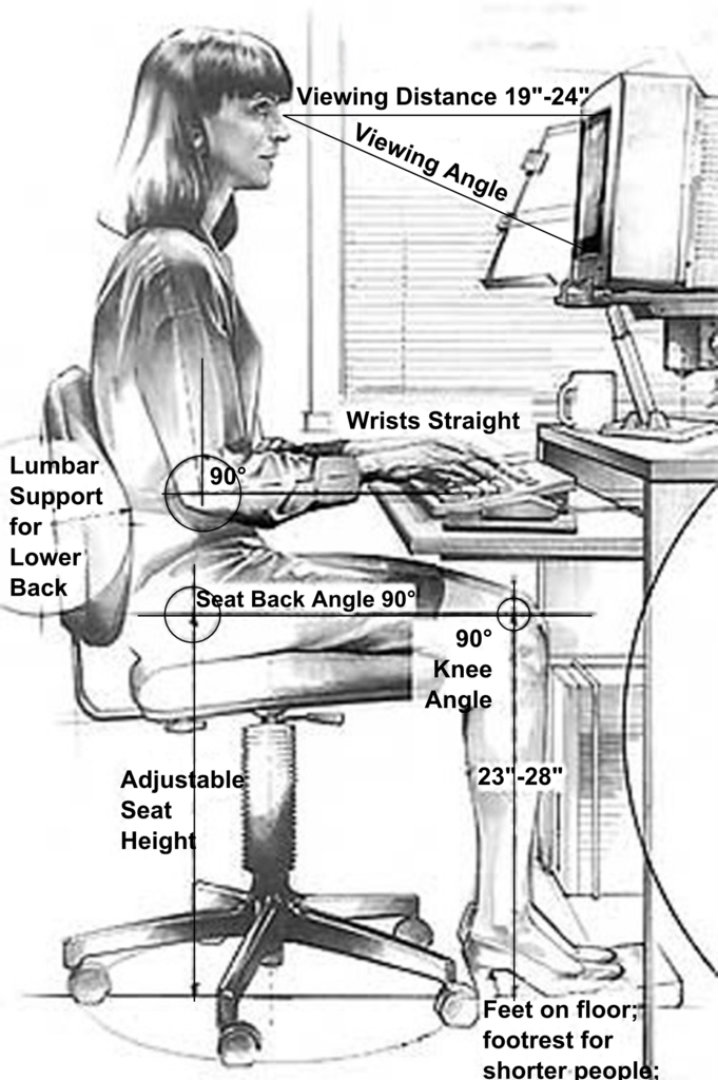 Ergonomics is the science of designing the job, equipment, and workplace to fit the worker. Proper ergonomic design is necessary to prevent repetitive strain injuries, which can develop over time and can lead to long-term disability.
Members of the TWU community that have concerns about the ergonomics of their work station, or any work tasks they perform, are encouraged to contact EH&S for an ergonomic assessment. If you are experiencing musculoskeletal discomfort or health issues that might be related to your workspace, or to ensure your workspace is ergonomically set up regardless of any issues, please fill out the Ergonomic Questionnaire.
See a short video about office ergonomics from the State Office of Risk Management, which is both humorous and informative.
Ergonomics and Telework
The COVID-19 pandemic led to an increased level of TWU employees working remotely. Employees who have never worked remotely may find that they have an awkward remote workstation. Ergonomics may be one of the last things on an employee's mind when shifting to remote work; however, it applies regardless of whether that workplace is an on-campus office or in a remote location. Working remotely does not negate the importance of proper ergonomics, which is essential to maintaining employee health.
If an employee finds themselves struggling to create a well-equipped, ergonomic remote workstation, Risk Management can help. This document is designed to give useful information on how to properly design an ergonomic remote workstation. If you would like a free virtual ergonomic assessment for your remote workstation, please complete the Virtual Ergonomic Assessment form.
If you would like any additional information on ergonomics, please contact EH&S at risk@twu.edu.
Please note that while EH&S does not furnish ergonomic equipment, an ergonomic assessment will allow EH&S to identify what beneficial changes can be made to an existing setup while providing professional recommendations about ergonomic equipment that may be presented to your supervisor or department head for consideration.
Page last updated 12:07 PM, May 18, 2022