Mobile Elevating Work Platforms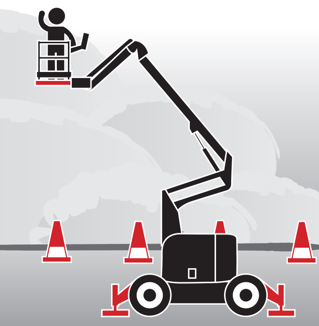 Training Requirements
A Mobile Elevating Work Platform (MEWP) is a machine/device intended for moving persons, tools, and material to working positions, consisting of at least a work platform with controls, an extending structure, and a chassis. MEWPs are classified into two groups:
Group A: MEWPs with platforms that move vertically but stay inside the tipping lines
Group B: All other MEWPs, typically boom-type MEWPs where the platform extends past the machine's chassis.
Under each group, they are then classified into types:
Type 1: Can only be driven in the stowed position
Type 2: Can be driven elevated but is controlled from the chassis
Type 3: Can be driven elevated but is controlled from the work platform
Types 1 and 3 are the most commonly used MEWPs.
Note: All Group B MEWPS require fall protection to be used. Do NOT use these without proper fall protection. Contact EH&S (940-898-4001 ext. 3) if you have questions or require assistance. Information about fall protection can be found on the fall protection webpage.
All TWU employees and students who will be operating Mobile Elevating Work Platforms (MEWPs), also sometimes called aerial lifts (including scissor lifts, cherry pickers, etc.) are required to complete training prior to operation of the equipment.
This training consists of online training (see the training page for more information) as well as hands-on training on the specific type of MEWP you will be using provided by a competent person familiar with the equipment.
Additionally, a rescue plan should be in place and reviewed for the type of MEWP that will be used. See the Mobile Elevating Work Platform Program for detailed information on rescue plans. All requirements are in accordance with University Regulation and Procedure Number 04.430.
MEWP Appendix 1- Pre-Use Inspection Checklist
MEWP Appendix 2- Risk Assessment & Rescue Plan
Page last updated 2:28 PM, August 1, 2022