Controlled Substances, Precursor Chemicals & Apparatus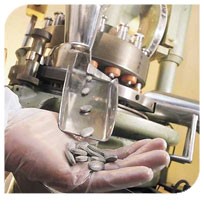 Background
The Texas Higher Education Coordinating Board has entered into a memorandum of understanding (MOU) with the Texas Department of Public Safety (TX DPS) regarding the control of certain controlled substances, precursor chemicals, and laboratory apparatus used at the University. Furthermore, Federal Regulations restrict the use of certain controlled substances at the University. The University will maintain strict accountability of all such "Regulated Items" as described below.
Regulated Items
"Regulated Items" include the five categories of controlled substances, chemicals and laboratory apparatus listed below.
Controlled Substances
All substances, including drugs, adulterants and dilutants as defined by the Health and Safety Code, Chapter 481, the Texas Controlled Substances Act and Title 21 United States Code (USC), Subchapter I, Part A, the USC Controlled Substances Act. The current TX DPS list of controlled substances can be found at http://www.dshs.texas.gov/drugs/controlled-substances.aspx and the current USC list of controlled substance can be found at https://www.deadiversion.usdoj.gov/schedules/.
Controlled Substance Analogues
All substances with a chemical structure substantially similar to the chemical structure of a controlled substance in Schedule I or II or Penalty Group 1, 1-A, or 2 of the

Texas Health and Safety Code, Chapter 481, Texas Controlled Substances Act; and
All substances specifically designed to produce an effect substantially similar to, or greater than, the effect of a controlled substance in Schedule I or II or Penalty Group 1, 1-A, or 2 of the

Texas Health and Safety Code, Chapter 481, Texas Controlled Substances Act.
Precursor Chemicals
Methylamine
Ethylamine
D-Lysergic Acid
Ergotamine Tartrate
Diethyl Malonate
Malonic Acid
Ethyl Malonate
Barbituric Acid
Piperidine
N-Acetylanthranilic Acid
Pyrrolidine
Phenylacetic Acid
Anthranilic Acid
Hypophosphorus Acid
Ephedrine
Pseudoephedrine
Norpseudoephedrine
Phenylpropanolamine
Red Phosphorus
Immediate Precursors
Benzaldehyde
Gamma-Butyrolactone (other names include: GBL; Dihydro-2(3H)-furanone; 1,2-Butanolide; 1,4-Butanolide; 4-Hydroxybutanoic acid lactone; gamma-hydroxybutyric acid lactone)
Isosafrole
3,4-Methylenedioxyphenyl-2 propanone
N-Methylephedrine, its salts, optical isomers, and salts of optical isomers
N-Methylpseudoephedrine, its salts, optical isomers, and salts of optical isomers
Piperonal
Safrol
Lithium metal removed from a battery and immersed in kerosene, mineral spirits, or similar liquid that prevents or retards hydration
Laboratory Apparatus
Condensers
Distilling Apparatus
Vacuum Dryers
Distilling Flasks
Florence Flasks
Single, Two, and Three-Necked Flasks
Erlenmeyer Flasks
Thermometer Flasks
Round-Bottom Flasks
Filtering Flasks
Tableting Machines
Encapsulating Machines
Filter Funnels
Buchner Funnels
Separatory Funnels
Soxhlet Extractors
Transformers
Flask Heaters
Heating Mantles
Adapter Tubes
Please see the Regulated Laboratory Apparatus Visual Guide for examples of regulated laboratory apparatus.
PRINCIPAL USER:
Principal users include any Principal Investigator, Laboratory Supervisor, Chairperson, or other person in charge of spaces where regulated items are present.
PROCEDURE:
All principal investigators who desire to purchase, possess, or use controlled substances (Schedules I-V) for laboratory research must register and maintain active registration with the Federal Drug Enforcement Administration (DEA). Further information on registering with the DEA can be found at

https://www.deadiversion.usdoj.gov/drugreg/.
Each principal user of Regulated Items, including apparatuses, is required to keep adequate usage records of those items. Such records may include copies of purchase order records, an annual inventory, and any other documentation necessary to detect loss, pilferage, or theft. Copies of such records may be requested by TX DPS, and they must be provided within 10 business days of the request.
Each laboratory or storage area where Regulated Items are located must be provided with appropriate security by principal users. This will generally require storage areas to be locked when not attended by TWU faculty or staff or other appropriate designated personnel.
Any unusual or unexplained discrepancy, loss, pilferage, or theft of a Regulated Item will be immediately reported by the principal user to TWU Risk Management and the TWU Department of Public Safety (TWU DPS). TWU DPS will act as the investigating agency as per the MOU, with the assistance of TX DPS upon request. A written report of the incident must be submitted to TX DPS

within 5 business days.
Regulated Items

will not

be sold or transferred to any person or entity not holding a DPS permit, unless the recipient is specifically exempted by law or rule.

Educational or research programs of a school district or a public or private institution of higher education are exempt from obtaining a TX DPS permit.
Any sale or transfer of Regulated Items (including surplus property) to authorized persons must be reported to TX DPS within 30 days using TX DPS form NAR-22. The original form must be mailed to TX DPS, and a copy must be maintained on site for a minimum of 2 years. Contact Risk Management prior to any sale or off-site transfer of Regulated Items so the appropriate forms can be obtained.

Disposal of Regulated Items will be accomplished through TWU waste disposal procedures as appropriate (e.g. disposal of controlled substances, controlled substance analogues, and precursor chemicals shall be through the TWU Regulated Waste Disposal procedure).
Risk Management will review storage and security of Regulated Items during routine laboratory inspections.
Annually, TWU Risk Management shall provide TX DPS a list of individuals who are responsible for implementing security measures related to Regulated Items. Listed individuals shall serve as the points of contact between TWU and the TX DPS.
Page last updated 11:43 AM, June 1, 2022