MS in Education of the Deaf - Online
In as little as 2 years, you can have your Master of Science in Education of the Deaf and be ready for the next step in your career. No GRE required.
Program features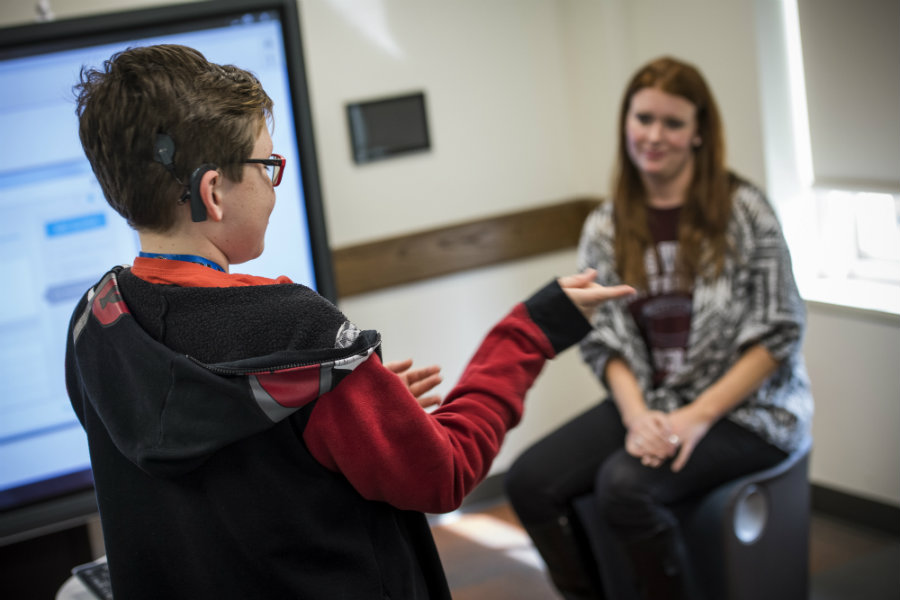 100% online coursework
Degree completion in as little as 2 years, or 33 credit hours*
High quality, affordable** education & career preparation
Specialized coursework that highlights experiential learning with practicum opportunities in schools with master teachers and on campus in TWU's Future Classroom Lab
Opportunity to explore STEM instruction for deaf/hard of hearing students
Small classes with accessible, knowledgeable and supportive faculty
Allows certified teachers to enroll as non-degree seeking students to qualify for the state Deaf and Hard of Hearing (DHH) exam
Allows students who are seeking initial teacher certification and are Texas core complete to pursue EC-6 Core Subjects certification and DHH certification simultaneously
The MS in Education of the Deaf prepares graduates to take the TExES Deaf and Hard of Hearing (181) state exam (State Board for Educator Certification through the Texas Education Agency). If you are a resident of another state, contact our department to determine whether our program fulfills requirements to take the certification exam in your home state.
*Individual requirements may vary.
**Non-resident students pay in-state tuition and fees plus a distance differential for Education of the Deaf (COMS) courses, making the cost less than the out-of-state rate. Non-resident students can calculate their estimated cost of attendance by selecting "Texas Resident" on the Tuition Estimator and adding $173.70 per semester credit hour ($521.10 per 3-hour course) to the total estimated tuition and fees.
Project EPIC
Project EPIC is a Department of Education Office of Special Education Programs (OSEP) grant to prepare future teachers of the deaf and speech-language pathologists through an interdisciplinary collaboration.
Project CODE
Project Certification Online in Deaf Education (CODE) is an interdisciplinary collaboration between Texas Woman's, Region 17 Education Service Center, Texas Education Agency and the Texas Sensory Support Network. Funded by a grant, this unique project was created to train certified Texas teachers to become teachers of the deaf/hard of hearing in the state of Texas.
Why study education of the deaf at TWU?
More than 50 years of Deaf Education
Texas Woman's has been training teachers of the deaf and hard of hearing for more than 50 years. Home to the longest standing program in the state of Texas, our online graduate deaf education program is offered to students around the world. We stress accessibility for all students and ensure our graduates have field-based experiences that enable them to be successful educators of the deaf and hard of hearing.
Supportive student organization
The Convention of American Instructors for the Deaf (CAID) student organization helps you learn more about deaf culture and provides you with opportunities to volunteer with members of the deaf community, practice signing and participate in social activities with peers and faculty.
Scholarship opportunities
Several scholarships are available to education of the deaf students. Visit the COMS scholarship opportunities site for information on specific scholarships and how to apply.
Career opportunities
Deaf educators fall within the special education field. According to the BLS, the median salary for special education teachers is $58,980.
Frequently asked questions
What level of proficiency in sign language do I need?
Graduate students need to have the ability to participate in academic discussions with adults and children in sign. For most non-native users of sign, this level of proficiency requires at least three courses in American Sign Language or an English-based sign system.
Will I need access to Deaf or Hard of Hearing students for this program?
Graduate students need to have access to DHH children to complete assignments. If you are not working directly with DHH children, you will need to find preschool and school-age children who are DHH to work with during the program.
Program requirements
In this program, you will complete at least 33 semester credit hours broken down into:
27 semester credit hours in communication sciences courses
Six credit hours in field-based coursework earned in one of three ways:

Student teaching (EDUC 5926): Teaching (mentored by a K-12 teacher) full time in a Texas deaf education learning environment for 14 weeks, minimum of seven weeks at the elementary level and seven weeks at the secondary level (must first successfully complete a state criminal background check)
Practicum (COMS 5926): Teaching (supervised by university faculty) full time as a certified teacher (in Texas and elsewhere) or as a non-certified out-of-state student for 14 weeks; out-of-state student experiences can be tailored to meet their state's student teaching requirements
Texas internship for non-certified teachers (EDUC 5936): Teaching experience in Texas that allows for payment for pre-service teachers and is at the discretion of the hiring school district (not guaranteed)
A full list of courses and requirements are available in the course catalog.
Additional requirements
If you are seeking Texas teacher certification, another 12 semester credit hours (four education courses) are required. You must apply to and be accepted by the TWU's Educator Preparation Program to fulfill this requirement.
Off-campus, online students must have access to a school for children who are deaf or hard of hearing
Sign proficiency
Grades of B or higher are required for all courses
Successful completion of a summative program assessment is required for a graduate degree. Currently, the program uses the Praxis 2: Special Education: Deaf/Hard of Hearing (5272) which is used by numerous states throughout the country

or

the TExES Deaf and Hard-of-Hearing (181) exam.
A full list of courses and requirements are available in the course catalog.
Certification Exams
If you are interested in pursuing Texas teacher of the deaf certification, you must take the following exams (Students are strongly encouraged to prepare for and take all required exams for teacher certification over several semesters in order to avoid having to take them all within a single semester prior to student teaching):
*Required if pursing EC-6 Core Subjects, 4-8 Core Subjects, or 4-8 English Language Arts and Reading
Registering for exams? Contact Linda Kobler in Teacher Certification.
Admission information
Admission to the M.S. in Education of the Deaf
Program Contact
Dr. Tamby Allman
940-898-2028
tallman@twu.edu
Application Deadlines
Fall – July 1
Summer – April 15
Admission Requirements
A GPA of 3.0 or higher on the last 60 hours of undergraduate work OR on the last 60 hours of undergraduate work plus any post-baccalaureate or graduate hours. The Graduate School requires a minimum GPA of 3.0 on all graduate coursework.
Complete the Application to Education of the Deaf Graduate Program. The program application includes a letter of intent, and a video submission introducing yourself in sign. As the program seeks to provide each student with an individualized mentoring experience, the letter of intent should include:


the reasons for pursuing a graduate degree in education of the deaf,
a professional area of research interest or specialty, and
identification of two faculty members who have similar areas of interest.
Sign proficiency as demonstrated in a brief video providing the YouTube, Vimeo or link to video portfolio with the program application.

Email addresses for three individuals familiar with your academic capabilities, who can provide letters of recommendation to be requested through and submitted into the application.
Off-campus/online students must have access to a school for children who are deaf or hard of hearing.
How to Apply
Begin by finding your program in TWU's Program, Majors & Degrees listings to see if your program has additional admission requirements and application deadlines prior to applying. (This information is for all programs. The application deadline for your specific program will be listed in the Program Requirements. Use that deadline as it applies below. (Example: if a program only admits once a year and has a Fall deadline for 2023 of March 1, you would need to be looking to apply to the next deadline for Fall 2024.)
Apply online.


Apply to Graduate Programs according to the start semester and application portals below:


Spring 2024 - All programs apply via ApplyTexas EXCEPT applicants to the College of Business, Child Life, or Child Development master's programs or the Child Development and Early Education PhD program who should apply via the TWU Online Graduate Application Portal.

Note: When applying through ApplyTexas, you will need to submit any required Documents directly to the program website.

Summer & Fall 2024 - All graduate programs apply via the TWU Online Graduate Application Portal. Required documents will be asked for and uploaded into the application.



Pay the application fee.
The $50 fee, ($75 fee for International applicants), which applies to all new and returning applicants can be paid by:

Credit card - Online through the portal you applied on (either ApplyTexas or TWU's Online Graduate Application).
Certified check or money order by mail or electronically - payable to TWU, sent by mail to:
TWU Admissions Processing, 301 Research Circle, Room 220; Denton, Texas 76204
(include your full name and ID number).
Cash (no personal checks) - Pay at the Bursar's Office. After paying, bring the receipt to Admissions Processing (2nd floor of GRB).
Fee Waivers - Graduate applicants who are certified McNair Scholars are eligible for a McNair Scholar application Fee waiver. Submit the request using the Application Fee Waiver Submission Form.



Submit transcripts to TWU.

Domestic Applicants must submit official transcripts for each college or university attended, both undergraduate and graduate. See the Information on Transcripts website for more details.
International Applicants are now required to provide an evaluation prepared by a NACES or AICE member evaluation service. International transcripts should not be sent directly to TWU. See the International Admission website for more details.
For more information on graduate admissions or to contact an admissions official, visit the Graduate Admissions website.
Students who wish to apply for a Graduate Assistantship must meet the General Criteria for Appointment of Graduate Assistants.
For questions contact
Tamby Allman, EdD
Advisor, Education of the Deaf Program
Associate Professor, COMS
MCL 833
tallman@twu.edu
940-898-2028
Page last updated 6:51 PM, November 14, 2023