MS in Education of the Deaf - Online
In as little as 2 years, you can have your Master of Science in Education of the Deaf and be ready for the next step in your career. No GRE required.
Program Features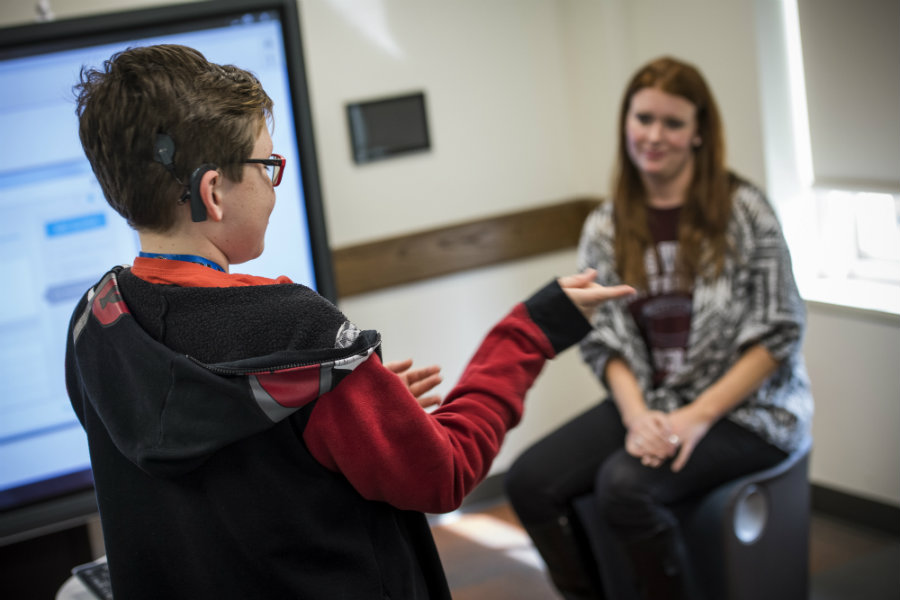 100% online coursework
Degree completion in as little as 2 years, or 30 credit hours*
High quality, affordable education & career preparation
Specialized coursework that highlights experiential learning with practicum opportunities in schools with master teachers and on campus in TWU's Future Classroom Lab
Small classes with accessible, knowledgeable and supportive faculty
Allows certified teachers to enroll as non-degree seeking students to qualify for the state Deaf and Hard of Hearing (DHH) exam
The MS in Education of the Deaf prepares graduates to take the TExES Deaf and Hard of Hearing (181) state exam (State Board for Educator Certification through the Texas Education Agency). If you are a resident of another state, contact our department to determine whether our program fulfills requirements to take the certification exam in your home state.
*Individual requirements may vary.
Why study education of the deaf at TWU?
More than 50 years of Deaf Education
Texas Woman's has been training teachers of the deaf and hard of hearing for more than 50 years. Home to the longest standing program in the state of Texas, our online graduate deaf education program is offered to students around the world. We stress accessibility for all students and ensure our graduates have field-based experiences that enable them to be successful educators of the deaf and hard of hearing.
Supportive student organization
The Convention of American Instructors for the Deaf (CAID) student organization helps you learn more about deaf culture and provides you with opportunities to volunteer with members of the deaf community, practice signing and participate in social activities with peers and faculty.
Scholarship opportunities
Several scholarships are available to education of the deaf students. Visit the COMS scholarship opportunities site for information on specific scholarships and how to apply.
Career Opportunities
Deaf educators fall within the special education field. According to the BLS, the median salary for special education teachers is $58,980.
For questions contact
Tamby Allman, EdD
Advisor, Education of the Deaf Program
Associate Professor, COMS
MCL 833
tallman@twu.edu
940-898-2028
Page last updated 11:49 AM, May 30, 2019