Post-baccalaureate Certificate in Deaf and Hard of Hearing for the SLP
Are you interested in being a speech-language pathologist who works with students who are deaf and hard of hearing (DHH)? Enhance your degree with a certificate in Deaf and Hard of Hearing.
Program features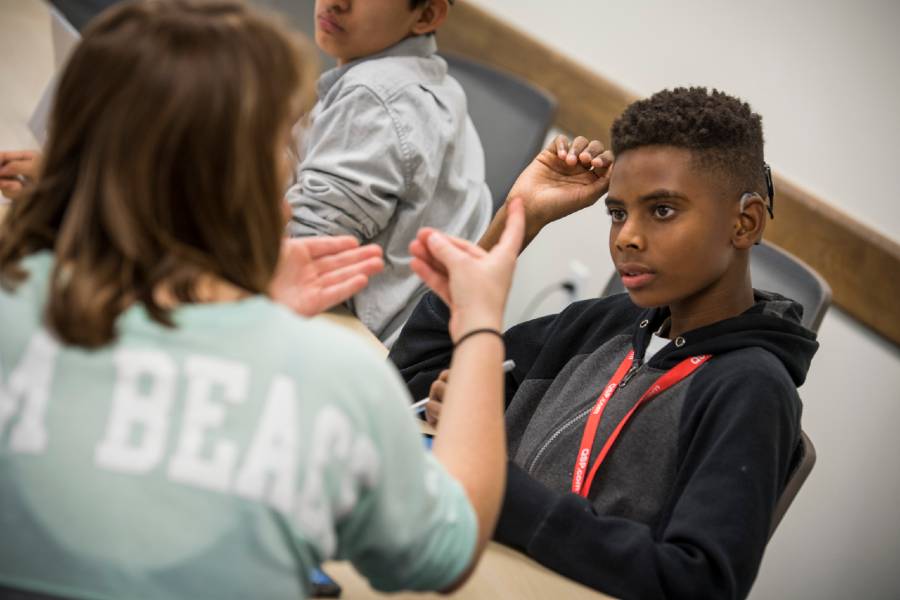 Program requirements
In this certificate program you will complete 12 semester credit hours, with:
Nine semester credit hours (four classes) of academic coursework focused on evidence-based practice for SLPs working with children who are DHH
Three semester credit hours (75 clock hours) of a clinical practicum experience assessing and treating children who are DHH under the supervision of an ASHA-certified SLP with experience in this area (

NOTE: if you are already a licensed and certified SLP, you must secure an approved supervisor/mentor for this clinical experience.)
You must successfully pass a case study examination at the end of the program and earn grades of A or B in all classes.
A full list of courses and requirements are available in the course catalog.
Admission to the Post-baccalaureate Certificate in Deaf and Hard of Hearing for the SLP
Program Contact
Dr. Christopher Bolinger
940-898-2474
cbolinger@twu.edu
Application Deadlines
Rolling
Admission Requirements
Accepted to or currently enrolled in the TWU master's of speech-language pathology program or a licensed and certified speech-language pathologist.
Sign language skills (intermediate or better).
This application process is only for currently licensed and certified speech-language pathologists.
Applicants for Fall 2023 and Spring 2024 complete and submit to the following to: Communication Sciences and Oral Health

In a one-page essay, please answer the following questions

Describe your level of proficiency with sign language
describe your experiences working with children who are D/HH
Describe your reasons for pursuing this certificate.

Complete the department application.
How to Apply
Begin by finding your program in TWU's Program, Majors & Degrees listings to see if your program has additional admission requirements and application deadlines prior to applying. (This information is for all programs. The application deadline for your specific program will be listed in the Program Requirements. Use that deadline as it applies below. (Example: if a program only admits once a year and has a Fall deadline for 2023 of March 1, you would need to be looking to apply to the next deadline for Fall 2024.)
Apply online.


Apply to Graduate Programs according to the start semester and application portals below:


Spring 2024 - All programs apply via ApplyTexas EXCEPT applicants to the College of Business, Child Life, or Child Development master's programs or the Child Development and Early Education PhD program who should apply via the TWU Online Graduate Application Portal.

Note: When applying through ApplyTexas, you will need to submit any required Documents directly to the program website.

Summer & Fall 2024 - All graduate programs apply via the TWU Online Graduate Application Portal. Required documents will be asked for and uploaded into the application.



Pay the application fee.
The $50 fee, ($75 fee for International applicants), which applies to all new and returning applicants can be paid by:

Credit card - Online through the portal you applied on (either ApplyTexas or TWU's Online Graduate Application).
Certified check or money order by mail or electronically - payable to TWU, sent by mail to:
TWU Admissions Processing, 301 Research Circle, Room 220; Denton, Texas 76204
(include your full name and ID number).
Cash (no personal checks) - Pay at the Bursar's Office. After paying, bring the receipt to Admissions Processing (2nd floor of GRB).
Fee Waivers - Graduate applicants who are certified McNair Scholars are eligible for a McNair Scholar application Fee waiver. Submit the request using the Application Fee Waiver Submission Form.



Submit transcripts to TWU.

Domestic Applicants must submit official transcripts for each college or university attended, both undergraduate and graduate. See the Information on Transcripts website for more details.
International Applicants are now required to provide an evaluation prepared by a NACES or AICE member evaluation service. International transcripts should not be sent directly to TWU. See the International Admission website for more details.
For more information on graduate admissions or to contact an admissions official, visit the Graduate Admissions website.
Students who wish to apply for a Graduate Assistantship must meet the General Criteria for Appointment of Graduate Assistants.
For questions contact
Sarah Wainscott, PhD, CCC-A, CED
Associate Professor
MCL 843
swainscott@twu.edu
940-898-2470
Page last updated 6:51 PM, November 14, 2023