BS in Communication Sciences
Get started on your career with a Bachelor of Science in Communication Sciences from TWU.
Program Features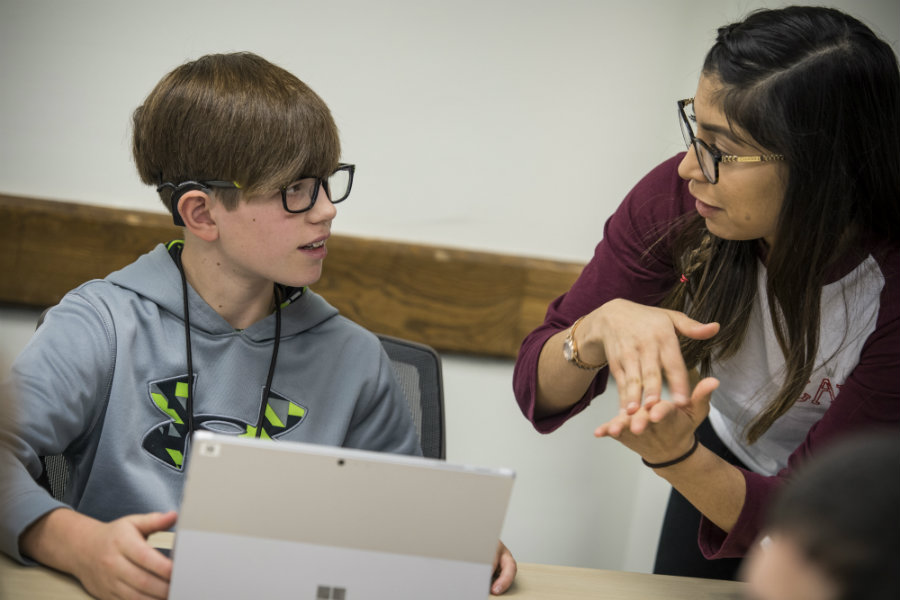 Degree completion in little as four years, or 120 credit hours*

High quality, affordable education and career preparation for less than $5,000 per semester**

Classes take place on TWU's Denton campus

Study typical communication development, communication disorders and intervention/teaching strategies to help children and adults become successful communicators

Small classes with

accessible, knowledgeable and supportive faculty

Specialized coursework highlights experiential learning with practicum opportunities available for selected students
*Individual requirements may vary.
**For Texas residents, calculated for students accepted in Fall 2019.
Why study communication sciences at TWU?
Experiential learning in TWU's Clinic
Speech, Language & Hearing Clinic
Each year, selected students train with experienced TWU faculty in our on-site Speech, Language & Hearing Clinic which provides services to those in the community with speech, language, cognitive-communication, feeding or hearing difficulties. You will provide clinical services to clients with supervision from faculty members who are ASHA-certified and Texas-licensed speech-language pathologists and audiologists.
Supportive student organization
Student Organization of Communication Sciences (SOCS)
The Student Organization of Communication Sciences (SOCS) works to bring you opportunities in leadership, community service, addressing professional issues and participating in social activities with peers and faculty to learn more about communication development and disorders.
SOCS is a member organization of the National Student Speech-Language-Hearing Association.
Scholarship opportunities
Several scholarships are available to communication sciences students. Visit the COMS scholarship opportunities site for information on specific scholarships and how to apply.
Career Opportunities
According to the U.S. Bureau of Labor Statistics (BLS), you have multiple career opportunities with this degree including:
Speech-language pathology assistant

Audiology assistant and/or hearing aid dispenser

Early intervention specialist

Teaching assistant or communication facilitator
You also have the option of continuing your education with a master's in speech-language pathology or master's in education of the deaf at TWU.
A master's degree is required to practice as a speech-language pathologist. SLPs earn a median salary of $76,610 with a much faster than average growth rate, according to the BLS data on speech-language pathologists. Deaf educators fall within the special education field. According to the BLS data on special education teachers, the median salary for special education teachers is $58,980.
A doctorate is required to practice as an audiologist. Audiologists earn a median salary of $75,920 with a much faster than average growth rate, according to the BLS data on audiologists.
Note: Education of the Deaf
The department no longer offers an undergraduate major for students interested in the education of the deaf and hard of hearing.
If you want to be a teacher of the deaf, earn your bachelor's degree in education with an emphasis in education of the deaf, then complete your education with our master's degree in education of the deaf.
Frequently Asked Questions
Is there an application to the COMS Undergraduate Program?
Yes. In addition to the TWU application, the COMS program also has an application that must be completed in order to be accepted into and officially begin the program. The program only admits 40 students per year for a fall semester start. You can find more information on our admission requirements as well as our COMS Application (found under the Admissions Requirements section).
Are COMS courses available during the summer sessions?
No. COMS courses are only offered during the Fall and Spring semesters.
Can I take the online sections of COMS courses?
No. Those online sections are only for students in the post-baccalaureate pre-master's leveling program. The two online undergraduate courses are COMS 2223 Introduction to Communication Sciences and Disorders, and COMS 4303 Introduction to Clinical Processes.
Program Requirements
As a full-time student, you can complete the 120 required semester credit hours in just four years with:
42 hours of Texas core curriculum, which can be transferred from previous programs or community colleges
48 hours required for the communication sciences major
30 hours of other required courses and electives
A full list of courses and requirements are available in the course catalog.
Admission Requirements
Undergraduate Admission
When you apply to TWU, we will evaluate your academic achievement and preparation, as well as your standardized test scores. Admission to TWU is valid for four terms, unless you have attended another higher education institution.
Check out the links below for specific admissions information:
Questions about the admissions process? Contact the Office of Admissions Processing.
Office of Admissions
Texas Woman's University
P.O. Box 425649
Denton, TX 76204-5649
oap@twu.edu
940-898-3076 or 1-866-809-6130 ext. 3076
Admission to the B.S. in Communication Sciences
The program admits once a year and begins in the fall semester. Applications are only accepted between January 1 and April 1.
Requirements
Additional program requirements include:
GPA of 3.25 or higher, either cumulative or over the last 30 semester credit hours of coursework.
Completion of at least 40 semester credit hours of college coursework.
Completion of the following courses with a grade of C or better (these courses may be in progress at the time of application but must be successfully completed before beginning the program).

Biology
Chemistry or Physics
Statistics

Submission of a one-page letter of intent responding to a specific prompt in the program application.
How to Apply
Apply to TWU (if not currently attending) before April 1 to meet the program application deadline.

Submit all transcripts (except TWU transcripts) to Admissions Processing to be fully accepted into the university.
Program applications will not be considered until copies of all transcripts have been received and reviewed by the Office of Admissions Processing, which may take several weeks.
Acceptance to TWU does not guarantee admission to the communication sciences program.

​After acceptance to TWU, complete the online Communication Sciences Program Application that includes uploading a one-page letter of intent responding to a prompt.

The program admits once a year and begins in the fall semester.
Program applications are only accepted between Jan. 1 and Apr. 1.
Applicants enrolled in courses at a college other than TWU during the spring application semester must submit an official transcript that includes those spring grades to the Office of Admission Processing by June 15.
To access the program application, students must be fully accepted to the university, have their Pioneer Portal account set up, and be logged in to their TWU Google Drive account. For technical questions, contact the TWU Service Desk.

Applicants will be notified of acceptance status by mid-April.
For questions contact
David Infante
Advisor, Undergraduate Programs
MCL 823
dinfante@twu.edu
940-898-2021
Page last updated 9:55 AM, September 19, 2023