Post-baccalaureate Certificate in Teaching STEM in Deaf Education
Are you teaching STEM (science, technology, engineering, or math) content to students who are Deaf/Hard of Hearing? Or are you considering studying Deaf Education at TWU and want to teach STEM? Enhance your degree with a Certificate in Teaching STEM in Deaf Education.
Program features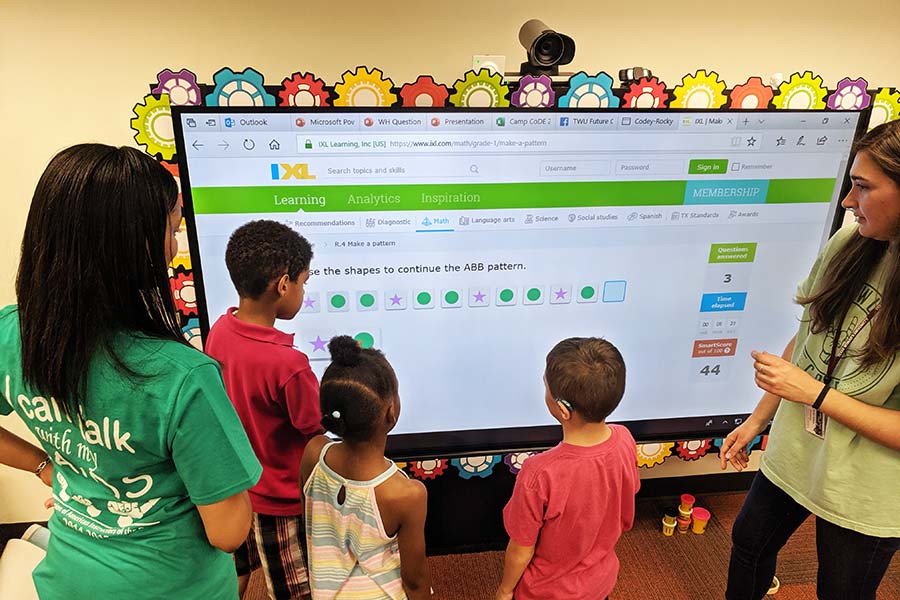 Study math, computer science, and biology instructional methods and deaf education strategies to help learners who are deaf/hard of hearing become successful STEM users
Small classes with accessible, knowledgeable and supportive faculty
Combines with an MS in Education of the Deaf
Includes a practicum opportunity
100% online course delivery (synchronous & asynchronous)
Meet employer expectations as a highly qualified K-12 STEM instructor with coursework and supervised practicum experiences in evidence-based practices providing STEM instruction to deaf/hard of hearing learners
Program requirements
In this certificate program you will complete 15 semester credit hours, with:
Nine semester credit hours (three classes) of academic coursework focused on math, computer science, and biology instructional methods
Three semester credit hours (one class) of academic coursework focus on instructional methods for culturally and linguistically diverse students who are deaf/hard of hearing
Three semester credit hours (one class) of a practicum experience teaching STEM content to deaf/hard of hearing students in diverse learning environments
You must successfully pass a practicum experience working with students who are deaf/hard of hearing at the end of the program and earn grades of A or B in all classes.
A full list of courses and requirements are available in the course catalog.
Admission to the Post-baccalaureate Certificate in Teaching STEM in Deaf Education
Program Contact
Dr. Chad Smith
Coordinator, Education of the Deaf Program
940-898-2041
csmith17@twu.edu
Application Deadlines
Rolling
Admission Requirements
Accepted to or currently enrolled in the TWU master's of education of the deaf program or a certified teacher of the deaf currently teaching STEM content
Sign language skills (intermediate or better)
How to Apply

Apply for admission to the TWU Graduate School, selecting the post-baccalaureate certificate in teaching STEM in deaf education.

(Note that this application process is only for current certified teachers of the deaf. Students applying to the master's degree program in education of the deaf must follow that application procedure and may add the certificate once accepted into the degree program.)

To complete the program application, applicants must first create their TWU Pioneer Portal account and log in to their TWU Google Drive account using their TWU email address and Pioneer Portal password.
Complete the Application for the STEM Certificate.
Graduate School Admission
Approval for admission to the Graduate School is required of all graduate students.
Graduate School admission does not imply admission to candidacy for an advanced degree. Candidacy will be granted only after a period of successful graduate work and when compliance with the conditions and course of study established by the University and its departments, schools, and colleges have been met.
The total enrollment of graduate students is limited. All applications to the Graduate School are subject to whatever provisions may limit the enrollment of graduate students. Admission is granted for not more than one academic year. Students who do not attend the University for four or more terms, including the term of admission, must reapply. Graduate students who have been enrolled may stop out for a maximum of two years including the last semester of enrollment. If another institution is attended during the two-year timeframe, the student must reapply.
Graduate students are subject to the general rules and regulations of the University and are expected to maintain the high standard of social and academic life of the University as well as the professional standards of their chosen field of study. Thus, graduate students are subject to all rules and regulations set forth in the Student Handbook, the Graduate Catalog, and the policy statements of the Graduate School and the academic components. All graduate students of Texas Woman's University are expected to know and adhere to high standards of personal conduct and of academic integrity and scholarship. Any falsification, misrepresentation, or misapplication of information or research; any violation of professional or ethical standards; or any violation of the rules and regulations of the University may result in dismissal.
For questions contact
Chad E. Smith, PhD
Coordinator, Education of the Deaf Program
Professor, COMS
MCL 833
csmith17@twu.edu
940-898-2041
Page last updated 3:39 PM, April 12, 2022