Brand Guidelines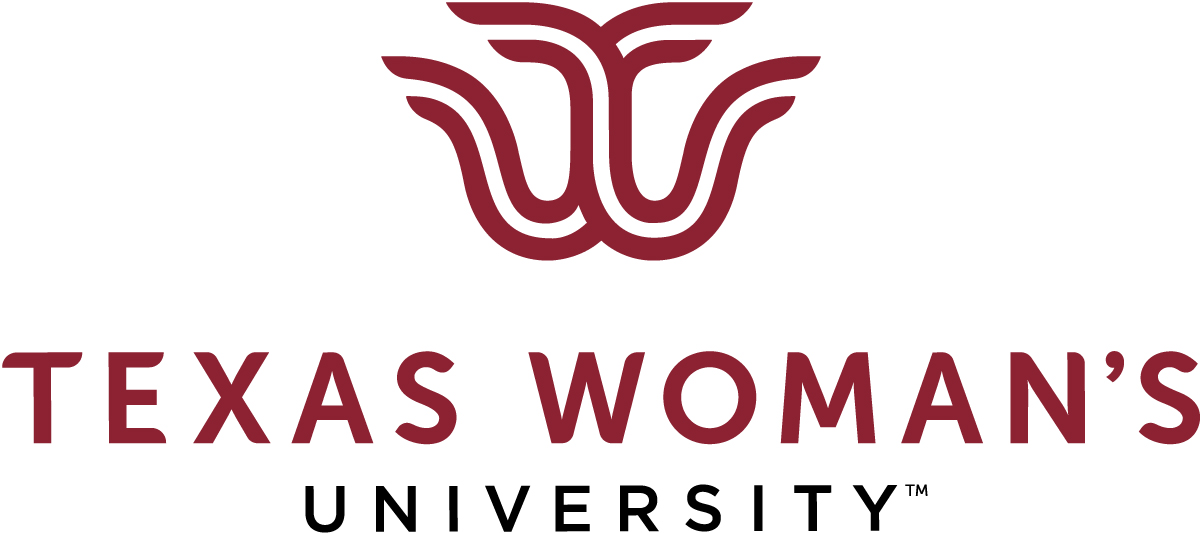 There are set standards and rules for the usage of TWU's logo and branding. Because the logos are a fundamental element of all Texas Woman's University brand identification, these standards have been established to ensure consistency wherever and however it is displayed.
Following the below guidelines help to ensure you are staying on brand regarding any document or website associated with TWU.
While this manual contains guidance for basic applications of the Texas Woman's University logo, it cannot anticipate all possible uses. Any applications of the Texas Woman's University logo not directly addressed here - or applications that cause usage questions to arise that are not answered here - will require prior approval.
Refer all brand guideline questions or comments to marcomdesign@twu.edu.
Jump to a section of the Brand Guidelines
Logo Elements
Logo Mark
The logo mark is created from intersecting pathways inspired by the fountain on the main campus

The mark is set in the brand color maroon, PMS 202
The logo mark may be used independently from the logotype elements, such as on-campus signage, social media where the name of the university is already known and special projects from the Chancellor's office
Logotype
The logotype is made from a custom typeface and should not be edited or retyped
"TEXAS WOMAN'S" is set in the brand maroon while "UNIVERSITY" is in 100% black
The logotype may be used independently from the logo mark in areas where space does not allow room for both elements together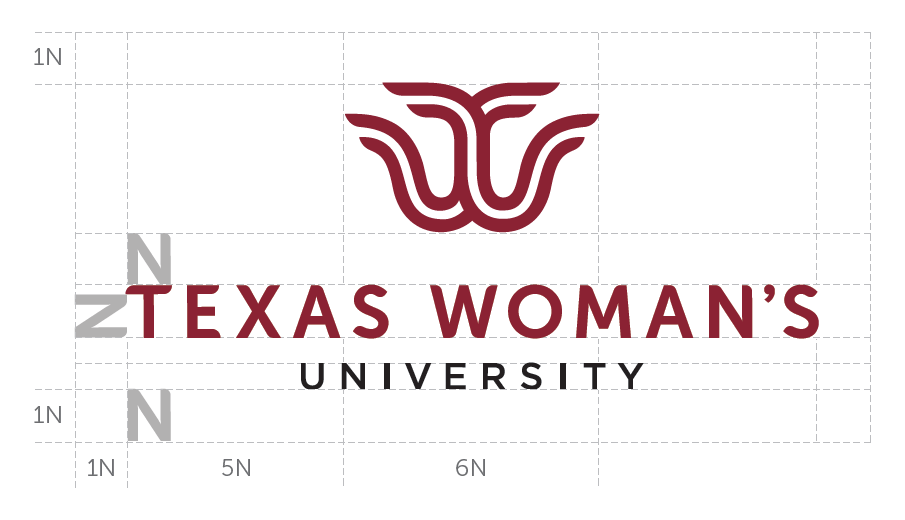 Area of Isolation
Area around the logo is based off the height of the "N" as indicated above
Text, headlines and graphics must not violate this area
These same spacing requirements apply to the one-color versions of the logo as well
Logo Lockups
Full University Name
Primary Centered Lockup
Horizontal Lockup
Abbreviated University Name
These abbreviated versions are for internal marketing communications use only. Refer all brand guideline questions or comments to:
Renee Thompson
Manager, Design Services
marcomdesign@twu.edu
940-898-3455
Horizontal Lockup
Stacked Lockup—Box Version
This logo may also be used as a reversed-out version of the lockup (it isn't forced to be in a box).
Stacked Lockup
—

No Box Version
Secondary Logos
Location Logos
Est.|Co-Ed. Logos
One-Color Logos
One-color versions of the logo exist for use when the logo appears on a colored background or when printing methods restrict the use of color or amount of colors
The one-color logo elements can be used in the two full name lockups and follow all the same usage rules as the corresponding primary, full-color versions, except for the background color restrictions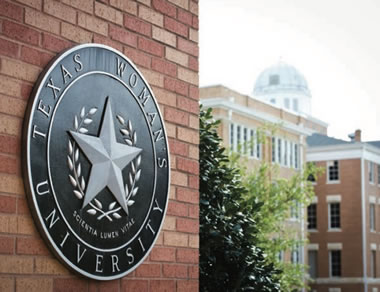 University Seal
The use of the seal is designated for the following:
Transcripts
Ceremonial documents of the highest importance (diplomas, University awards of singular prestige, proclamations from the Chancellor's Office)
Commemorative objects of high-quality, durable material created in a limited edition for distribution for a specific purpose; specifically excluded from this class are mass-manufactured objects for general sale
As signage in extremely limited usage, such as the main entrance to the campus or in the Chancellor's Office as a decorative object; specifically excluded are building signs (including those affixed to the building), street signs and decals on University vehicles (including public safety vehicles)
Financial documents in which the seal is considered a guarantee; excluded are internal documents, such as memoranda about a financial matter
Color Palette
Primary Colors
Maroon MUST be the most dominant color in any design where color is permitted. You may use black and/or screen of black to create gray to accent your design.
Secondary colors may be used to accent the TWU maroon. Omitting the white of the page and black of text and other elements, the remaining colors should be at least 60 percent maroon.
Maroon
PMS | 202C
CMYK | 9 100 64 48
RGB | 133 9 42
HEX | 850928
White
PMS | N/A
CMYK | 0 0 0 0
RGB | 255 255 255
HEX | FFFFFF
Secondary Colors
Amaranth
PMS | 7636C
CMYK | 15 100 60 3
RGB | 202 30 80
HEX | CA1E50
Eggplant
PMS | 518C
CMYK | 68 90 35 24
RGB | 92 49 94
HEX | 5C315E
Gold
PMS | 458C
CMYK | 13 10 81 0
RGB | 227 211 83
HEX | E3D353
Typography
Museo Sans
Museo Sans is the typeface the logo is customized from. It is used in all the logo system variations, department and office names, etc.
Gotham Medium
Gotham Medium is used in the logo for the word "UNIVERSITY."
Montserrat
If you cannot access a paid license of the above fonts, the free Google font, Montserrat, is an approved alternative.
Download the Montserrat font here
Tagline: Boldly Go
The official university tagline is Boldly Go.
Altering the tagline to include other words or using it in conjunction with other phrases is not permitted. For example, "Boldly Walk" or "Boldly Dine" are not appropriate uses of the tagline. Altering the tagline detracts from the main messaging and visual identity of the official tagline.
The "Boldly Go" tagline may be used in any number of forms (following other aspects of standards such as typography/color). There is not an official tagline logo that must be consistently used on all items or materials. You may use one of the official typefaces. Provided below is a tagline for use on items in the Gotham typeface.
Examples of Tagline Use
Retractable Banner
Newsprint Cover
Pin Notecard
Social Media
Logos
Taken directly from Abbreviated Logo Lockup
1/8 of diameter padding around
Downloadable Hi-Resolution Logo
Right-click the logo to save it or copy it.
Department Social Media Templates
Profile pictures for departments on social media will always feature the fountain by itself, with the department name written in close proximity in the format of "TWU - (Department Name)"
All university social media accounts

must use the profile photos provided

and

accounts must be registered

with Marketing and Communications. Refer any questions or comments to

socialmedia@twu.edu
Examples of the Logo on Social Media
Facebook Example
Instagram Example
Twitter Example
Guide for Promotional Items
Use an approved vendor when ordering promo items
Include the TWU logo when university funds are used to purchase the items
If the departmental logo is not legible in the promotional item imprint area, you may use one of the main university logos and the full name of the department below
The size and scale of the department name must be secondary to the size and scale of the TWU logo and not within the areas of isolation for the logo
The department name must be in Museo Sans font in all caps
Guide for T-Shirt Designs
Shirt Color
Shirt fabric

must

be maroon, white or gray

"Heathered" maroon is also approved
Ink can be white or maroon. The maroon must strive to match PMS 209
No other ink or shirt color is permitted without prior approval.
The official TWU Maroon is Pantone 202. Because of the variance in fabric materials and dying methods, TWU matches to PMS 209 on clothing materials to more consistently approximate the official TWU maroon.
Recommended embroidery: Madeira Thread 1384
Vendors
T-shirts must be produced by a licensed preferred vendor

Preferred vendors will submit all artwork for approval through the licensing system for you

Shirts may be purchased from any approved vendor listed on the Creative Services site, the following are recommended due to confirmed quality:
University Designations
Shirts

must

be produced with an official university logo

Approved logos can be requested from marketing at

marcomdesign@twu.edu

or preferred vendors have access to official logos

Please make sure you read the TWU Branding Style Guide before submitting your design to marketing
Approvals
Shirts

must

be approved before

the order is submitted
Not sure who approves your shirt? Select the appropriate department below:
Marketing approves for:
New student recruitment
Community
Staff
Email shirt design to marcomdesign@twu.edu
Student Life approves for:
Current students
Student organizations
Email shirt design to mcarr@twu.edu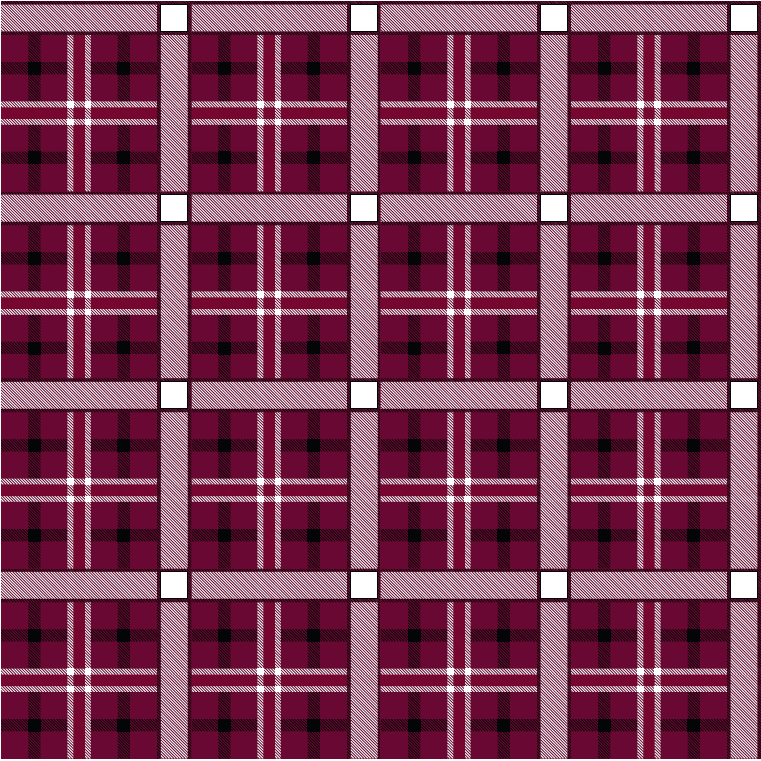 Guide for Pioneer Plaid Designs
Boldest white line is always horizontal

Do not screen back/watermark/ghost the Pioneer Plaid
Sizing of Pioneer Plaid
Always

use the Pioneer Plaid at 100 percent

unless:

Either length or width of imprint area is less than 3.5 in, then you must scale the Pioneer Plaid to 30 percent

Do not use

the Pioneer Plaid on items with imprint areas smaller than 1.5 in
Vendors
Pioneer Plaid must be produced by a licensed Learfield Licensing Partners
To become a licensed vendor or questions regarding licensing visit

twu.edu/licensing
Approvals
Items must

be approved before

the order is submitted through the vendor
Approvals for items using the Pioneer Plaid go to Marketing at

marcomdesign@twu.edu
Allow 5 days for approvals
Please make sure you read the TWU Branding Style Guide before submitting your design to marketing
Match printing to the following colors:
Background color: Match to Pantone 209
Maroon accent stripe: Match to Pantone 202
White accent stripe
Black accent stripe: 100 percent black
Restrictions on Logo Use
The TWU logo cannot be used on any communication that may be deemed to support, advocate or solicit a contribution for any political party or organization
All communications with the TWU logo and name must have nonpartisan messaging
All references to political parties or entities should be in academic context only
This policy applies to any application where the TWU logo might be used. For questions regarding logo usage please contact marcomdesign@twu.edu.
Logo Dos and Don'ts
Approved Logo Use Examples
Incorrect Logo Use Examples
Page last updated 4:56 PM, June 23, 2023