First-Year Admissions
Visit TWU's Denton campus at our next Pioneer Preview Day.
As a first-year student, you may be admitted under one of the following two categories: Assured Admission or Regular Admission.
Assured Admission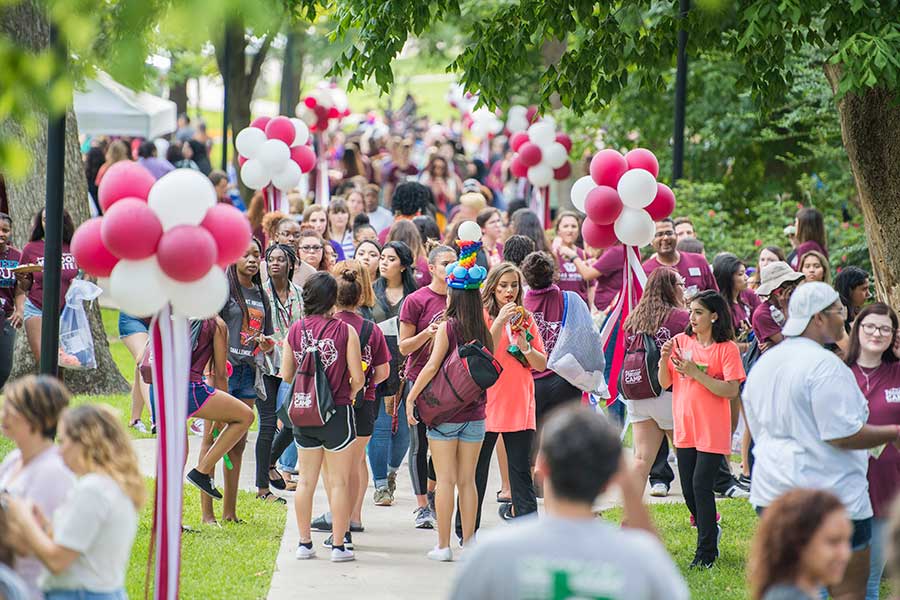 Your admission is automatically approved if you meet both of the following:
Graduated from a regionally accredited Texas high school during the past two years; and

Ranked in the top 25 percent* of your high school's graduating class
Although admission to TWU is assured, ACT or SAT scores are required for proper advising, course placement and for scholarship consideration.
*Class ranking is based on the end of 11th grade, middle of 12th grade or at high school graduation, whichever is most recent when the application is reviewed.
Regular Admission
You meet the requirements for regular admission if you meet all of the following:
Graduated from a regionally accredited high school, homeschool program or hold a GED or HiSET* certificate of completion, and

Earned at least a 2.0 high school grade point average on a 4.0 scale, and

Ranked in the top 50 percent of your high school graduating class, and

Met one of these SAT or ACT score requirements:

SAT prior to March 2016:

1000 (based on Critical Reading and Math combined)
SAT after March 2016: 1080 (based on Evidenced Based Reading

and Writing, and Math combined)

ACT:

21 (or above) composite

Met one of these curriculum requirements:

Completed or enrolled in the Foundation, Recommended or Distinguished Texas High School Curriculum**, or an International Baccalaureate Program, or

If attending a private Texas high school or an out-of-state high school, completed or enrolled in a college-prep curriculum as outlined below:

English (4 semester credit hours)
Math (3 semester credit hours, including Algebra II)
Science (3 semester credit hours)
Social Studies (3 semester credit hours)
Academic Electives (3 semester credit hours)
If you've attended TWU in the past, you may be eligible for readmission under transfer admission requirements.
*GED certificate of completion must reflect a minimum score of 145 on each of the four exams. HiSET certificate completion must reflect a minimum of 8 on each of the five exams; a combined score of 45; and a minimum score of 2 on the Language Arts-Writing essay.
**Changes to the Foundation, Recommended and/or Distinguished Curriculum adopted by the state will be followed by TWU.
Admissions Partnerships
Students from Denton ISD or Dallas county school districts may be eligible for admissions promises and scholarships. Learn more about TWU's partnerships with Denton and Dallas county.
Apply to TWU in three easy steps
The $50 fee ($75 for international students), which applies to all applicants (new and returning) can be paid by:
Credit card

online through

ApplyTexas.org

Certified check or money order

payable to TWU sent by mail to

Admissions Processing at (include the applicant's full name and ID number)

:


TWU Office of Admissions Processing




P.O. Box 425649




Denton, TX 76204-564

Cash

(no personal checks) at the

Bursar's Office

. After paying, b

ring your receipt to

Admissions Processing

(first floor of

ADM

).
Application fee waivers are granted only when you submit an official SAT/ACT fee waiver form.
Official high school transcript

- Your transcript should show your class ranking and current courses. Transcripts may be electronic or printed.
Official college transcript – If you have taken college courses, include and an official transcript from that institution. Transcripts may be electronic or printed:

Electronic transcripts must be sent through a secured system directly from the school to TWU

Printed transcripts must be sent to TWU directly from the school or delivered personally in a sealed envelope from the institution

Any sign of tampering will render the transcript unofficial and invalid

For more information regarding transcripts, please visit

Admissions Processing

ACT or SAT scores, if required

- These may be included on the back of your high school transcript or sent directly to TWU.
Copy of your permanent resident card, if applicable (permanent residents)

- If you have applied for permanent residency but have not yet received the INS form Notice of Action i-797 verifying approval, you will be processed as an international student.
Send certified checks, money orders, fee waivers and application materials to:
TWU Admissions Processing
P.O. Box 425649
Denton, Texas 76204-5649
or via expedited mail to:
304 Administration Dr.
Denton, TX 76204 (no Saturday delivery)
Page last updated 1:51 PM, February 25, 2020