Family
At TWU we recognize that your educational journey often involves your family, particularly if you are a student and identify as a parent, caregiver, or guardian. Whether you're trying to juggle childcare, need holiday gifts for your kids, or have come to the end of your journey and are interested in Family Graduation, we have resources that will help you find balance.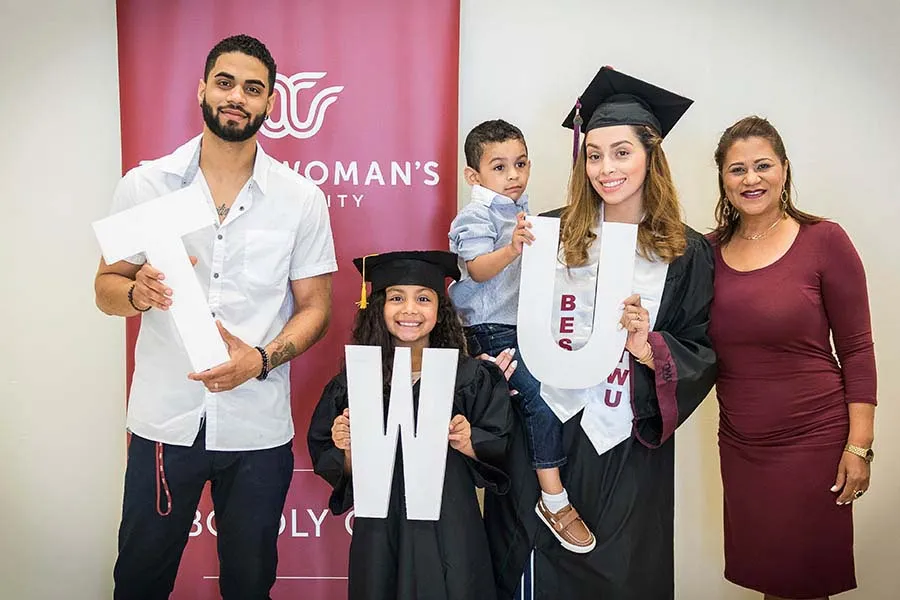 Connecting with Other Student Parents
Other parents can often be your best resource. Joining our student organization, TWU S.P.A.R.K. (Student Pioneers Also Raising Kids), is a great way to connect with other parents to find resources or recommendations about childcare, schools, etc. S.P.A.R.K. encourages and supports the non-traditional student's integration into Texas Woman's University. In conjunction with TWU, S.P.A.R.K. will represent the needs of non-traditional students in order to secure deserved privileges.
Want to learn more about S.P.A.R.K.? Contact the CARE office.
The CARE Office also hosts monthly events to assist in creating community for student parents. Coffee Chats, informational panels focused on seeking child care, and family friendly events are all aimed at welcoming and supporting student parents. You can find more information about upcoming events in Pioneer Engage.
Resources
SNAP-Free Food
You may be eligible for free food. The CARE Office facilitates monthly SNAP consultations. SNAP is a federal food assistance program in which qualifying college students can receive nutritional assistance.
Women, Infants, Children (WIC)
The WIC Program intends to protect the health of low-income women, infants, and children up to the age of 5 who are at a nutrition risk by providing nutritious foods that enhance diet, information on healthy eating, and references to health care.
Denton
Denton County Financial Assistance


Rental, mortgage, possibly extended stay hotel, and utilities assistance through the United Way of Denton. Only apply to one agency as applications are sourced by United Way staff.
Dallas
Tarrant County
Page last updated 6:58 AM, November 7, 2022