Veterans & Military Resources
Special services for veterans include academic credit for military experience (when applicable), early course registration, personalized help with Hazelwood and GI benefits, small classes, study workshops, a Student Veterans Association and veteran cords at commencement. The TWU Veteran Student Center provides space to heat meals, socialize with peers or study quietly. TWU also offers all of the most popular programs for veterans, many with national rankings — nursing, nutrition, kinesiology, business, criminal justice and computer science.
Veterans-focused initiatives also are an area of distinction of TWU's new strategic plan. In addition to supporting student veterans, the university has a number of projects focusing on veterans, including:
A $3.5 million partnership with the Dallas VA to ensure veterans continue to receive the best care possible and that TWU student nurses are well positioned for careers in veteran care;
TWU's (INjured Veterans Entering Sports Training) program, which offers opportunities for injured veterans to play Paralympic sports such as wheelchair basketball and volleyball during events held at the university throughout the year;
Psychology faculty member Ronald Palomares being recognized by the White House for his work with military children; and
Being home of the national archive of the Women Airforce Service Pilots (WASP) of WW II.
The university is serving almost 300 student veterans and more than 400 dependents of veterans. In addition, TWU employs about 70 faculty and staff members who are veterans.
Texas Woman's is proud to serve those who have served. TWU has been named a Military Friendly® School. The 2022-2023 Military Friendly Schools list recognizes higher education institutions for exhibiting leading practices in recruiting and supporting post-military students.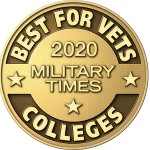 Texas Woman's also ranked among the Military Times' Best Colleges for 2020. Formerly known as Best for Vets, the rankings factor in the results of Military Times' annual survey, a comprehensive school-by-school assessment of veteran and military student services and rates of academic achievement.
Page last updated 2:51 PM, March 7, 2022