Graduate Dance Programs
Graduate alumni career paths
Our masters and doctoral students have advanced to distinguished and diverse careers as professional dance artists, researchers, choreographers, directors, and educators. Congratulations to our accomplished alumni for your achievements!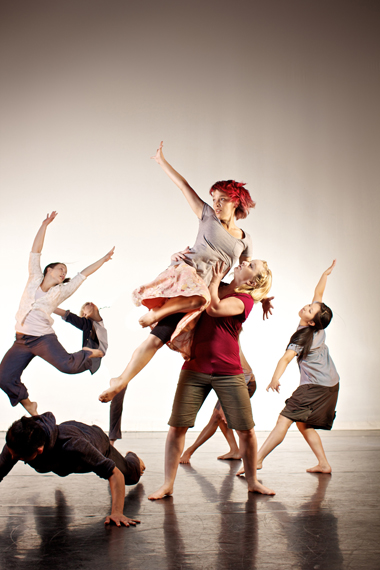 Jenise Akilah Anthony (MFA '17) is a native of Trinidad and Tobago and an assistant professor & artistic director of Sankofa Dance & Drum Ensemble at SUNY Brockport. She received her initial training while dancing with Trinidad companies such as Les Effort Dancers, Beverly Hinds Dance Theatre, Metamorphosis Dance Company and Caribbean School of Dancing. Anthony has also worked for dance companies like Dance Place in D.C., Creative Outlet Dance Theatre of Brooklyn, Trajectory Dance Project and the Dallas Black Dance Theater. She studied with esteemed native West African master instructors such as Mohammed Diaby, Youssouf Koumbassa, Mouminatou Camara, Djeneba Sako, Karamoko "Moko" Camara, Jean-Claude Lessou, and Weedie Braimah. Anthony works passionately on fusing all her trainings to develop and expand what she calls a "Modern Afro-Carib" vocabulary.
Angela (Falcone) Aulds (MFA '17) is the dance instructor at Kilgore College, home of the world famous Kilgore College Rangerettes where she teaches all levels of ballet and modern. Her scholarship centers on shifting the paradigm of high school drill team performance by implementing and developing somatic coaching strategies for dancers and directors. In addition, she currently works for Encore Creative Productions, where she choreographs custom field routines and assists with the AT&T Cotton Bowl Classic pageantry and as an independent choreographer, working with more than 35 high school drill teams in Texas.
Daunte Borner (MFA '20), also known as Cheesy, is a multi-performing artist from Dallas, specializing in pantomime, hip-hop and contemporary dance styles. He has performed with celebrity artists such as Leah Jenea from The Four, celebrity designer/stylist Latasha Henderson from Project Runway; with American singer-songwriters B. Slade, Rahsaan Patterson, and Byrson Bernard (Cupid) as well as with gospel singers Fred Hammond, Myron Butler, and Grammy winner Jennifer Holiday.
Ellen Chenoweth (MA '09) is the former director of the Dance Presenting Series at the Dance Center of Columbia College Chicago. Previous roles include director of development and communications for Pig Iron Theatre Company and managing director at the Dance Exchange. She has taught as an adjunct instructor at Drexel University and Temple University. She has completed two augmented reality installations, one providing additional content for the George W. Bush Presidential Library, and one exploring Philadelphia's cultural history.
YeaJean Choi (MFA '17) is the co-creator, programming director and Dance Behind the Screen podcast co-host for kNOwBOX dance, a nonprofit arts service organization with programming that includes the kNOwBOX dance Film Festival and Dance Behind the Screen podcast. Currently based in Seoul Korea, Choi is a former professor and a coordinator of dance at Universidad de las Américas Puebla in Mexico. Her choreography and dance film have been presented in Prague, Mexico, Canada, the United States of America, Taiwan and South Korea.
Elyse Cox (MFA '13) is the development coordinator at Chunky Move, the flagship contemporary dance company of Australia. Cox also works for Joel Bray Dance (Australia), is a board director of Women with Disabilities Victoria, and is an emerging contemporary dance producer. Since graduating from TWU, Cox has studied arts and cultural management at the University of Melbourne, where Cox's area of research is focused on contemporary dance economics and policy.
Matthew Cumbie (MFA '11) is a collaborative dancemaker, writer and artist educator. He has danced in the companies of Christian von Howard, Keith Thompson, Jill Sigman, Paloma McGregor, and Dance Exchange – an intergenerational dance organization founded by Liz Lerman – where he became an associate artistic director and the director of programs and communications. In partnership with Dance Exchange, Cumbie advanced his body of work Growing Our Own Gardens – an iterative intergenerational performance project rooted in queer world-making that partners with local LGBTQ+ and arts organizations. His work has been commissioned and supported by Dance Place, the Bates Dance Festival, Herman Melville's Arrowhead, Harvard University, the National Endowment for the Arts, the DC Commission for the Arts and Humanities and the New England Foundation for the Arts. Currently, he is a visiting assistant professor at Colby College.
Whitney Geldon's (MFA '12) is a faculty member at the University of North Texas Department of Dance and Theatre and a co-founder/director of Big Rig Dance Collective, a DFW project-based company. Certified in Movement Fundamentals, she has performed and presented with international artists such as Amii Legendre, Rebecca Bryant, The Equus Project, and Jordan Fuchs Company.
Jessica Hale (MFA '15) recently finished working as a producer/editor with World Wrestling Entertainment and is the guest artist for the dance department at Missouri State University. She received the platform grant from CACHE studios in NorthWest Arkansas and is working on an evening-length multi-media performance project to premiere in May 2023. Hale is also involved in Growing Our Own Gardens, an iterative process that partners with LGBTQ+ artists and organizations to use performance and engagement as a platform to reflect on and reimagine LGBTQ+ life in our country. Weaving together dance, music, projection, storytelling and community engagement, it explores notions of queerness, place, memory and the role making plays in home-making.
Azaria Hogans (MFA '18) is an assistant professor at Missouri State University and a freelance dancer, choreographer, artist scholar and educator. Hogans serves as the manager of resources and archives and board member for kNOwBOX dance. She has presented and performed works nationally and internationally and has published articles in the Journal of Dance Education in Practice (DEip), the Journal of Dance Education (JODE), Dance Teacher Magazine, Black Dance Magazine and Dance Magazine.
Terrance M. Johnson (MFA '15) is a philanthropist and professional dance artist from Alexandria, La., who has performed with various companies including Dallas Black Dance Theater II, Exhibit Dallas Collective, Beckles Dancing Company, Contemporary Ballet Dallas, and the Dallas Opera. He is the founder and executive artistic director of the Terrance M. Johnson Dance Project, a 501(c)(3) nonprofit organization that uses dance to enrich the lives of children and families in historically underserved communities.
Michelle Moeller (MFA '05) is associate professor and chair for the University of Central Oklahoma Department of Dance. She served as artistic director of Perpetual Motion Dance for 20 years and recently stepped down to focus on her role at UCO.
Reyna Mondragon (MFA '19), born in Chihuahua, Mexico, is a faculty member at the University of North Texas Department of Dance and Theatre; the manager of community engagement and a Dance Behind the Screen podcast co-host for kNOwBOX dance, a 501(c)(3) nonprofit organization; and artistic director of mixtamotus, a human digital interface art exploration.
Martheya Nygaard (MFA '18) is the co-creator and managing director for kNOwBOX dance, a nonprofit arts service organization with programming that includes the kNOwBOX dance Film Festival and Dance Behind the Screen podcast. Over the past three years, kNOwBOX dance has become nationally recognized via its film festival and sought-after guests on the podcast. She is also a co-founder and artistic director of mixtamtous, a multidisciplinary art collective.
Jonathan H Pattiwael (MFA '19) is a lecturer at University of Dayton, director of education at Cincinnati-based Heroes Rise Inc. Street Dance Experience and resident dance artist at Dayton Contemporary Dance Company. He received commissions from Ohio Dance, Ohio University, Xavier University, Regional Dance America, SCAD and Urban Creative Healing Arts Symposium, and performed for the Cultural Authority of Istanbul in Turkey.
Melissa Sanderson (MFA '14) is associate professor of dance at Austin Community College. Sanderson worked as a freelance artist in Seattle with choreographers and companies including Jessica Jobaris & General Magic, Coriolis Dance, LanDforms, The Gray and Kinesis Project Dance Theatre in venues such as Velocity Dance Center and On the Boards.
Nicole Wesley (MFA '03) After 20 years in higher education, becoming a certified Laban movement analyst, co-authoring a BFA in dance and being program leader for the University of Trinidad and Tobago, co-founding the COCO Dance Festival, being area head of the BFA in dance, teaching certification and serving as associate chair for curriculum and student success for the Department of Theatre and Dance at Texas State, Wesley transitioned into an administrative position with the Office of Distance and Extended Learning at Texas State University, putting to use her passion for continuing education.
Doctoral cohort news
We are proud to announce the new doctoral cohort. This year, we welcome five scholars and professionals from around the globe and look forward to the innovative research contributions these PhD candidates will bring to the field of dance.
Graduate Assistantships
Apply for one of our Graduate Assistantships today! Our assistantships provide students with a range of professional opportunities, including teaching studio and theory courses, working on one of our online courses or supporting the dance program directly in areas such as publicity, recruitment and retention, and digital media documentation.
Page last updated 2:31 PM, June 16, 2023