International Dance Company
About us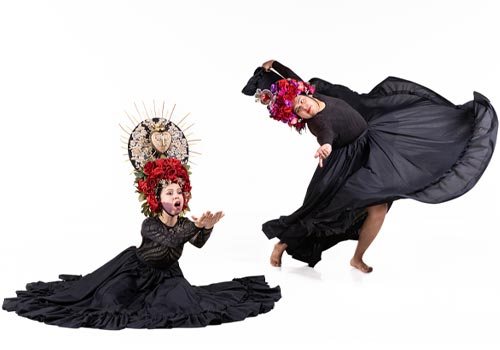 The Texas Woman's University International Dance Company (IDC), organized in 1978 by professor Gladys Keeton, performs for elementary and secondary schools, on college and university campuses, at conventions, in concerts, and for numerous civic and community organizations.
IDC has performed throughout the Dallas/Fort Worth metroplex and nationally, presenting formal concerts, lecture demonstrations, master classes and informal demonstrations with audience participation that are entertaining and educational for all ages.
IDC offers a diverse repertory of dance works set by invited guest artists, alumni, students, faculty and artistic director Elisa De La Rosa.
For more information, email artistic director Elisa De La Rosa at edelrosa4@twu.edu.
Book us for your next event
When booking the IDC for your next event, you can expect an entertaining and well-rehearsed show tailored to suit your needs. While we do not require payment for our performances, we welcome donations to help us commission new dances, purchase costumes, and perform for audiences who otherwise would not have access to live dance.
Please be sure to provide the following for our performance:
Green room
Music system (indicate CD, Bluetooth, MP3 player with cord, etc.)
Microphone
Information about the stage size & condition
Travel stipend if the performance is outside of Denton
For more information about booking the TWU IDC, please contact IDC@twu.edu.
Become a Company member
International Dance Company is part of the Division of Dance, but you do not have to be a dance major or minor to join. You do, however, have to be enrolled in a dance technique class as well as Dance Performance (DNCE 1101, 2101, 3101, or 5101). IDC members are strongly encouraged to take DNCE 2191 or 3191 (Urban/Global Dance Practices). If you are not a dance major, you could also register for an intro level dance practices course such as ballet or modern (DNCE 1111 or 1051). To join, come to our first meeting of each semester.
Membership benefits
As a member of the International Dance Company, you can expect to:
gain extensive performance experience in a variety of dance styles. We perform an average of five times each semester, on and off campus.
develop valuable leadership and dance skills.
make important networking connections that may benefit your future career.
Membership responsibilities
As a member, you will also be expected to:
commit to attending 4 hours of rehearsal per week.
arrive on time to rehearsals and performances, and rehearse as needed on your own in order to be prepared. Members who miss rehearsals may be recast at the director's discretion.
provide your own eyeliner, red lipstick, hair net, bobby pins, hairspray, etc.
act as an ambassador to the community, including prospective students.
For more information about IDC membership, please email IDC@twu.edu.
---
Like us on Facebook and follow us on Instagram for the latest information about our performances and company members.
Page last updated 11:27 AM, February 10, 2023