Volunteer Opportunities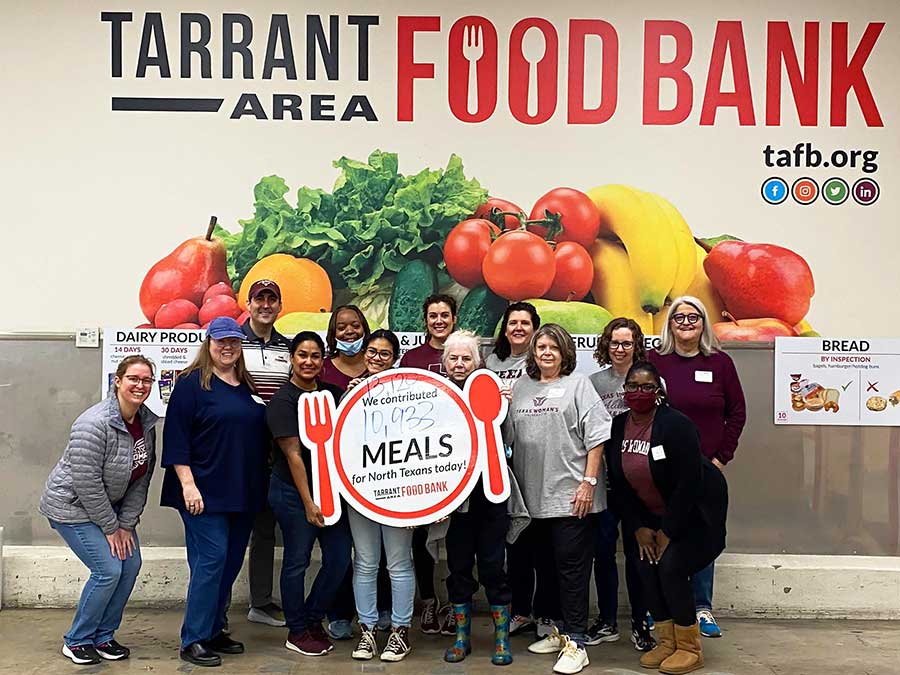 The goal of the Alumni Volunteer Program is to engage the large community of TWU alumni both in Denton and outside the DFW area by providing opportunities to volunteer and make connections with current students and other alumni of TWU.
Alumni Engagement is excited to share the new and improved alumni volunteer program. After a year of learning and growing, we are thrilled to provide an even more involved volunteer program that allows you to volunteer based on your schedule.
We have added a new gift ladder which rewards consistent monthly volunteering. Every two months, you will receive a fun alumni gift. To earn credit for volunteering each month, we have created a simple form for participants to submit after each volunteer project. Monthly credit will be received when you participate in at least one project each month, but we welcome you to participate in as many projects as you like. As this is a new program, all earnings will begin in September.
Below you will find some of the opportunities you may be able to participate in throughout the year.
Admissions Volunteer
As an admissions volunteer, you will work with the TWU Admissions office and students who are interested in or plan to attend TWU. What role you are provided will depend on your interests, location and availability throughout the year. Options include:
College Fairs/Signing Days: TWU has students from across the U.S. and the admissions team needs your help recruiting future Pioneers

Certain times throughout the year and based on your location, you can be a representative for TWU at fairs and/or signing days where you may partner with admissions or represent on their behalf
If you choose to attend a fair or signing day, you will be provided the resources needed by the admissions team along with additional instructions necessary to be successful
If interested in these opportunities, it is important to be familiar with TWU and read the admissions manual before the event

Recruiting Phone Calls/Postcards

: As a TWU alum, you can have the opportunity to directly speak to candidates considering TWU and provide a unique insight into life as a Pioneer as they make their college decisions

Each year will bring new students to call or write postcards to at which point alumni volunteers will be provided with a list of names and helpful information
Career Connections Volunteer
As a Career Connections volunteer, you will have the opportunity to assist the office with a student and professional development. Opportunities you may participate in include resume and cover letter editing, mock interviews and career events geared towards TWU students, such as:
Speakers Bureau: Alumni interested in speaking to current and previous TWU students or TWU alumni will be put in a pool of speakers who can be selected by Alumni Engagement or partnering TWU departments to speak as needed

The talks may center on career fields, academic majors, or external requests and are designed to engage the community and celebrate the alumni of TWU

Connect 2 Careers: Advise current students and give them an inside look into your career field.

Alumni who participate have the opportunity to provide tips and advice for their career field

Career Fair and Career Fair Prep: Alumni are invited to come and speak to various TWU students and other alumni at the career fairs hosted by Career Connections

You have the opportunity to network and guide students in a direction of success in future job prospects or even represent a company you are currently at
If you would like to help students outside the fair, alumni may also help with the career fair prep the week prior when students are provided tips for a successful career fair experience

Career Trek: Help current students explore career options by allowing them to virtually tour your place of business or home office to see what a day in your field is like.
Civic Engagement - Pioneers Serve
Civic Engagement provides TWU students the opportunity to impact the community and grow as people by providing volunteering opportunities. By partnering with the Civic Engagement department, alumni volunteers have the opportunity to engage with current TWU students and the Denton, DFW and TWU community.
The BIG Event (Spring) and Make a Difference (Fall) Service Days: Partnering with Civic Engagement, The BIG Event and Make a Difference Day are dedicated days to give back to the Denton community

As an alum, you are welcome to participate in our group alumni effort where you can meet and give back with other alumni from TWU

Helping Hands Monthly Service Project: Civic Engagement and Helping Hands hosts monthly service projects to engage the TWU students and help the Denton and DFW community

As alumni, you can get involved each month and help the community alongside the current students or with a group of alumni

MLK Day of Service: Join the TWU and Denton community in celebrating Martin Luther King Jr. on a day dedicated to education and serving

Participate in educational service and march around the TWU community and engage with alumni and students
Pioneer Center for Student Excellence Volunteer
The Pioneer Center for Student Excellence is designed to provide and coordinate services for students that promote engagement in and out of the classroom and community. As a Pioneer Center volunteer, you can directly be involved in student experiences by hosting students or providing opportunities for growth through connections and personal experience.
Spring Break Shadowing: Alumni interested in hosting students can network with TWU students as a shadowing mentor to a current student during Spring Break
Coffee & Alumni Conversations: Chat virtually with current TWU students about your career path and/or field. Each conversation will be hosted by an alumni with a small group of current students.
Student Programs
Dinner with 12 Pioneers:

Alumni host 12 TWU students to discuss careers, graduating and staying involved with the University
30-Minute Mentoring: This program is designed to create short-term mentoring opportunities for TWU students and alumni. Mentoring will be available virtually for the fall semester. These sessions may be specific to professions/degrees or could feature open discussion.
To stay up to date on events and programs, be sure to register to volunteer to receive the volunteer newsletter.
Page last updated 8:44 AM, February 8, 2022