Visit
Let us give you the tour! We encourage patrons, prospective students, and community members to contact us at 940-898-2510 or theatre@twu.edu to schedule a personalized tour of our Redbud Theater Complex.
Redbud Theater Complex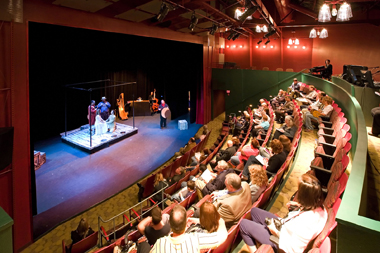 You can explore our facilities with interactive, panoramic photos featuring just a few of our state-of-the-art classroom, practice and performance spaces. Take the virtual tour>>
We are located on the north end of Hubbard Hall, at 1401 Oakland St. Denton, TX 76201. Built in 2007, the contemporary 19,000-square-foot complex seats 100, has a wheelchair accessible area in front of the theater, and houses every space necessary for theater education and support, all under one roof.
Redbud Theater Complex
Rehearsal room/classroom
Practice room/classroom
Practice area
Make-up room/classroom
Green Room/conference room/student lounge
Conference room/student lounge
Scene shop/classroom
Faculty offices
Costume shop
Prop and costume storage
Directions and Parking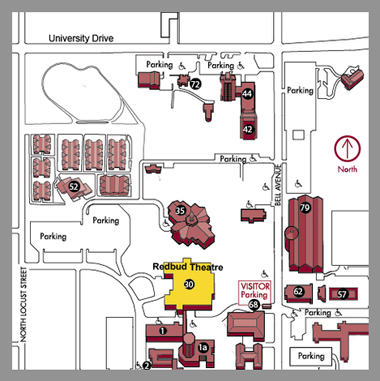 Patrons can park in the visitor lot (accessible parking spaces available) located on Administration Drive, or in the large lot at the corner of Locust and Oakland (no accessible parking spaces).
Coming from Visitor Lot: Building with 3 large columns directly in front of you is Hubbard Hall/The Redbud Theater Complex. Our entrance is on the right/north side of the building, closer to the fountain. There will be a small set of stairs and glass doors to enter our building. Accessible entry is also available here.
Coming from the Locust/Oakland lot: The Redbud Theater Complex is the first building you will come to. Walk over the small bridge and our building is the first on the right. This entrance has a number of stairs. Accessible entry is available at the north entrance described above.
Page last updated 1:22 PM, February 27, 2023