Theatre
Picture yourself in the role of a lifetime
Acting. Directing. Designing. Playwriting. The Division of Theatre at Texas Woman's University will prepare you for a future on stage, screen or behind the scenes with experienced faculty mentors and once-in-a-lifetime performance opportunities.
We are committed to developing well-rounded artists who have the ability to function creatively and skillfully in a variety of theatre situations. In addition to pursuing your primary passion here at TWU, you will gain expertise in every aspect of the production process.
2022-2023 Season
The 2022-23 season concludes with Head Over Heels, a musical featuring the music of the 1980s group, The Go-Go's.
The 2022-23 lineup:
The Effect, Oct. 12-16
The Children of the Queen's Writ, Nov. 16-20
Bull in a China Shop, Feb. 22-26
Head Over Heels, a musical: Apr. 21-23 and Apr. 28-30
Tickets for all shows are $10 for adults and $5 for students and seniors. TWU Theatre offers a pay-what-you-can option available at every Saturday 2 p.m. performance.
The Redbud Theater Complex is under construction this summer, but you can explore our facilities with interactive, panoramic photos featuring just a few of our state-of-the-art classroom, practice and performance spaces.
Why study Theatre at TWU?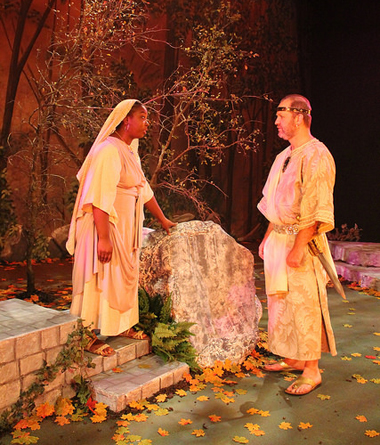 Master your craft
TWU is one of only five universities in Texas to offer a master's degree in theatre. And if you seek the convenience and flexibility of online learning, a unique hybrid program established in 2008 is one of only a few in the nation allowing students to earn a Master of Arts in Theatre degree almost entirely online.
Develop lasting friendships
As a TWU theatre student, you will be encouraged to team up with your peers and engage in community service through membership in Alpha Psi Omega, an honorary theatre fraternity on campus. Among their projects, fraternity members help with fundraising for department scholarships and work on an annual holiday gift drive for local families in need.
Kick-start your career
Over the summer, you can learn on the job and network with professionals in your field while completing an apprenticeship or internship with a local theater company. Because TWU has a strong relationship with the local arts community, our students find work at prestigious venues in Denton, Dallas and Fort Worth.
Find your calling
A degree from TWU's Division of Theatre could lead to Broadway, Hollywood or beyond. The skills acquired with a background in theatre arts could open doors to a surprising number of creative and educational careers, including, but not limited to:
Actor
Stage manager
Technical director
Theatre teacher
Artistic director
Scenic or costume designer
Page last updated 1:28 PM, February 27, 2023