International Connections
Take your training on the road with the TWU Division of Theatre as we tour festivals and venues around the globe. Our students have developed and performed original plays in front of international audiences in England, Ireland and the Czech Republic.
Summer 2020: Dublin, Ireland
Gaiety School of Acting - Irish Summer Theatre Program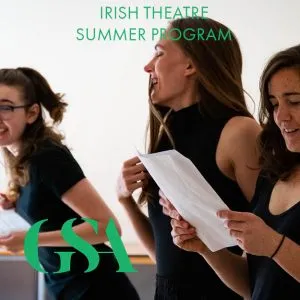 TWU Theatre will travel to Dublin during Summer 2020 to participate in the Gaiety School of Acting Irish Summer Theatre Program for four weeks. We will also tour our devised piece, Architecture of Loss, to Dublin and present at the International Conference on The Arts in Society in Galway.
Students interested in participating (both theatre majors and non-majors) and potential students can meet with Dr. Bynane or Dr. Lelek.
In 2017, the Texas Woman's University Theatre Program performed the original play Gun Show at Edinburgh Festival Fringe in Edinburgh, U.K. "The Fringe" is the largest arts festival in the world, running throughout the month of August and featuring performances from hundreds of theatre companies from around the globe.
TWU students perform at the Brighton Fringe Festival
The Night Witches
by Steven Young
Directed by Dr. Patrick Bynane
Inspired by the female fighter pilots of WWII, TWU's own assistant professor and award-winning playwright Steven Young created the original work The Night Witches for the Redbud stage. The production premiered locally at the TWU Redbud Theater in November 2013 and internationally at the 2014 Brighton Fringe Festival in Brighton, England. In addition to performing The Night Witches live in front of a festival audience during its one-week run, TWU Theatre students spent a week in London attending productions on the West End and exploring the British theatre culture.
Past Tours
Edinburgh Fringe Festival 2011- Performed the original work The Panther's Scream at The Space UK
Dublin, Ireland 2010- Faculty and students developed and performed the original play The Half Moon Couple at the Gaiety School of Acting in Dublin.
Edinburgh Fringe Festival 2008- Performed original production of Lake Simon's and John Dyer's Alice in Wonderland at the Bedlam Theatre.
New York 2006- New York saw the re-mounting of The Long March at the famous Greenwich Street Theatre.
Dublin, Ireland 2005- Students developed and acted in the original production of The Long March at the Gaiety School of Acting in Dublin.
Prague 2000-2004- Students traveled and participated in workshops and performances using Kafka's work.
Page last updated 10:15 AM, March 2, 2023