Speech, Language & Hearing Clinic
Now seeking new clients
Our onsite speech, language and hearing clinic in Denton provides services to those in the community with speech, language, cognitive-communication, feeding or hearing difficulties. Services are offered during the day and after school. Depending on your relationship with the university, you may qualify for discounted rates.
To schedule an appointment, please call 940-898-2285.
Be sure to check out the variety of summer camps we offer to the community, as well. We have specialized sessions for children ages 3 to 16.
TWU graduate students provide these services to the community as part of their education. They are supervised by TWU faculty members who are ASHA-certified and Texas-licensed speech-language pathologists and audiologists.
Services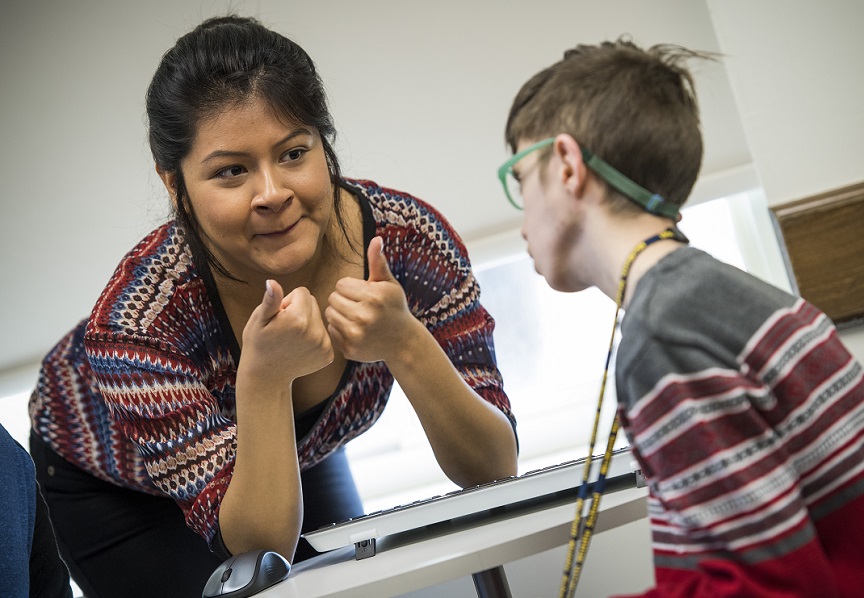 Speech
Services include assessment and intervention for both children and adults with all types of speech difficulty, including:
Articulation
Childhood apraxia of speech
Adult apraxia of speech
Dysarthria
Stuttering
Voice disorders
Foreign accent modification
Language
Traditional and innovative assessments and interventions of language disorders are offered. Therapy is designed to meet the needs of individuals who have communication disorders such as:
Language delay or disorder
Auditory processing disorder
Impairment due to progressive neurological conditions (i.e. MS, ALS, Parkinson's)
Neurological impairment due to damage or trauma (i.e. stroke, closed head injury)
Hearing
We use state-of-the-art equipment while assessing hearing in school-age children and adults under the supervision of a certified and licensed audiologist. Personal consultation and individual recommendations are provided following every evaluation.
Hearing testing and therapy services include:
Adult and pediatric hearing assessments
Screening for auditory processing disorders
Auditory-verbal therapy for children with hearing loss
Aural habilitation for users of cochlear implants and hearing aids
Reading clinic for deaf students
Feeding
Individual and group therapy is available for children with sensory-based or motor-based feeding disorders.
Page last updated 12:13 PM, August 10, 2017