Promise Summer Bridge Program
What is the Promise Summer Bridge Program?
The Promise Summer Bridge Program provides incoming TWU students who are part of the Promise Program Partnership, an opportunity to jump-start their academic journey before the semester begins! Students participate in a one-week session consisting of college success workshops. The program is designed to prepare students and ease the transition into college. Examples of topics include general "college knowledge", study skills, time management, learning styles, strategies for studying, expectations, and more.
At the end of the program, you will attend Pioneer Camp.
As a Bridge participant, you will be able to:
Receive academic coaching support
Participate in monthly academic workshops
Develop meaningful connections with their peers, staff and faculty
Gain necessary college success skills
Learn about resources available at TWU
Summer Bridge Checklist
Verify your Financial Aid is correct and up-to-date at Financial Aid. (Check your TWU email for updates after you complete the FAFSA for further instructions).
Complete the Texas College Bridge. Completion provides an automatic exemption for TSIA2.

If you have already completed the Texas College Bridge, send results to OAP at oap@twu.edu or TWU Admissions Processing P.O. Box 425649 Denton, TX 76204-5649. For more information visit the Admissions About the Application Process website.
If you have not completed the Texas College Bridge and/or taken the TSIA(2) exam, complete it BEFORE coming for orientation. Take TSIA(2) exam.

Submit final transcripts to oap@twu.edu or TWU Admissions Processing; P.O. Box 425649; Denton, TX 76204-5649.
Apply for on-campus housing if you haven't, complete exemption paperwork if applicable, the exemption request must be completed through the housing portal.
Apply for scholarships. (This link is for institutional scholarships but you can/should apply for other scholarships as well)
Submit your Meningitis vaccination requirement to the University. Read about the requirement.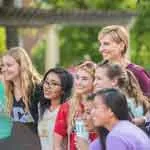 No matter your background, we believe in excellence from academic programs to student services—and that is the experience you too will find at our #campuswithaheart.
Have questions?
Contact Destiney Tolbert
Director, Pioneer Center for Student Excellence
dtolbert2@twu.edu
214-689-6687
For more information please visit the Promise Partnerships page.
Page last updated 4:33 PM, June 23, 2023