November/December 2020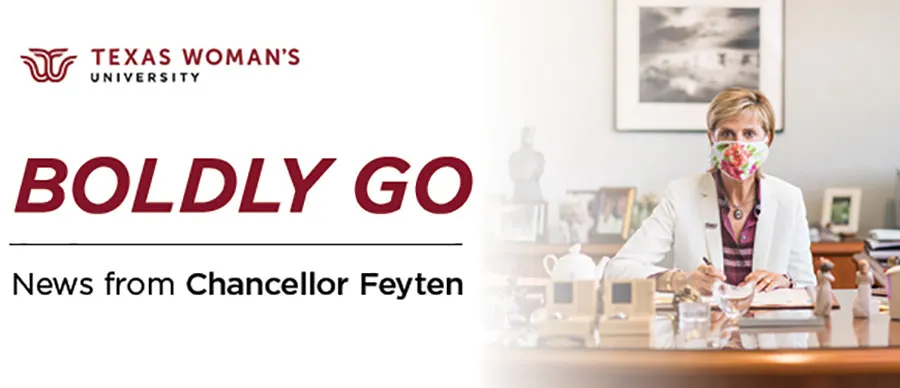 'Tis the Season for Gratitude...and Celebration
Dear Friends:
I begin my year-end email to you with something that became a workplace phenomena when COVID-19 hit—the Zoom call! Its popularity inspired the holiday video wishes my colleagues on our three campuses, our mascot Oakley and I are sending you as the curtain falls on 2020. I hope you enjoy it!
---
CELEBRATING OUR STUDENTS...
---
TWU's first all-female NASA design competition team brings research to life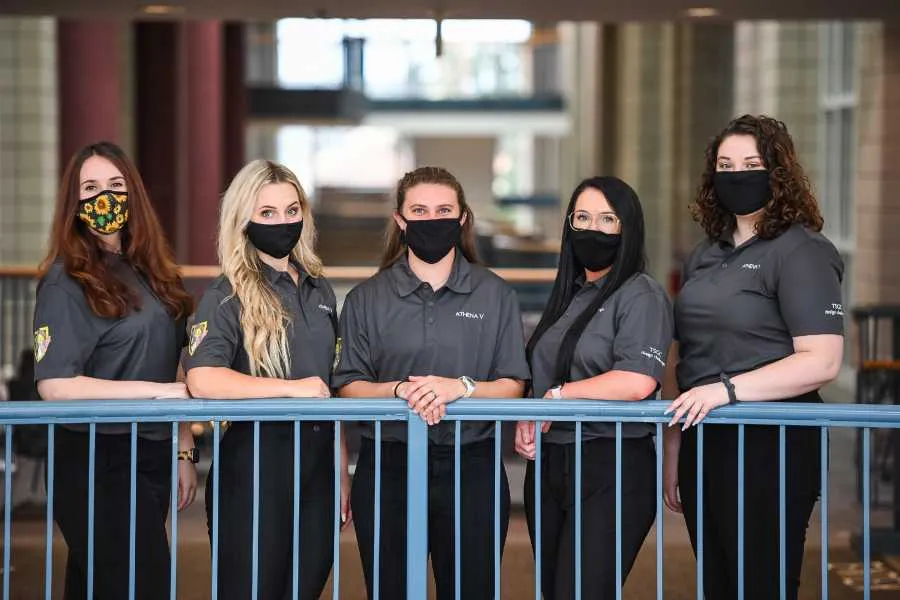 TWU's "Athena V" team includes, from left, Cheyenne Allen, Karis Nowell, former Student Regent Lexi D'Abrosca, Morgan Beckham and Madilyn Sieber.
Five Texas Woman's kinesiology students turned classroom theories into a real-world device by competing in the Texas Space Grant Consortium Design Challenge Showcase November 17-18. The TWU "Athena V" team, the first all-female TWU team to enter the competition, placed 4th out of 20 teams.

This NASA-sponsored design challenge annually offers undergraduate students an opportunity to propose, design and produce a solution to research objectives of importance to NASA and its mission. The competing university teams participated virtually in a Q&A session with judges after submitting a poster, mid-term report and video presentation.

Our team tackled the problem of uneven blood distribution in a microgravity environment that results in "space headaches" for astronauts. During the Space Shuttle program, 69% of male astronauts and 55% of female astronauts reported headaches during short missions. The prevalence of headaches during long duration missions onboard the International Space Station is approximately 70%. Our team constructed a heated calf sleeve to increase blood flow to lower extremities and alleviate headaches experienced during weightlessness.
---
Marketing student earns special national scholarship to study in England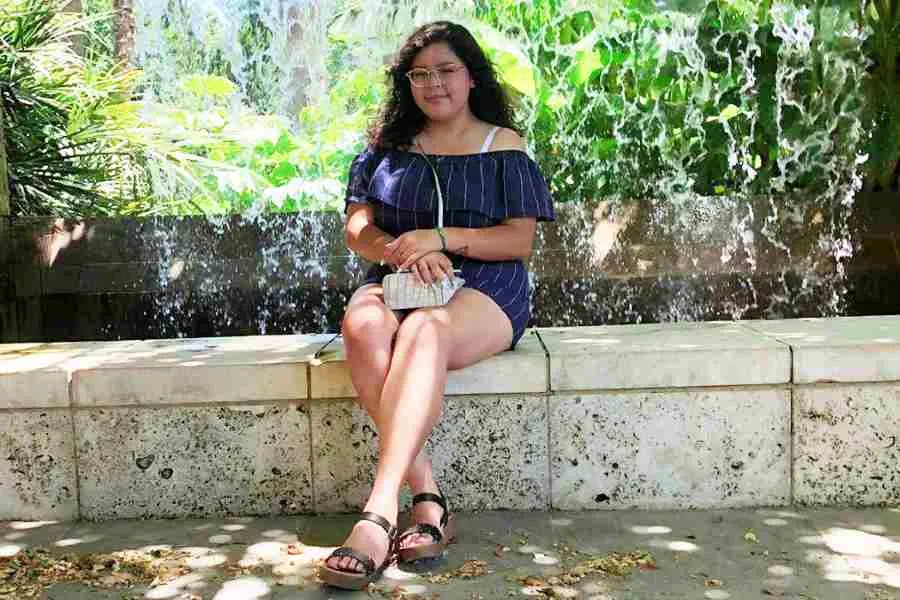 I am pleased to announce that marketing student Jessica Arroyo is only the second from our university to earn a Fund for Education Abroad scholarship. She plans to pursue a semester experience in England next fall or even spring 2022, depending on the pandemic's course.
Jessica hails from Plano, Texas, but spent much of her childhood in Mexico. The national scholarship she received provides funding and ongoing support to underrepresented students in the U.S. study abroad population. Once she was selected, she decided to study in London because it is one of the most diverse cities in the world.
FEA Scholars also are required to empower other underrepresented students to study abroad through producing blog and video content chronicling their experiences abroad, which fits perfectly with Jessica's career interests.
---
CELEBRATING OUR NEW GRADUATES...
---
TWU sets special commencement activities for class of 2020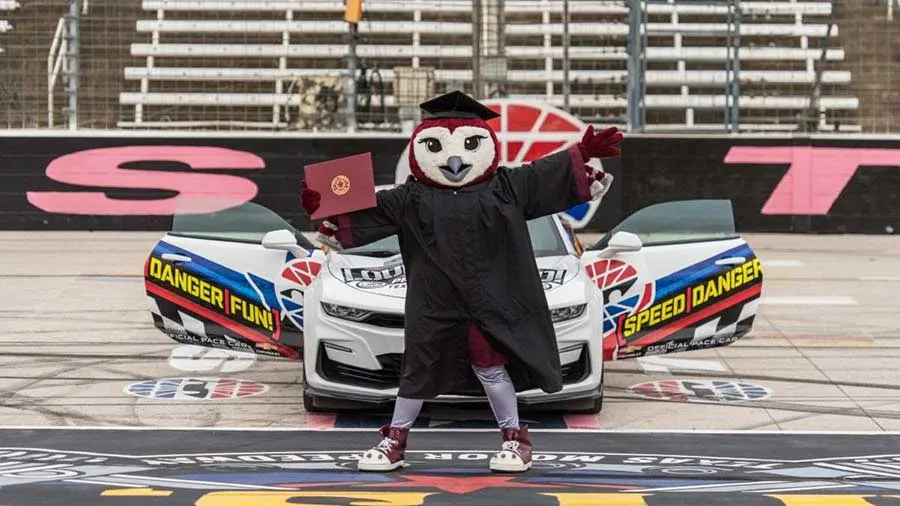 TWU graduates will cross the finish line at special commencement events in DFW and Houston.
While this year has been challenging, I am pleased we will celebrate our 2020 May, August and December graduates in a special way next week at "drive-thru" graduation ceremonies in the Dallas-Fort Worth area and in Houston.
At the Denton/Dallas events, our graduates literally will cross the finish line at Texas Motor Speedway in Fort Worth on Dec. 11-12.
In Houston, the events will be hosted by Heavy Construction Systems Specialists in Sugar Land on Dec. 13. Owner and long-time TWU supporter Mike Rydin offered use of his business property in honor of his late wife, TWU alumna and occupational therapy faculty member Sophie Rydin, PhD (MOT '78, PhD '07).
All arrangements have been made with social distancing in mind, and we are excited for the opportunity to safely honor our graduates in person. For more information about our commencement activities, please visit the TWU Commencement 2020 website.
---
CELEBRATING OUR ALUMNI...
---
Legacy of alumna and OT Houston faculty memorialized with gift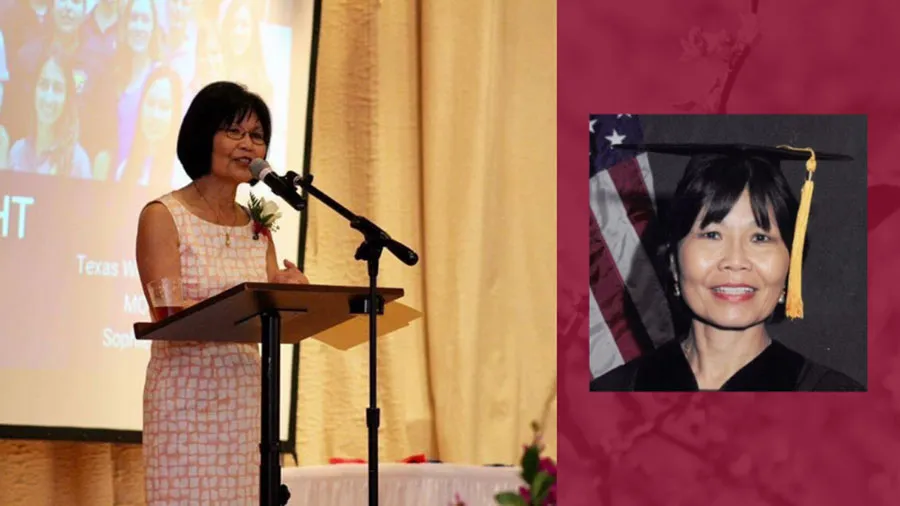 Sophie Rydin knew no strangers and always lent a helping hand to everyone she met.
And speaking of Dr. Rydin…our Board of Regents just approved naming our Occupational Therapy program at our Houston campus in her honor! Dr. Rydin spent 40 years at Texas Woman's going back to her undergraduate days.
It is a fitting tribute for Dr. Rydin, who lost her battle to cancer this summer. She touched the lives of hundreds of our students and was instrumental not only in their successes but in helping the university become a more vibrant place. She and her husband gave generously over the years to help equip spaces for student gatherings and research. Following her passing, her husband Mike gave the OT program a $2 million gift in her honor to support scholarships as well as student and faculty programs.
---
Alumna finishes goal of climbing world's seven tallest mountains while doing research
Our alumna Roxy Gonzales-Vogel (MS '17) earlier this year climbed Mt. Vinson in Antarctica—the world's highest and driest desert. This recent climb marks the completion of her goal to climb the tallest mountain on each of the seven continents. With her goal of inspiring young women to become scientists, Roxy is finishing up her research on female physiological responses to prolonged polar expeditionary travel.
Currently, she is pursuing her PhD at Southern Cross University in Lismore, Australia.
---
Alumna celebrates her military career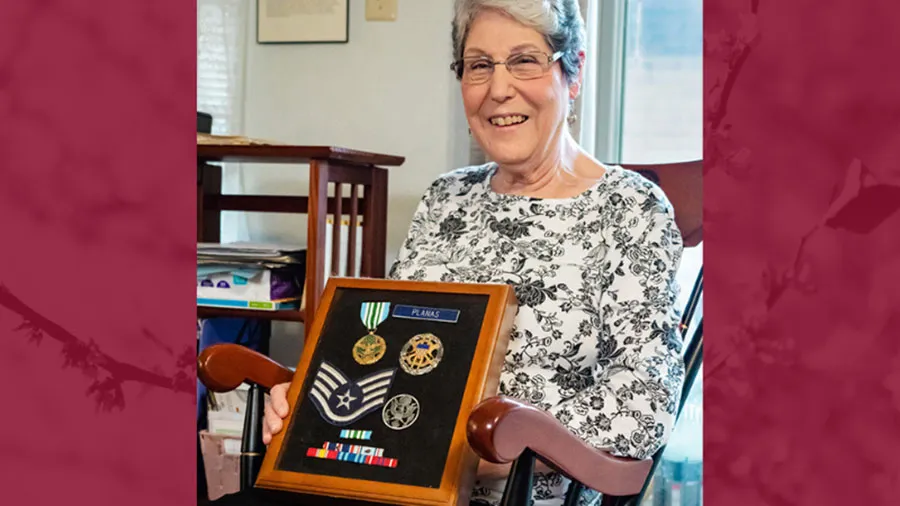 Photo courtesy of Aerotech News.
In early November, we celebrated our deep roots in supporting women veterans. I want to give a special shout-out to alumna Dorothy Planas (MLS '89), whose story was published in Aerotech News, the journal of aerospace, defense industry and veterans news.
In the photo above, she holds a special shadow box she created, which includes her Joint Chiefs of Staff service badge, the Joint Service Commendation Medal, the Air Force Outstanding Unit Award, the Air Force Good Conduct Medal, the National Defense Service Medal, the Air Force Longevity Service Award, and the USAF NCO Professional Military Education graduate ribbon.
After eight years of U.S. Air Force service in telecommunications, Dorothy attended TWU to earn her master's degree in library science.
---
CELEBRATING OUR RESEARCH...
---
Dean Chris Ray earns patent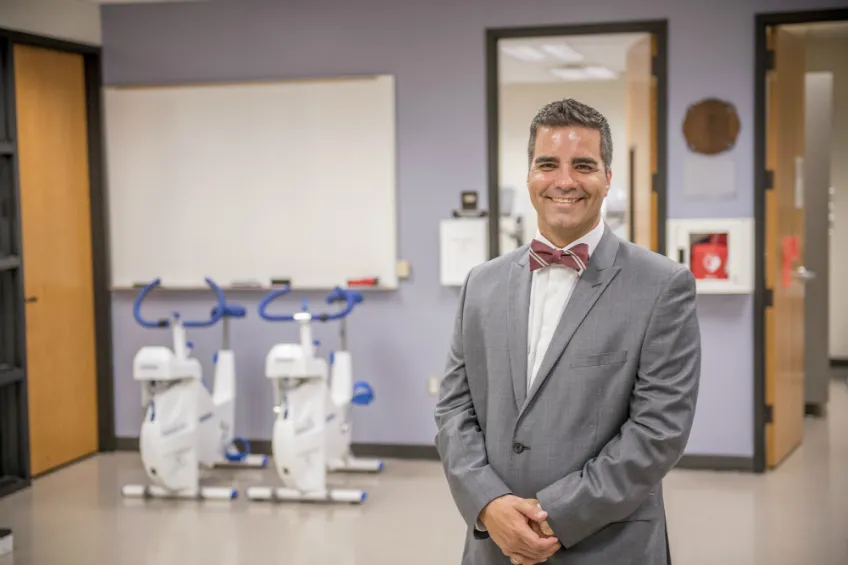 My heartiest congratulations to Dean Chris Ray, PhD, in our College of Health Sciences for recently earning a patent with two other academic colleagues. Their patent centers on systems and methods that can predict medical events and conditions—such as falls, osteoarthritis, Parkinson's disease, dementia spectrum disorders, Alzheimer's disease, lower extremity orthopedic injuries, peripheral neuropathy, cardiovascular disease and the like—based on an analysis of a patient's gait.
Since joining us in 2016, Dr. Ray has had 484 citations on his continuing research, which largely focuses on geriatric pain, disabilities and balance.
---
Global Nursing faculty collaborate on HIV-related attitudes research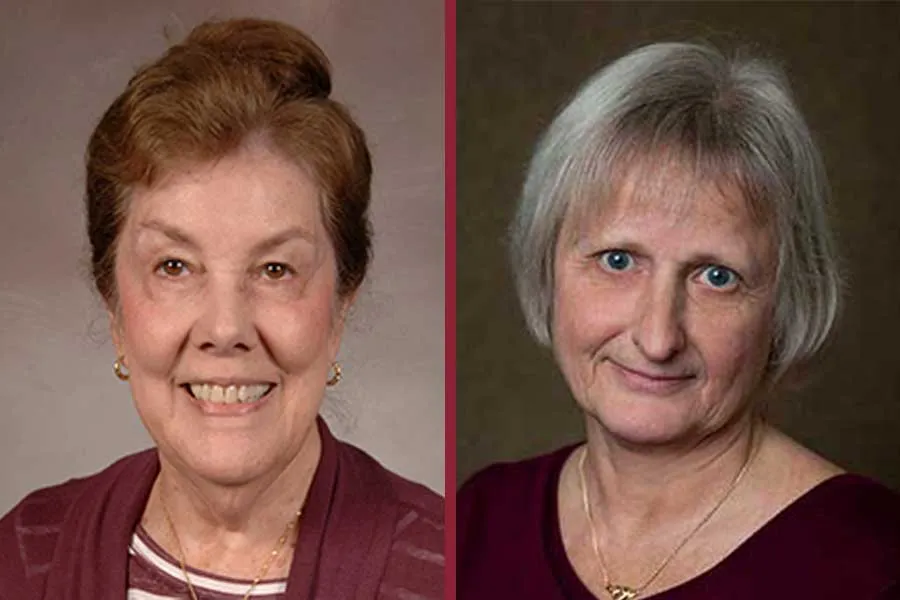 Three principal investigators from our Center for Global Nursing — Patrick Palmieri, PhD; Joan Edwards, PhD (above left); and Juan Leyva-Moral, PhD, recently published research on HIV-related attitudes of nursing faculty from six countries on three continents. The unique study focused on nursing school faculty whereas prior research largely focused on nursing students. TWU professor Sandra Cesario, PhD, (above right) contributed as well.
---
CELEBRATING OUR FACULTY...
---
TWU psychology faculty examine dynamics of bullying in new book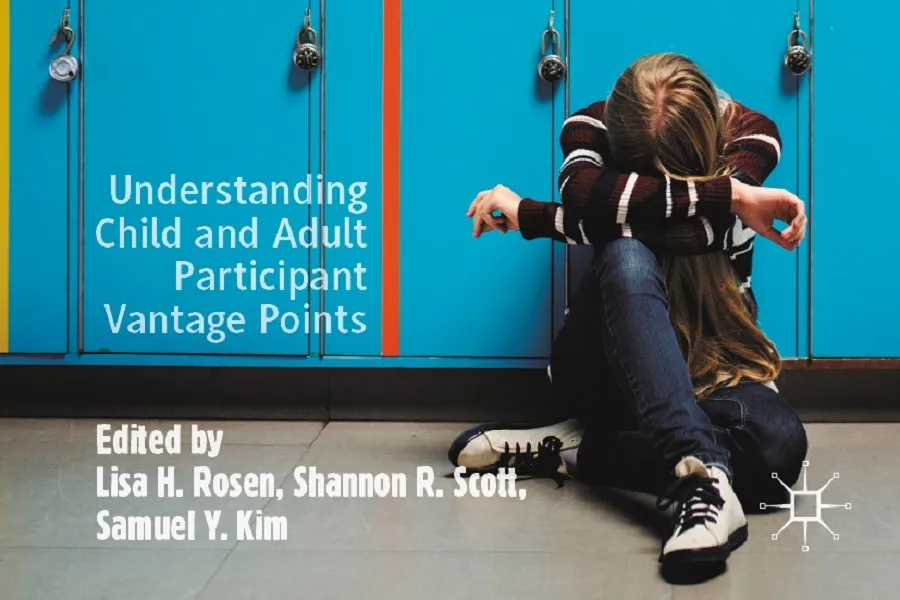 Kudos to our psychology professors Lisa Rosen, PhD; Shannon Scott, PhD; and Samuel Kim, PhD, for their newly published book, "Bullies, Victims, and Bystanders: Understanding Child and Participant Vantage Points." Each chapter highlights the roles of bully, assistant, reinforcer, outsider, defender and victim, while also investigating the influence parents and teachers have on peer group dynamics.
"We began with a foundation in classic research and then integrated new findings, paying special attention to technology, social media and the rapid modernization of our society," Dr. Rosen told us. "We believe the text provides valuable insights for teachers, educational psychologists, researchers and parents alike."
---
Prize awarded to faculty member for groundbreaking book on women and labor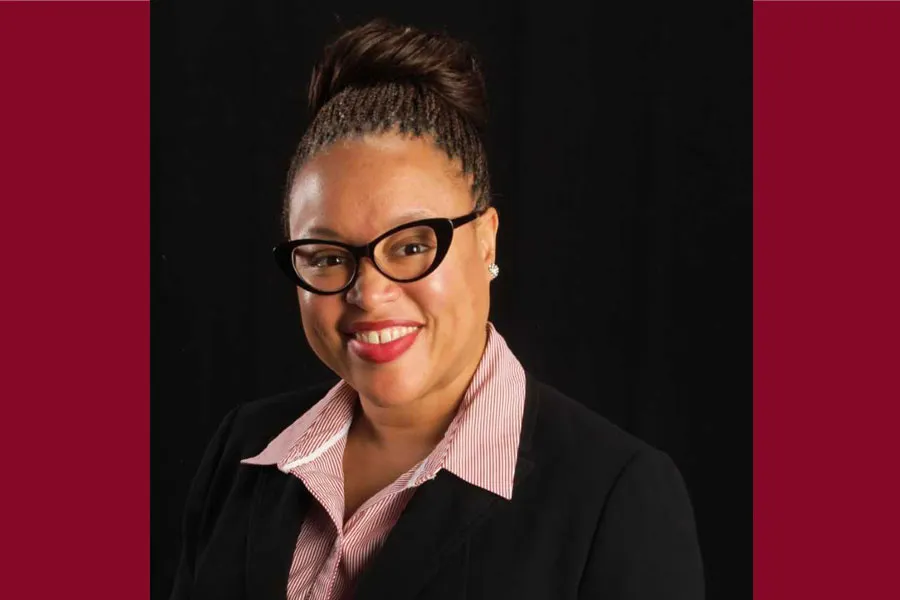 And, congratulations also to Danielle Phillips-Cunningham, PhD, associate professor of Multicultural Women's and Gender Studies, who was one of only two in the nation to win the 2020 Sara A. Whaley Book Prize.
Her book, Putting Their Hands on Race: Irish Immigrant and Southern Black Domestic Workers is a comparative racial history of Irish immigrant and southern Black women who labored as domestic workers in northeastern U.S. cities during the late 19th and early 20th centuries.
This book prize is awarded for groundbreaking scholarship in women's studies that makes significant contributions to the topic of women and labor.
---
Gratefulness for our teachers, especially during this pandemic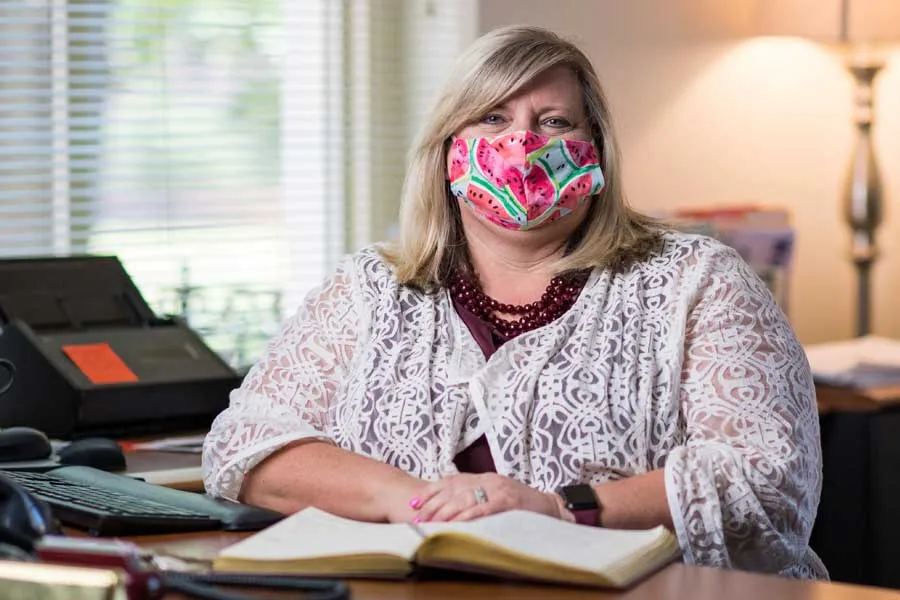 We all know we cannot begin to thank enough our front-line health professionals and emergency workers, food services providers, those who keep our buildings and grounds pretty and clean...and so many others. While we are counting our blessings for all of them, let us make sure we include all the teachers who are under considerable stress as they strive to educate our next generations.
My hat's off to our dean of the College of Professional Education, Lisa Huffman, who penned an op-ed with important insights for your consideration. Her piece has already appeared in the Denton Record-Chronicle, Lubbock Avalanche-Journal and Amarillo Globe-News, and print editions of the McAllen Monitor, Brownsville Herald and Valley Morning Star (Harlingen).
---
Vocal ensembles bring music to unexpected heights in unconventional venue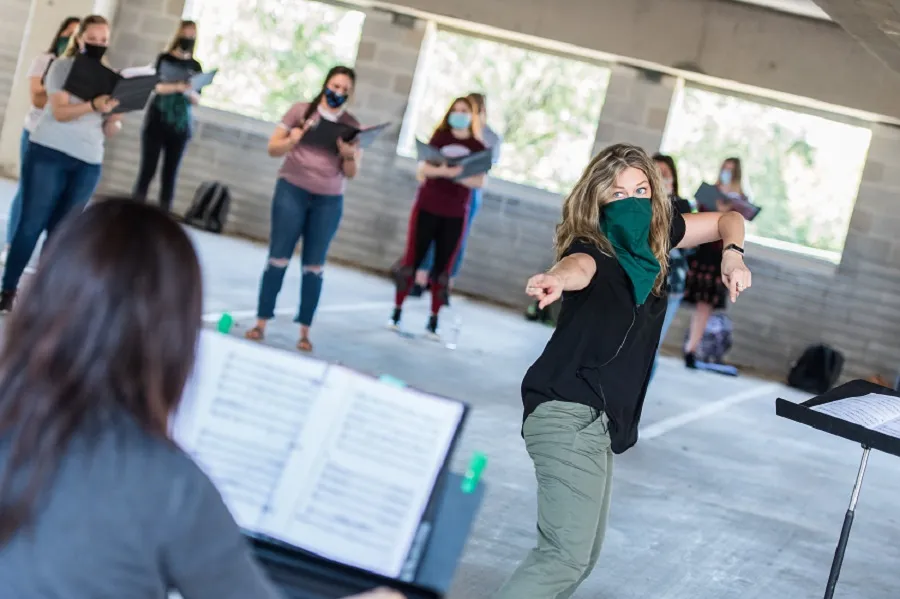 Joni Jenson, DMA, directs the vocal ensemble during rehearsals in the garage.
And speaking of the boundless creativity and stamina of teachers and faculty...our School of the Arts faculty, staff and students continue to amaze by devising new and innovative solutions to the challenges presented by pandemic safety measures.
In November, a limited audience of TWU community members were treated to a free TWU Chamber Singers and Concert Choir performance in an unusual location: The third floor of the Oakland Street Parking Garage on our Denton campus. The vocal ensembles, led by professor Joni Jensen, DMA, first made use of the open-air space for rehearsals and then decided to transform the spot into a unique, socially-distanced venue for "Untraveled Worlds."
This month, you are invited to arrange your own private viewing of this semester's visual arts BFA student exhibition, on display now through Dec. 11 in the East Gallery on our Denton campus (by appointment only).
---
CELEBRATING THE IMPORTANCE OF ENGAGED CITIZENSHIP ACROSS TEXAS...
---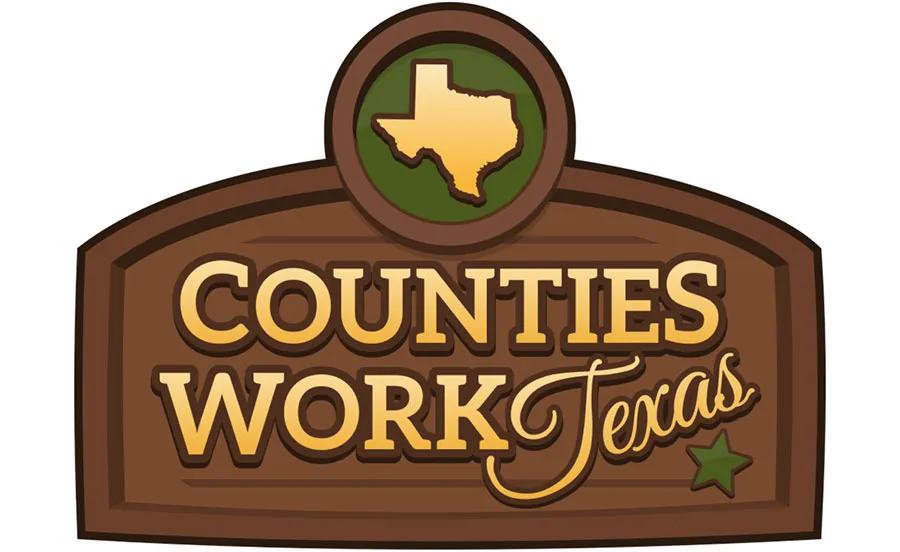 I am pleased to share that our Jane Nelson Institute for Women's Leadership, in partnership with the nation's premier non-profit civic education provider, iCivics, will introduce Counties Work: Texas, a new free digital learning game for Texas students.
This game will be released Sunday, Dec. 6, and is part of a commitment by both TWU and iCivics—members of the Texas Civic Education Coalition—to improve K-12 civics education in the state. It is arriving at a timely moment, as the essential role of local Texas governance has become increasingly evident during the COVID-19 pandemic and a high-profile presidential election year.
In the first-ever state adaptation of an iCivics game, Counties Work: Texas, students will be tasked with managing their own county to learn about what their local government does, how it operates, and how it solves community issues. Students will need to make decisions regarding the programs and services that impact their residents and ultimately, those choices will shape their community. iCivics games have been played more than 132 million times since the launch of the first game in 2009.
The game also offers a Spanish-language translation and English Language Learner support materials, as well as an in-depth game guide and Extension Pack, full of activities to help educators engage more deeply on key concepts.
It is our hope that through playing this game, we can work to instill a lifelong commitment to community and civic participation amongst Texas students. Visit: www.icivics.org/games to play and share Counties Work: Texas.
---
CELEBRATING ENTREPRENEURS...
---
Jane Nelson Institute for Women's Leadership awards 10 more $5,000 awards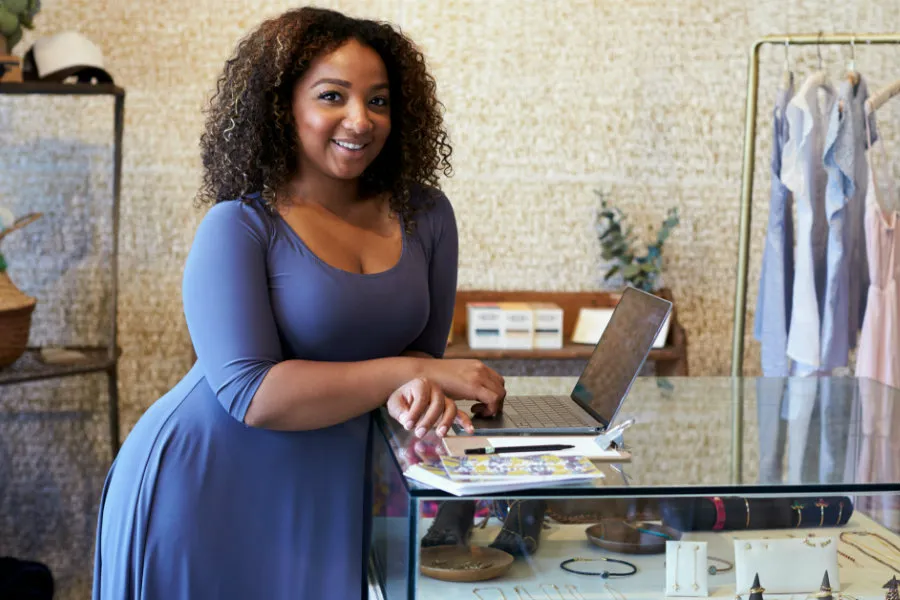 The Center for Women Entrepreneurs (CWE) at the Jane Nelson Institute for Women's Leadership has selected 10 from among 151 female entrepreneurs who applied to receive $5,000 awards through the fourth round of the StartHER grant program, part of an ongoing effort to boost women-owned businesses.
The following awardees will receive $5,000 each to start or expand their businesses:
Laura Hayes, The Learning Bridge, Allen
Kelly Stribling Sutherland, Springamajig Press, Denton
Markita Samuel, Digital Business Assets, Cypress
Kyndra Outlaw, Atmospheric Home Staging, Dallas
Jamita Machen, The Software Vault, LLC, Cedar Hill
Jamilah James, Antega, LLC dba Boeks, Richardson
Amie Melton, The Mug, Denton
Feleccia Turner, The Brownstone Experience, LLC, Desoto
Erica Molett, Kandake Tech, Cedar Hill
Grant funding will be used for the purchase of machinery, equipment or technology, acquisition of new inventory or raw materials, purchase and installation of fixtures or display units, property improvements, marketing or other business-related activity that is aligned with the purpose of the program. The enterprise had to be an existing or to-be-formed woman-owned, for-profit business with five or fewer employees.
Awardees are required to complete a small business training course hosted by the CWE to receive funding. The course will cover topics such as business plan development, marketing, legal, insurance, accounting and financing and is open to everyone.
---
CELEBRATING OUR LEGACY...
---
100 years of biology, chemistry and physics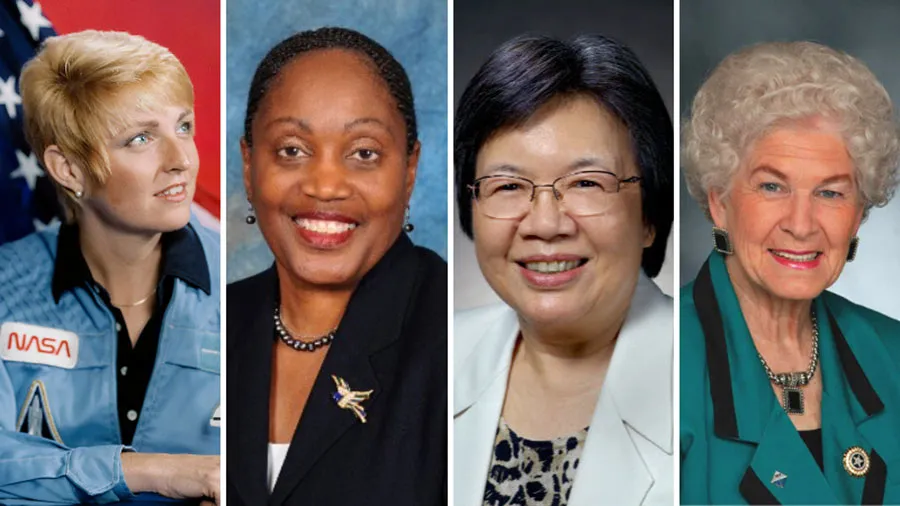 From left, alumni Millie Hughes Fulford (PhD '72), Anngienetta Johnson (BA '71, MBA '77, MS '92), Jay-Lin Jane (MS '78) and Elizabeth Ann Nalley (PhD '75).
As I celebrate our all-female NASA team's efforts this year, I would like to underscore the proud role we have played in Texas for the last century in educating women in biology, chemistry and physics.
These programs have been recognized for excellence in many dimensions—and can easily be seen in a number of our graduates and quality faculty, including:
And then there is our world-renowned chemist and dry-cleaning expert, Professor Charles Riggs, PhD. From 1952 to the late 1980s, we had an active research program in textile detergency that drew funding from several sources, including the Environmental Protection Agency. The university was named the research center for the Texas Laundry and Drycleaning Association in 1983, and the Southwest Dry Cleaners Association offered classes on campus.
We have advanced a lot in the last century, from when we had programs and conducted research in radiation biology, radiation chemistry and related fields. In 1960 we became the 39th member of the Oak Ridge Institute of Nuclear Studies, the first and only women's institution at the time to be accepted for membership.
Fast forward to today...in a challenging 2020 we have launched the Professional Science Master's program in biotechnology—one of only two in the state. We have also just received funding from the NSF for a project aimed at improving retention and graduation rates for students in science, technology, engineering and math. Watch this space!
---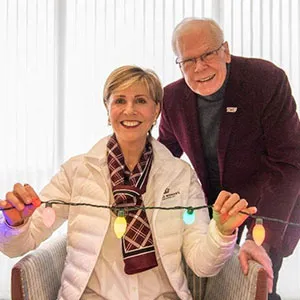 Finally, as this challenging year draws to a close, I am grateful for your continued support of our university. Due to the upcoming holidays and the mid-January semester start, I look forward to reaching back out to you in February. My husband, Chad, and I wish you the happiest and healthiest of holidays!
Thanks for your interest in Texas Woman's. As always, email me with your comments or questions. I am delighted that you have spent a few minutes with me today.
Warm Regards,

Follow Carine M. Feyten, Ph.D.
---
Texas Woman's is the nation's largest university primarily for women.
‌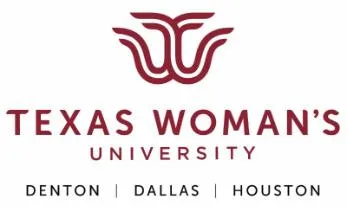 Page last updated 1:05 PM, October 26, 2023