Dr. Sophie Lin Rydin School of Occupational Therapy - TWU Houston Center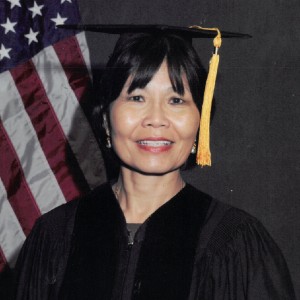 Teacher, mentor, occupational therapist, businesswoman, humanitarian, wife, mother, colleague, friend – all titles that describe Texas Woman's occupational therapy alumna and adjunct professor Sophie Lin Rydin, MOT '78, PhD '07.
Though she lost her battle with cancer on July 28, 2020, Sophie's legacy lives on through the Dr. Sophie Lin Rydin School of Occupational Therapy - TWU Houston Center.
Thanks to a $2 million gift in her honor from Sophie's husband, Mike, TWU will continue to provide an outstanding education for future occupational therapists.
It is difficult to know where to begin in reflection on Sophie's presence and her influence on so many lives, including the occupational therapy community and TWU. We will remember Sophie in heartfelt joy and warm memories. Her generosity and concern for others knew no bounds. - Francie Baxter, PhD, Professor and Associate Director
Throughout her life, Sophie never stopped giving from the heart, giving generously of her time and resources to help others. - Cynthia Evetts, PhD, Professor and Director
A lifetime of dedication and service to others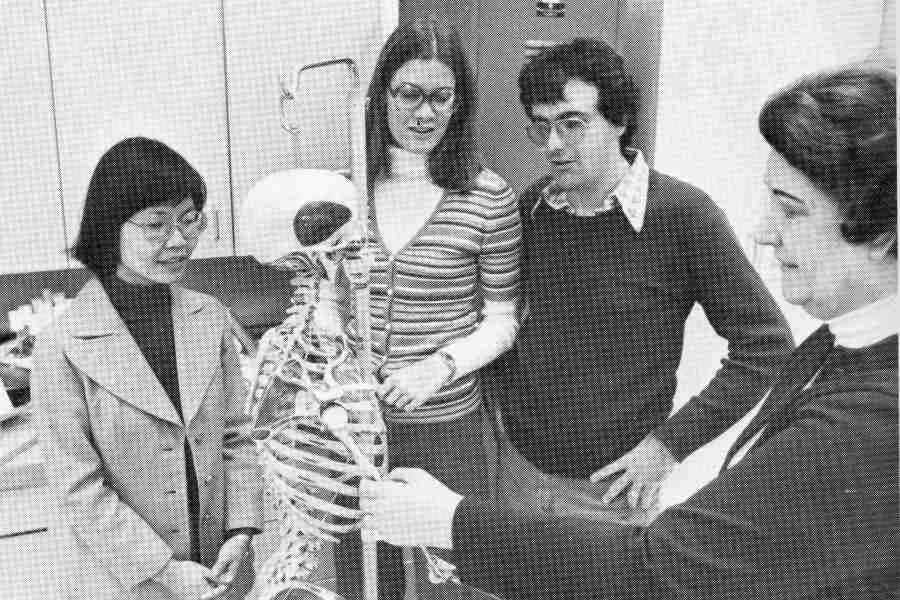 Born in Taipei, Taiwan, Sophie moved to the U.S. in 1976 and began her more than 40-year relationship with TWU by working her way through graduate school waiting tables. After earning her master's degree in 1978, Sophie worked for several years as an occupational therapist, met and married her husband and had two sons.
She returned to her alma mater in the early 90s as a clinician in a mentoring group for occupational therapy students. Clinicians and faculty came together to mentor students from diverse backgrounds and prepare them for fieldwork and clinical practice.
After Tropical Storm Allison came through Houston and flooded the Medical Center in 2001, including the TWU campus, Sophie tirelessly worked to find assistive living facilities, board rooms and any extra space so that students could continue to learn in safe, face-to-face environments.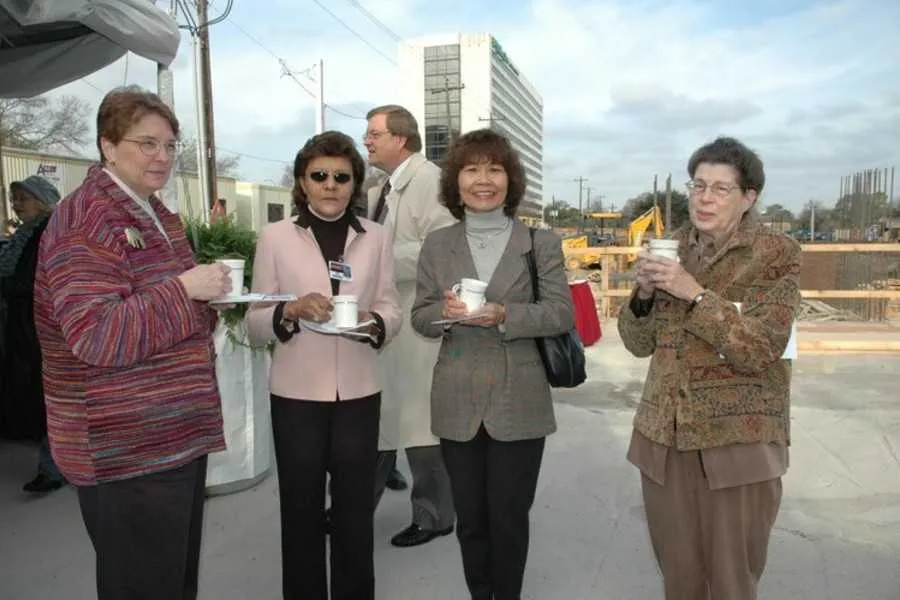 When the decision was made to move the TWU Houston campus to a new building in 2006, Sophie selflessly offered her time, energy and funding. She and her husband contributed funds to create student gathering spaces. Sophie also was instrumental in fundraising to create a research space for all Houston faculty and students in honor of her late friend, colleague and prominent researcher Jean Spencer, PhD.
Sophie decided to further her education and earned her PhD from TWU in 2007. Her dissertation was titled "Community-based Competencies for Entry-level Occupational Therapy Educational Programs," which set the tone for much of the work she would go on to do in her academic career.
In 2012, Sophie, working with TWU, other occupational therapy programs, the Texas Occupational Therapy Association (TOTA) and local clinicians, spearheaded and organized a skills workshop for students with a focus on acute care. It was a huge success and engaged students and clinicians from several Houston facilities in learning together.
Awarded for excellence
Sophie served as the official speaker at the 2014 TWU Houston commencement ceremony. She was selected because of her substantial commitment and dedication to TWU, as well as her leadership skills in the business that she and her husband owned, and for which she served as vice president. This was the first time an occupational therapist was selected as the commencement speaker. Sophie proudly accepted the honor, indicating that being a commencement speaker was on her "bucket list."
Demonstrating how much her students admired, respected, treasured and honored her, Sophie was invited by the Houston occupational therapy students in 2018 to be the keynote speaker for their annual Recognition Night celebration.
She also was awarded The Excellence and Dedication to Community Support by the Chinese Community Center in 2007, HDSA Distinguished Leadership in Business and Community in 2009, TOTA Distinguished Service Award in 2008 and 2012 and Roster of Merit 2014.
For the love of teaching and students
One of Sophie's greatest loves was teaching, and she was always concerned for her students and colleagues. She would bring a small treat bag for all the students whenever she administered an exam. The students came to anticipate and expect the goody bags with each of her visits to campus and lovingly called them "Sophie Snacks."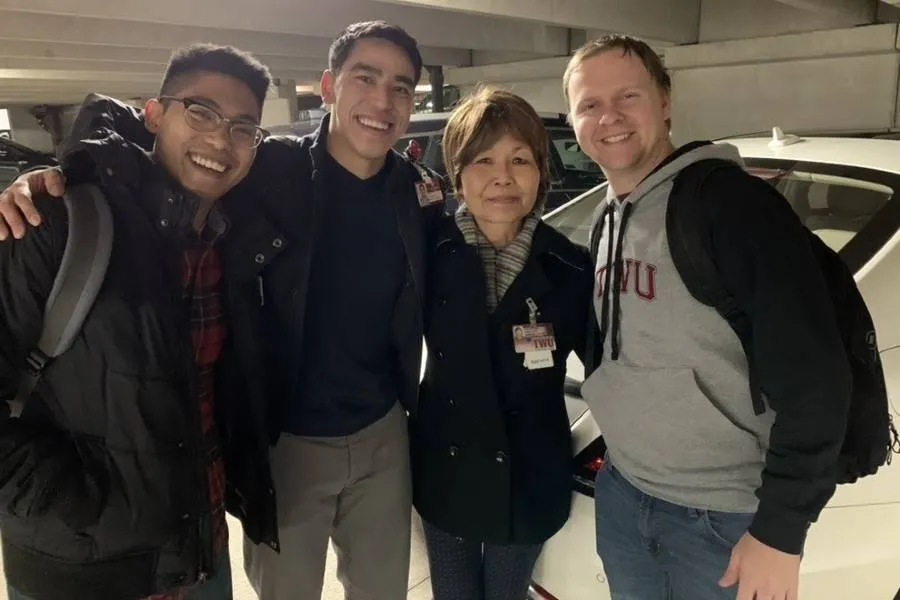 The students returned that kindness, especially when Sophie became ill. After class, they would carry her belongings, open all of the doors, hold her arm and escort her down to her car. They also would come to school early just to meet her at her car to assist her to class, taking care of the professor who took such great care of each of them.
A lasting legacy
Though she may be gone, Sophie's legacy at TWU will continue to endure for years to come. Every student and colleague she touched will hold a special place in their hearts for the woman who continuously demonstrated strength, compassion and grace.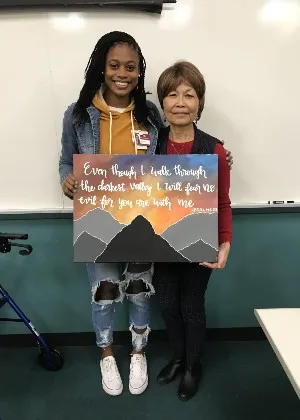 Dr. Rydin was one of the most influential professors I've had. Her love for us as her students and her passion for occupational therapy was felt every day she taught us.
Dr. Rydin truly went above and beyond to be a guiding light for me through some tough times and a constant encourager. She invested in me in times I didn't feel worthy and believed in my future as an occupational therapist. -Victoria Corrigan, Occupational Therapy Student
Dr. Rydin was truly one of kind and lit up the room with her positivity and joy. She took time, she listened and she accepted each of us on our various paths through school. -Kelsey Hannan, MOT '19
Dr. Rydin was one of the most kind, thoughtful, caring, compassionate, organized, knowledgeable and generous people I knew. My cohort got to know her as our teacher for our Foundations of Occupational Therapy Practice course during our first semester at TWU, and I could not have chosen a better person to introduce the field of occupational therapy. -Lindsey Courville, Occupational Therapy Student
Page last updated 11:36 AM, November 13, 2020