Celebration of Science
The Celebration of Science poster session is located in the Ann Stuart Science Complex atrium.
Friday, October 19, 2018
Schedule
scroll to see the full table⇨
Time and Location
Event
9:00 – 10:00 a.m.
ASSC Atrium
Poster Session with science students and faculty mentors
Dean Abigail Tilton will welcome students and guests at 9:30 a.m.
10:00-10:25 a.m.

Photo Session (invitation only)

10:30-11:45 a.m.
ACT 301

Forum and Panel Discussion with Students: "Pathways and Challenges for Women in Science"
With welcomes from Dr. Richard Sheardy and Chancellor Feyten, moderated by Dr. Laura Hanson

12:00-1:00 p.m.
Speaker Lunch with Students (invitation only)
1:00-1:30 p.m.
Break
1:30-4:30 p.m.
ASSC 259

Research Symposium, "Women in Science: Research at the Interface of Biology and Chemistry"
With welcomes from Dr. Richard Sheardy and Alan Utter

Dr. Ann Jerse (Introduction by Dr. Hanson)
Dr. Alison Smith (Introduction by Dr. Sheardy)
Dr. Juliet Spencer (Introduction by Dr. Hanson)

4:30-5:30 p.m.
ASSC Atrium
Reception
Guest Speakers
Ann E. Jerse, Ph.D.
Professor of Microbiology and Immunology
Uniformed Services University of the Health Sciences
Bethesda, Maryland
Title: "Impact of Gonorrhea and Chlamydial Infections on Women's Reproductive Health and the Intimate Adaptation of Sexually Transmitted Pathogens to Life in the Female Genital Tract"
Dr. Ann Jerse is a world leader in the pathogenesis of Neisseria gonorrhoeae and gonococcal vaccine development. She developed the only available animal model of genital tract gonococcal infection, which has been adopted in many laboratories worldwide to gain a new understanding of gonococcal pathogenic mechanisms, drug resistance, and host immune responses, and is crucial to preclinical vaccine studies. She is a respected authority nationally and internationally, and a sought-after collaborator. Her Ph.D. in Microbiology and Immunology is from the University of Maryland School of Medicine and she was a post-doctoral fellow at the University of North Carolina, Chapel Hill. In 2018 she was elected as a fellow of the American Society for Microbiology.
Alison Smith, Ph.D.
Chief Engineer of Materials Analysis
Naval Surface Warfare Center, Crane Division
Crane, Indiana
Title: "Architecting Nanomaterials for Naval Applications"
Dr. Alison F. Smith is the seminal Chief Engineer of Materials Analysis for Microelectronic Component Technologies within Flight Systems Division at NSWC Crane, where she is responsible for maintaining state of the art materials analysis capabilities, including developing and executing capital investment and human resource strategies, shaping R&D investments and collaborations, and developing technical rigor processes and standards. She is also a practicing Materials Scientist and Researcher with a focus on utilizing nanoscale engineering to support the Strategic Systems Programs of the United States. Dr. Smith has almost two decades-worth of R&D experience in materials analysis, microanalytical devices, and materials design. By collaborating with academia, she is able to provide the DoD enhanced capabilities for structural health monitoring, lifetime prediction and extension, and anti-counterfeit strategies through the design of various nanomaterial platforms. In 2018, she became the first alumna from the College of Science & Technology to be selected for the Distinguished Alumni Award by her alma mater, Southeastern Louisiana University, and she is also the first DoD recipient of the Samuel J. Heyman Service to America People's Choice Award. The Samuel J. Heyman Service to America Awards (more commonly referred to as the "Sammies") involve a rigorous selection process that leads them to be seen as the "Oscars" of federal. In addition to her R&D career in materials analysis and design, she also served as NSWC Crane's first STEM Director, a role in which she forged regional partnerships to build and grow an award-winning STEM program for the region. She also serves on the Naval Innovative Science & Engineering (NISE/219) selection panel within the Strategic Systems Hardware Working Group to align NSWC Crane strategic initiatives with R&D project execution and continuously serves to develop new-hires and graduate students within both NSWC Crane and academia.
Juliet V. Spencer, Ph.D.
Professor and Chair, Department of Biology
Texas Woman's University
Title: "Cancer, Cytokines, and Cytomegalovirus: Three's a Crowd"
Dr. Juliet Spencer got her start in science as a summer student at the Jackson Laboratory in Bar Harbor, ME, and received her B.S. in Biotechnology from Worcester Polytechnic Institute in Worcester, MA. She completed her Ph.D. in Microbiology studying virus assembly with Jay Brown at the University of Virginia in Charlottesville, VA. She did drug discovery at several Bay area biotech start-ups, and then joined the faculty at the University of San Francisco, where she taught microbiology for 15 years and developed an NIH-funded herpes virus research program involving undergraduates and masters students. She is dedicated to mentoring women in science and was honored for these efforts by the Northern California Chapter of the Association for Women in Science. She joined Texas Woman's University as Professor and Chair of Biology this fall and is infecting TWU students with her contagious enthusiasm for science.
The Ann Stuart and Ray R. Poliakoff Celebration of Science Series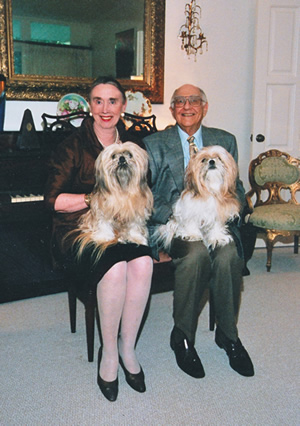 Chancellor Stuart established the Ann Stuart and Ray R. Poliakoff Celebration of Science Series in 2011 with a $200,000 gift to the university. Through a commitment of two decades of funding, the Celebration of Science Series intends to provide the opportunity for the Departments of Biology and Chemistry/Biochemistry to develop a sustained program of promoting and celebrating the wonders, truths and mysteries of science.
The Celebration of Science Series will continue annually through 2032. Although events will vary from year to year, the intent always will be to engage current TWU students and faculty, alumni, K-12 students in Denton and others in the community.
Both Dr. Ann Stuart and Mr. Ray Poliakoff, wife and husband, were first generation graduates of public higher education, and both often said it was their education that enabled them to pursue the opportunities that enriched their lives.
Dr. Stuart, a professor of English, loved the quest of learning, the pleasure of reading, and her career in education both as a teacher and as an administrator.
Mr. Poliakoff served in a reconnaissance intelligence unit in Europe during World War II and was twice wounded in combat. After the war, he graduated from law school and spent the majority of his professional career working with various national and international concerns and individuals in coal, oil, gas, and other natural resource ventures and concessions in the U.S., Alaska, Canada, Europe, Australia, the Mid-East and the Far East.
They both gave generously to create opportunities for young people to pursue their goals.
Page last updated 4:12 PM, October 1, 2018