Celebration of Science
The Celebration of Science poster session is located in the Ann Stuart Science Complex atrium.
2019 Celebration of Science
Thursday, October 17: Alumni Reception
Friday, October 18: Research Poster Show and Speakers
Free and Open to the Public
Schedule
scroll to see the full table⇨
Date and Time
Location
Event
Thursday, October 17
4:00 - 6:00 p.m.

ASSC Atrium

Student Poster Session & Alumni Reception
By invitation only: RSVP here

Friday, October 18

9 - 9:30 a.m.
ASSC Atrium
Light breakfast and poster viewing
9:30 - 9:45 am
ASSC 259
Opening Remarks by Chancellor Feyten, Dr. Ann Stuart
9:45 - 10:45 am

ASSC 259

Dr. Karen Fleming, Johns Hopkins University

10:45 - 11:15 a.m.

ASSC 259

TWU Student research talks
11:15 - 11:30 a.m.
Break
11:30 - 12:30 p.m.

ASSC 259

Speaker Career Panel with Welcome by Dean Tilton
12:30 - 2:00 p.m.
Lunch Break
2 – 2:15 p.m.
ASSC 259
Afternoon Session - Welcome by Provost Kapinus
2:15 – 3:15

p.m.

ASSC 259

Dr. Kristine Garza, University of Texas, El Paso
3:15 – 3:30 p.m.

ASSC 259

Student Poster Awards
3:30 – 4:30 p.m.

ASSC 259

Dr. Cecilia Marzabadi, Seton Hall University
4:30 – 4:45 p.m.

ASSC 259

Closing Remarks by Dr. Sheardy & Dr. Spencer
Distinguished Speaker Bios
Dr. Karen Fleming
Johns Hopkins University
Karen Fleming started out her science career at the University of Notre Dame with a BA in French and enough science electives to almost have either a Biology or a Chemistry degree. After graduation in 1987, she moved to Washington, DC and worked as a bilingual receptionist at the Embassy of Morroco but soon missed the stimulation of science and decided that a research career would be more interesting. She received her Ph.D. in Biochemistry and Molecular Biology from Georgetown University Medical School in 1993, where she was awarded a National Institute of Mental Health predoctoral fellowship. She pursued postdoctoral studies as an NIH Postdoctoral Fellow in the Molecular Biophysics & Biochemistry Department at Yale University and joined the Johns Hopkins Department of Biophysics in 2000 where she is now a tenured Professor.
Read more about Dr. Fleming's protein biophysics research
Dr. Fleming's independent research program has been continuously funded since its inception from various agencies including the National Science Foundation, the National Institutes of Health, and the Department of Defense Research Division, from which she received both Career and Idea awards. Her research focuses on understanding the molecular basis for membrane protein thermodynamics and membrane protein folding pathways with the goal of gaining physical insight into how genetic mutations cause diseases when they occur in membrane proteins.
For many years, Dr. Fleming studied the energetics of transmembrane helix-helix interactions. She developed theory to describe their association reactions, defined conditions for "forced cohabitation" of helices in micelles; and discovered thermodynamic coupling in transmembrane helix-helix dimerization. Recently, Dr. Fleming's laboratory has turned their focus to the water-to-bilayer protein-folding problem. Using transmembrane beta-barrels, her group quadrupled the number of known membrane protein stabilities; developed a novel side chain hydrophobicity scale; and experimentally demonstrated that transfer free energies of aromatic side chains follow the polarity gradient inherent in the structure of a phospholipid bilayer. In addition to experiments, Dr. Fleming's group uses molecular simulations to address questions of membrane protein structure in phospholipid bilayers and has applied ODE methods to develop a quantitative flux model that describes the sorting of membrane proteins in the periplasms of bacterial envelopes. Coupled with experiments, this holistic approach identifies functions of chaperones and has defined the role played by the essential BAM complex.
Dr. Fleming was the inaugural recipient of the Arne Tiselius Young Investigator Award, a recipient of the Department of Defense Career Award and the 2016 Thomas E. Thompson Award from the Biophysical Society. She has served on the Executive Council of the Biophysical Society, has co-chaired the national meeting of the Biophysical Society (2015) as well as Gordon Research Conferences on Biomolecular Interactions & Methods (2010) and Membrane Protein Folding (2015). In addition to her scientific accomplishments, Dr. Fleming has been awarded grants, runs workshops and gives seminars on overcoming bias and barriers to women in STEM, efforts that were recognized by an award from the Johns Hopkins Diversity Leadership Council in 2015.
Dr. Kristine Garza
University of Texas, El Paso
Kristine M. (Tina) Garza graduated from Loretto Academy in 1997; obtained her B.S. in Biology at St. Mary's University in San Antonio, TX in 1991; earned her Ph.D. in Immunology at the Univ. of Virginia in Charlottesville, VA in 1997; and conducted her postdoctoral studies at the Ontario Cancer Institute in Toronto, Ontario, Canada. She returned to her hometown of El Paso in 2000 to join the Univ. of Texas at El Paso (UTEP) Dept. of Biological Sciences.
Read more about Dr. Garza's research, teaching and service activities
Dr. Garza's research, teaching and service activities have focused on the education, training and mentoring of underrepresented minority students in science. Such activities have included serving as the Principle Investigator and Program Director for several UTEP training programs; serving five years as a member and officer of the Board of Directors for the Society for Advancement of Hispanics/Chicanos and Native Americans in Science (SACNAS); serving six years as a member of the NIGMS Minority Programs Review Committee; participating and mentoring in the National Academies/HHMI Summer Institutes on Undergraduate Education in Biology; and most recently, serving as an Institutional Coach for the American Association of Colleges & Universities initiative "Teaching to Increase Diversity and Equity in Stem".
Her efforts have been recognized regionally (Distinguished Achievement Award for Service to the UTEP College of Science, Jack Bristol Distinguished Achievement Award in Teaching), by the state of Texas (Regents Outstanding Teaching Award), and nationally (National Academies Education and Training Mentor in the Life Sciences). From July 2012 through June 2013 Dr. Garza was on a year leave-of-absence from UTEP to serve as the Executive Director for SACNAS where she continued to serve URM students while gaining leadership skills. She returned to UTEP and resumed her research program that studies how nanocarbon particles in air pollution can potentially lead to lung disease. Dr. Garza also now serves as the College of Science (CoS) Associate Dean for Student Success and as the Director for the CoS Central Office for Readiness and Engagement (CORE), which focuses on student learning, engagement and professional development.
Dr. Cecilia Marzabadi
Seton Hall University
Cecilia Marzabadi was born and raised in St. Louis, Missouri. She received her Bachelor's degree from Saint Louis University in Biology and Chemistry (double major), followed by her Research Master's in Organic Chemistry from the same institution. Prior to obtaining her doctoral degree, she worked as a Research Chemist in the Metabolism Group for Monsanto Agricultural Products Company. She received her Ph.D. from the University of Missouri-St. Louis under the direction of Professor Christopher Spilling. Her doctoral work examined the formation and reactions of glycal epoxides from sugar halohydrins. She conducted post-doctoral research in New York City at Hunter College-CUNY working with Professor Richard Franck. Her post-doc work was the development of a cycloaddition-based approach to the synthesis of 2-deoxy-b-glycosides, an important constituent of many biologically active natural products. She started her academic career at Seton Hall University in the Department of Chemistry and Biochemistry in 1999 as a Clare Boothe Luce Assistant Professor of Chemistry. She was promoted to Associate Professor in 2005 and to Full Professor in 2012.
Read more about Dr. Marzabadi's career and research
During Dr. Marzabadi's time at Seton Hall, she has been active in the campus community as a member of the Faculty Senate, in university planning, and in faculty compensation and welfare activities. She has served as the Interim Director for the Women's Studies Program, and as the Director of Graduate Studies and the Chairperson for the Department of Chemistry & Biochemistry. She has been an Alternate Councilor for the North Jersey Section of the American Chemical Society (ACS) and is currently the Chair-Elect for the section (2020). She is a Member of the ACS Women Chemists Committee. She has also served as Member at large for the Carbohydrate Division of the ACS. Her research interests are in synthetic carbohydrate, in medicinal chemistry and in examining practices that lead to the promotion and retention of women in science.
The "Sweet" Side of Chemistry: Adventures in Carbohydrate Synthesis
My laboratory is interested in preparing carbohydrate-based small molecules for use as potential therapeutics for a range of disorders including: epilepsy, addiction, pain, cancer and in immunomodulation. Many of these molecules have been synthesized via inverse electron demand Diels Alder reactions (IEDDA) between unsaturated carbohydrate vinyl ethers and heterodienes. The preparation of carbohydrate-appended oxathienes, quinolines, benzopyrans and diazines will be discussed, as well, as the conditions required for the optimization of these cycloaddition reactions.
Dr. Rhiannon Gonzalez
GenTech Diagnostics and Metis Biomedical LLC
Rhiannon Gonzalez received her Ph.D. from Texas Woman's University in 2016 working in the lab of Dr. Michael Bergel where she studied chromatin structure, epigenetic modification, linker histones and protein-protein interactions between histone deacetylase 8 and linker histone variant H1.3. In 2014, Dr. Gonzalez started her career in clinical diagnostics, working for an independent clinical reference laboratory developing pharmacogenetic molecular assays for the detection of genetic variations in enzymes responsible for drug metabolism and response in humans.
Read more about Dr. Gonzalez' career and research
Pharmacogenomic diagnostics has become of great interest because of its utilization in precision medicine to evaluate how patients' genes affect their response to prescription drugs. Health care providers can use pharmacogenomic results to guide decisions on the most appropriate treatment for each patient by choosing a drug that is more likely to work, avoiding adverse effects, and adjusting the dosage based on genetics.
In addition to managing a lab fulltime at GenTech Diagnostics, Rhiannon currently owns and operates Metis Biomedical LLC, an independent laboratory consulting agency. Metis provides clinical laboratory regulatory compliance and monitoring services for labs across the United States. Services include lab startup/optimization, expansion of test menus. Lab staffing for technical supervisors, technical consultants, and moderate complexity lab directors. Assay development for infectious disease testing and pharmacogenomics. Healthcare provider education on test utilization. Assay development for drug toxicology using Liquid Chromatography with tandem mass spectrometry (LC/MS/MS). Routine clinical diagnostics in clinical chemistry, immunology, and hematology.
The Ann Stuart and Ray R. Poliakoff Celebration of Science Series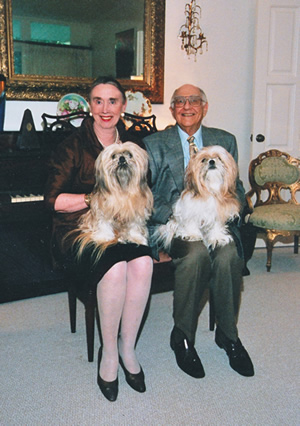 Retired TWU Chancellor Ann Stuart established the Ann Stuart and Ray R. Poliakoff Celebration of Science Series in 2011 with a $200,000 gift to the university. Through a commitment of two decades of funding, the Celebration of Science Series intends to provide the opportunity for the Departments of Biology and Chemistry/Biochemistry to develop a sustained program of promoting and celebrating the wonders, truths and mysteries of science.
The Celebration of Science Series will continue annually through 2032. Although events will vary from year to year, the intent always will be to engage current TWU students and faculty, alumni, K-12 students in Denton and others in the community.
Both Dr. Ann Stuart and Mr. Ray Poliakoff, wife and husband, were first-generation graduates of public higher education, and both often said it was their education that enabled them to pursue the opportunities that enriched their lives.
Dr. Stuart, a professor of English, loved the quest of learning, the pleasure of reading, and her career in education both as a teacher and as an administrator.
Mr. Poliakoff served in a reconnaissance intelligence unit in Europe during World War II and was twice wounded in combat. After the war, he graduated from law school and spent the majority of his professional career working with various national and international concerns and individuals in coal, oil, gas, and other natural resource ventures and concessions in the U.S., Alaska, Canada, Europe, Australia, the Mid-East and the Far East.
They both gave generously to create opportunities for young people to pursue their goals.
Page last updated 12:52 PM, November 5, 2019