Celebration of Science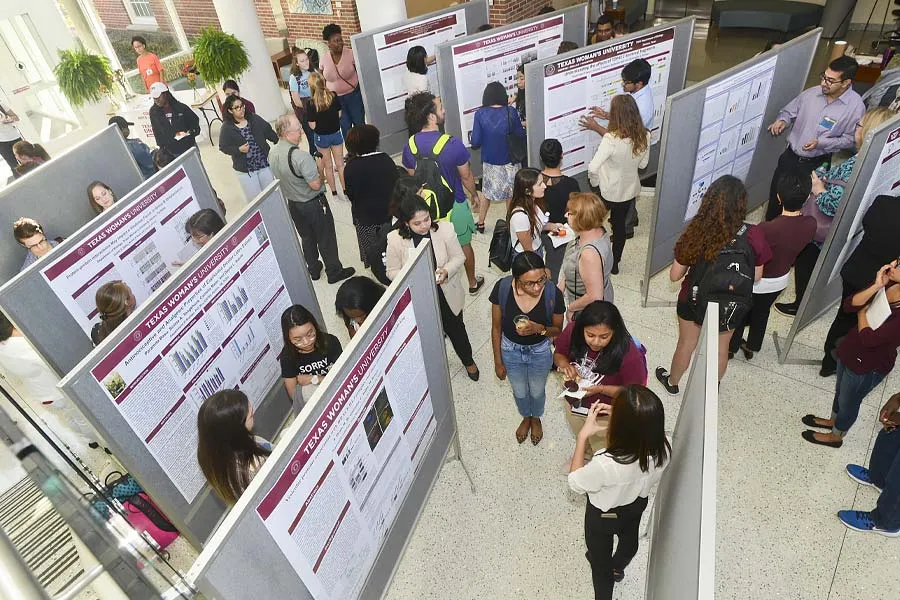 October 19-20, 2023
TWU's Celebration of Science returns October 19-20, 2023, in the Scientific Research Commons (SRC) and the Ann Stuart Science Complex (ASSC)
This year's Celebration begins with the alumni reception on Thursday evening, Oct. 19, on the first floor of the SRC. Registration for this event is required by October 13. Click here to register.
On Friday, Oct. 20, the Celebration moves to the ASSC.
This year's Celebration of Science is in honor of Richard Sheardy, PhD, of the TWU division of chemistry and biochemistry as a tribute to his distinguished career and long time support of women in science.
Schedule
Thursday, Oct, 19
5-7 p.m. - Alumni Reunion and poster session (SRC lobby). Registration is required. Click here to register.
Click for a list of the Celebration of Science posters 2023.
Friday, Oct. 20
8:30-10 a.m. - poster session and continental breakfast (ASSC atrium)
10 a.m. - Welcoming remarks (ASSC 259)
Morning symposium session
10:05-10:35 a.m. - The Magnificent Journey: Challenges and Opportunities - Dr. Ann Nalley, professor of Chemistry and TWU alumna; Clarence Page Endowed chair of Math and Science Education, Cameron University, Lawton, OK (ASSC 259)
10:40-11 a.m. - TWU student flash talks with Emily Arellano, Mathematics; Bethany Lazarus, Informatics; Kiran Hina Tajuddin, Biology; and Derek Aguilar, Chemistry (ASSC 259)
11-11:10 a.m. - break
11:15 a.m.-12:15 p.m. career panel and forum (ASSC 259)
12:15 p.m.-1:30 p.m. - break
Afternoon symposium session
1:30 p.m. - Opening remarks (ASSC 259)
1:30 p.m.-2 p.m. - You are the Captain of your Own Career: To thrive, not merely Survive - Dr. Karen Oates, professor of Biology & Biotechnology; Worcester Polytechnic Institute, Worcester, MA (ASSC 259)
2-2:15 p.m. - CDK4/6 Regulates Differentiation in Drosha and DICER1 Driven Tumors - Claudette Faire, TWU Almuna (ASSC 259)
2:15-2:30 p.m. - Using single cell mass spectrometry to evaluate CRISPR/Cas9 gene editing results - Tra Nguyen, TWU Alumna (ASSC 259)
2:30-2:50 p.m. - The power of plants in promoting human well-being on a changing Earth - Dr. Camelia Maier, professor of Biology, TWU (ASSC 259)
2:50-3:10 p.m. - Hardware Assisted Security for Cyber Physical Systems - Dr. Prasanth Yanambaka, assistant professor of Computer Science, TWU (ASSC 259)
3:10-3:20 p.m. - break
3:20-4 p.m. - Reflections of a Half Century of Research on DNA Biophysics: The Women Scientists That I Have Mentored - Dr. Richard Sheardy, professor of Chemistry & Biochemistry, TWU (ASSC 259)
4 p.m. - Concluding remarks
E. Ann Nalley, PhD
Presentation: The Magnificent Journey: Challenges and Opportunities
This presentation will describe the journey of a young girl born to poor cotton farmers in the early 40s who grew up to become a chemist and then became president of the World's Largest Scientific Society, The American Chemical Society. It will describe the obstacles she had to overcome as a woman as she earned a PhD in chemistry at TWU and how that degree enabled her to accomplish many of the successes she celebrated along the way. It will also feature stories about her career as a chemistry professor at an undergraduate university and how she has used her career to inspire young women to pursue careers in chemistry. Finally, hopefully it will inspire women to follow her footprints in a journey that reached many corners of the world.
Biography:
Clarence Page Endowed Chair of Math and Science Education; professor of Chemistry, Department of Chemistry, Physics and Engineering at Cameron University, Lawton, Okla.
Nalley is a professor of Chemistry and Clarence Page Endowed Chair in the Department of Chemistry, Physics and Engineering at Cameron University, a position that she has held since 1969. She taught at Muskogee Central High school for one year before completing her PhD. She has been a visiting scientist or professor in the chemistry departments at the University of Oklahoma, the University of Texas at Dallas and the Polymer Science Department at the University of Southern Mississippi. She earned a bachelor of science at Northeastern Oklahoma State University, a master's in Analytical Chemistry at Oklahoma State University, and a PhD in Radiation Chemistry from TWU.
Her research includes new product development and solving industrial problems in the area of cosmetic analysis, nanostructural materials, applied research in the petroleum industry and computer molecular modeling. She has a long record of service to the American Chemical Society at the local, state, regional and national levels. At the completion of her term as president in 2007, she completed a 10-year term as a member of the ACS Board of Directors including seven years as director of District V. She served three terms as secretary of the Division of Professional Relations (PROF), two terms as its Chair and six years as a director at large. She was the co-organizer of the 25th anniversary of the PROF. She was a member of the PACIFICHEM Organizing Committee and was the first woman to be appointed to that position. She has served as a councilor for more than 25 years.
In 1996, she was awarded the Division of Professional Relation's Henry Hill Award for Outstanding Contributions to Professionalism and was named the Oklahoma Chemist in 1992. She was the first woman to receive this award. In 2005, she received the Professional Excellence Award from the National Iota Sigma Pi Honor Society for Women in Chemistry. In 2008, she was recognized as one of the top 50 women in Oklahoma by the Journal Record. In August 2009, she was inducted as one of the first group of American Chemical Society Fellows, and in February 2013 she was inducted as a Fellow of the American Association for the Advancement of Science. Also in 2013 she was elected as a fellow of the DaVinci Institute. She received the 2015 ACS Award for Encouraging Women to Careers in the Chemical Sciences at the ACS National Meeting in Denver in March 2015 and the 2016 Stanley E. Israel SW Regional Award for Advancing Diversity in the Chemical Sciences.
Claudette Fraire
Presentation: CDK4/6 Regulates Differentiation in Drosha and DICER1 Driven Tumors
Mutations in microRNA processing genes such as DROSHA and DICER1 consist of 1.5-2% of pediatric cancers including a brain tumor called pineoblastoma. We developed genetically engineered mouse models of Rb-, Drosha-, and Dicer1- driven pineal tumors. All three models express early pineal developmental markers. Drosha and Dicer1 tumors develop without microRNAs. To understand how loss of microRNAs drives cancer, we performed small and bulk RNA-sequencing then we correlated differentially expressed microRNAs with their target genes. We found let-7 microRNAs to be highly expressed in Rb tumor and pineal glands and lacking in Drosha tumors, while let-7 target genes are overexpressed in Drosha tumors. The most overexpressed let-7 target gene in Drosha tumors is cyclin D2 (Ccnd2), and E2F target genes are the most enriched gene set in these tumors compared to brain samples. Additionally, these tumors stain positively for Rb phosphorylation which suggests that CDK4/6 is active in these tumors. Pleuropulmonary blastomas (PPB), like pineoblastomas, are driven by mutations in the microRNA processing gene DICER1. Through immunohistochemistry we observed high expression of CCND2 and Rb phosphorylation in PPB patient derived xenografts (PDXs). To test the dependence of Rb phosphorylation in Drosha and Dicer1 tumors, we next treated Drosha and Dicer1 pineal tumor allografts with a CDK4/6 inhibitor, palbociclib, and observed tumor growth suppression and pineal differentiation. Similarly, treatment of DICER1 mutant PPB PDXs with palbociclib blocked proliferation and promoted mesenchymal differentiation. These results show similarities in tumor types with microRNA processing gene mutations and that differentiation is inhibited by proliferation in Drosha and DICER1 driven cancers.
Camelia Maier, PhD
Presentation: The power of plants in promoting human well-being on a changing Earth
Biography:
Biology Professor and Herbarium Director, Texas Woman's University
Camelia Maier, PhD, is a biology professor in the School of the Sciences at TWU, the director and curator of the TWU Herbarium and the chair of the Bettye Myers Butterfly Garden advisory committee. She earned an MS in biology and a PhD in molecular biology from UNT and was a postdoctoral fellow in the Plant Biology Division at the Samuel R. Noble Foundation, Inc., in Ardmore, Oklahoma, before coming to TWU. Her teaching at TWU included courses in plant biology, ecology, and environmental science.
Maier's current research focuses on the biological activities of plant chemicals in support of human health. Her research lab has a long record of publications and conference presentations at the local, state, regional, national, and international levels. Her collaborative research with Dr. Dayna Averitt on the anti-pain properties of non-opioid chemicals of the native plant Euphorbia bicolor got national media attention.
Maier is an advocate of sustainability and conservation education and practices. For her contribution to conservation activities, she was awarded the Texas Conservation Award by the National Society Daughters of the American Revolution in 2019.
Tra Nguyen
Presentation: Using single cell mass spectrometry to evaluate CRISPR/Cas9 gene editing results
The limitations of CRISPR/Cas9 technology, such as variance in editing efficiency and off-target effects, require the development of new analytical methods to assess gene editing outcomes directly. Single-cell mass spectrometry (SCMS) emerged as a promising approach to fill this knowledge gap by monitoring changes in protein expression and cell metabolism resulting from altered genes. Focusing on the FASN gene, vital in fatty acid and lipid metabolism, CRISPR/Cas9 method was utilized to knock out FASN in HEK293T cells, a human embryonic kidney cell model. Plasmids containing sgRNA were introduced into cells through Lipofectamine transfection, enabling the generation of FASN-knockout cells, which are identified through the presence of green fluorescent protein (GFP). The GFP-positive cells were sorted using Fluorescent-Activated Cell Sorter (FACS) and subjected to SCMS metabolomics studies using the Single-probe device coupled to a Thermo LTQ Orbitrap XL mass spectrometer.
This analysis encompassed four distinct cell groups: control, and GFP-positive cells from three different sgRNAs in both positive and negative ion mode (n = 40-50 per groups and 400 cells in total). The SCMS data were analyzed by statistical methods, including Principal Component Analysis (PCA), Partial Least Squares-Discriminant Analysis (PLS-DA), Hierarchical Clustering Heatmap, analysis of variance (ANOVA), and t-test. Through these SCMS metabolomic profiles, the percentage of cells with successful gene editing were estimated. Western blot analysis was used to evaluate FASN expression in cells. In sum, SCMS techniques successfully distinguished edited GFP-positive cells from non-edited control cells, revealing distinct metabolic profiles in FASN-knockout cells compared to control cells.
Biography:
PhD candidate in analytical chemistry at the University of Oklahoma
Nguyen is a fifth-year graduate student in the lab of Zhibo Yang, PhD, in the Department of Chemistry and Biochemistry. Her expertise lies in single cell metabolomics and lipidomics (small molecules), where she utilizes advanced techniques such as the single-probe single cell mass spectrometry (or nano-ESI mass spectrometry).
Her PhD research centers on utilizing single cell mass spectrometry to assess the gene editing results. Her research at OU was published in Analytical Chemistry and Metabolites. During her time at OU, Nguyen received multiple awards such as the Outstanding Graduate Teaching Assistant Award (2021), the Dissertation Research Fellowship (2022) by OU College of Art and Sciences which was award to top two percent of PhD students to facilitate dissertation completion. In 2023, she received the Lloyd E. Swearingen Award in recognition of outstanding performance in research as a graduate student.
Nguyen earned her BS in biochemistry with a minor in mathematics from Texas Woman's University. During her undergraduate years at TWU, she conducted research in the lab of Richard D. Sheardy, PhD, investigating the interrelationship of pH, temperature, and K+ concentration in the transformation of DNA i-motif structures. The project was published in the Journal of Physical Chemistry B. At TWU, Nguyen received honors including the Chancellor's Research Scholar (2018) at the TWU Student Symposium and the Outstanding Undergrad Chem/Biochem Student (2018) by Dallas-Fort Worth local section of American Chemical Society. She also served as president of the ACS Student Chapter, Chemistry Club (Kappa Epsilon Mu) and received accolades such as the Redbud Award for Outstanding Organization of the Year (2018) and Student Chapter's Outstanding Award (2018) from the American Chemical Society.
Karen Kasmanian Oates, PhD
Presentation: You Are The Captain Of Your Own Career: To Thrive, Not Merely Survive
We work with great minds all around us, from our colleagues to our students, we engage in new ideas and have the opportunity to create and inspire. As part of a dynamic academy, we get to wonder - to critique - to think deeply about things that matter! Simultaneously, the pace of what we are expected to do has increased dramatically and the pressure of responding to increased communications has just added additional stress to our already busy lives.
At the same time, during the pandemic, our career aspiration also did not stop. In this session we discuss and provide a strategies to move your career forward, through demonstrating that you have the skills and experience to contribute creatively and thoughtfully to solutions. It may be time to evaluate your next move! The goal is not to merely survive, but to thrive!
Biography:
Biology and Biotechnology, Worcester Polytechnic University
Before joining WPI as the Peterson Family Dean of Arts and Sciences, I was the deputy director for undergraduate education at the National Science Foundation. I was also the founding provost at Harrisburg University of Science and Technology, associate dean and director at George Mason University, and the co-P.I. on a large, national dissemination grant entitled Science Education for New Civic Engagements and Responsibilities (SENCER). I received my BS in biology from Rochester Institute of Technology and my PhD in biochemistry from George Washington University.
Nationally, I conduct faculty development workshops on a variety of topics, including progressive pedagogical approaches to support learning, assessment strategies and discovery-based undergraduate research, as well as using research on how people learn to inform curricular design. I have served as a Eurasia Specialist with USAID/HED (Higher Education for Development) and participated routinely in global research and education initiatives. I am the recipient of the 2008 Bruce Albert Award for excellence in science education.
Richard D. Sheardy, PhD
Presentation: Reflections of a Half Century of Research on DNA Biophysics: The Women Scientists That I Have Mentored
For the past fifty years, I have been extremely blessed with outstanding mentors, brilliant collaborators and fabulous students. Starting with Eddy Gabbay and Dave Wilson at Florida, I learned about probing DNA structure and stability as well as organic chemistry. With Tom Krugh at Rochester, I learned more about drug-DNA interactions. I struggled at Penn State Hazleton with research until I started working with Neville Kallenbach and, most noteworthy, Ned Seeman, who taught me about DNA conformation in more fascinating detail. That led to BZ-I: the first DNA oligomer reported in the literature shown to be able to form a B-Z junction under high salt conditions (thanks to Steve Winkle, Steve Benight and Brad Chaires). My attention then shifted to DNA quadruplexes which naturally led to investigations of the complementary strand with a focus on the transition to the i-motif. Along the way, I have mentored many talented students. Since the Celebration of Science focuses on women in science, I will present the research of some of my former women students.
Biography:
Division of Chemistry and Biochemistry, Texas Woman's University
Sheardy received his BS in Chemistry Education at Michigan State University. After earning his PhD in organic chemistry at University of Florida, he had a post-doctoral fellowship in biophysics at University of Rochester.
Sheardy began his academic career at the Hazleton Campus of Penn State University and then went to Seton Hall University where he initiated his research on DNA conformation and stability. At Seton Hall, Sheardy mentored 16 PhD students. In 2006, Sheardy moved to Texas Woman's University where he served as chair of the department from 2006 to 2021. He teaches freshman and biophysical chemistry and continues his research focusing on the structure, stability and ligand binding properties of unusual DNA conformations. Sheardy is conference chair for the North American Calorimetry Conference and is a SENCER leadership fellow.
He has organized many symposia at regional and national conferences on nucleic acid biophysics and science education reform. Under Dr. Sheardy's leadership, the department of Chemistry and Biochemistry was recognized by the American Association of Colleges & Universities as a model department for incorporating civic engagement and social responsibilities into the degree programs for chemistry and biochemistry majors.
Sheardy was also a member of the TWU team that was awarded the William E. Bennett Award for extraordinary and exemplary contributions to citizen science.
Prasanth Yanambaka PhD
Presentation: Hardware Assisted Security for Cyber Physical Systems
Biography:
Division of Computer Science, Texas Woman's University
Yanambaka is an assistant professor of Computer Science at Texas Woman's University. He received his PhD in computer science and engineering from the University of North Texas in 2019. His research focus is on the Internet of Things (IoT) and developing hardware-assisted security primitives for IoT architectures.
He is an author of over 50 publications, including multiple journal/transaction articles and book chapters and which have over 800 citations. He is also on the Technical Program Committee and organizing committees of many international conferences.
Page last updated 2:01 PM, October 18, 2023