Multicultural Women's & Gender Studies
At TWU's Multicultural Women's and Gender Studies Program, our goal is to provide each of our students with a transdisciplinary, transgressive and transformative education taught by a nationally recognized faculty.
As the largest public university primarily for women in the U.S. with one of the top 10 most diverse student populations in the nation, our program offers a multicultural curriculum that focuses on feminist and womanist scholarship on behalf of human rights and social justice.
Dr. Danielle Phillips-Cunningham is the Multicultural Women's and Gender Studies Program Lead. If you have questions about our program, please email womenstudies@twu.edu.
Our statement in support of Black Lives Matter
We join everyone in our program and across the world who are seeking ways to deepen our commitment to challenging the long and ever-present histories of state- and police-sponsored violence and white supremacy that disproportionately target, injure and kill minoritized peoples. Read our full statement>>
Dr. Agatha Beins, Program Lead of Multicultural Women's and Gender Studies, teaches courses in social movement and grassroots activism, art and social change, feminist histories, women's and gender studies, food studies, and feminist/womanist theories. Her research and writing overlaps with much of her teaching interests and tend to ask questions about the conditions of possibility for imagining and realizing radical forms of justice.
Her current project explores creative worldbuilding, or a set of theories and practices that allow us to work toward radical justice. This involves interviewing artists and community organizers to learn about and amplify the material, discursive, affective, and imaginative infrastructures that they imagine and build. As a result, the project bridges art and activism: art has the potential to catalyze new ways of thinking, feeling and acting that organizations might be able to adopt and work toward in their material practices. Her work on feminist print cultures has appeared in journals such as Feminist Studies, American Periodicals and Feminist Formations.
Why study Multicultural Women's and Gender Studies?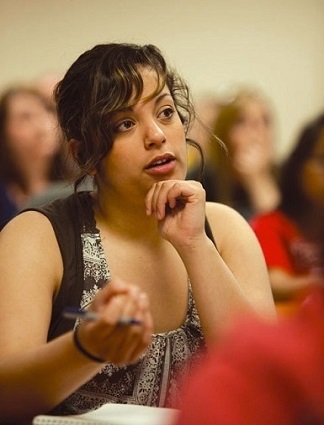 Nationally recognized faculty
Our award-winning faculty represent a broad range of interests, backgrounds and research subjects concentrating on gender, multiculturalism, history, spirituality, social justice and education.
Our graduate student-to-faculty ratio is 8:1, therefore creating a small classroom for our students to engage in discussion, dialogue and an immersive learning experience.
Accomplished alumni
From community development and activism to legal work and executive leadership, our talented graduates have helped educate, encourage and empower their communities and professional organizations.
Career outlook
Our graduates meet the growing regional, national and international needs for both higher education professionals and leaders of nongovernmental, social service, health care, law and research agencies that address a broad range of social justice issues.
Visit our Career Resources page for more information about volunteer, internship and career opportunities for Multicultural Women's and Gender Studies students.
Page last updated 8:15 AM, January 20, 2023