Doctoral Program
Why study School Psychology at TWU?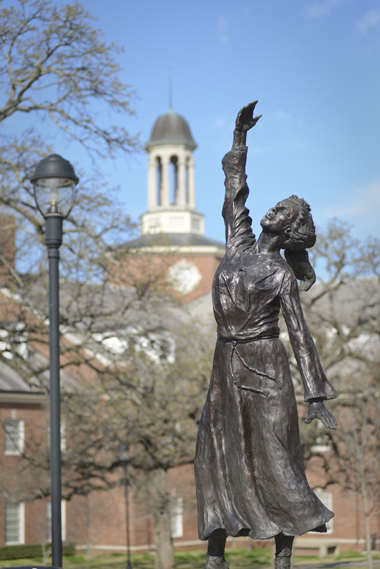 Our Ph.D. in school psychology program embraces a scientist-practitioner model of training in which practice, theory and research are integrated. We are committed to providing students with the skills they need to excel in a variety of applied practice settings, including school systems, mental health and child guidance centers, medical centers and hospitals, independent clinical practice, and in academic or research positions in institutions of higher education.
Our faculty are easily accessible and invested in the success of every student. With a small student-to-faculty classroom ratio, you are guaranteed personalized attention as you pursue your doctoral degree in school psychology.
Learn more about the differences between the specialist, master's and doctoral school psychology programs.
"The doctoral program in school psychology at TWU has provided me with a strong education to enter my profession as a competent professional. The program offers a multitude of opportunities to work in diverse settings with children and families. Our reach stems beyond a school setting and allows us to be competent psychologists in a variety of areas."
Admission to the Ph.D. in School Psychology
Program Contact
Julie Herbstrith, Ph.D.
940-898-2315
Jherbstrith@twu.edu
Application Deadlines
Fall admission only - January 5
Please note that it is the applicant's responsibility to ensure that all materials are received by the deadline. Applicants are encouraged to confirm receipt of their materials by contacting the Office of Admissions Processing at 940-898-3076, and the Department of Psychology & Philosophy at gradpsych@twu.edu or 940-898-2306.
Admission Requirements
A bachelor's degree, preferably in psychology or a related field; however, it is not a requirement that the degree be in psychology. Applicants with advanced degrees (e.g. a master's in psychology or a related field, or with a specialist degree in school psychology) will also be considered. However, an advanced degree is not required for application to the school psychology doctoral program.
At least 18 semester hours of undergraduate coursework in psychology, including:

Introduction to Psychology/General Psychology
Developmental Psychology/Lifespan
Statistics
Experimental Psychology/Research Design/Research Methods
Cognitive Psychology/Psychology of Learning
Physiological Psychology/Behavior Neuroscience
Applicants without the required undergraduate coursework, if accepted into the program, would be required to complete the coursework prior to beginning their graduate work.

A 3.0 overall GPA average for the last 60 semester credit hours of undergraduate work and/or a graduate GPA of 3.5.
The GRE is not required.
How to Apply
Apply for admission to the TWU Graduate School.
Collect and submit the following documents as separate pdf files in ONE email to gradpsych@twu.edu with the subject line (YOUR LAST NAME)-(YOUR FIRST NAME)-(PHD IN SCHOOL PSYCHOLOGY). Please attach all items as PDFs.

Cover Letter/Letter of Intent: indicate interest in applying to the program.
School Psychology Program Application: download and complete the School Psychology Program Application Form.
Vita/Resume: highlight relevant training, work experience, and volunteer experiences.

Three academic or professional references should submit letters of recommendation as PDFs on institutional or organization letterhead to gradpsych@twu.edu. Recommenders should include student name and "Ph.D. in School Psychology" in the subject line.
Accreditation
APA Accredited: August 2028
For information on accreditation, please visit the APA website or contact them at:
Office of Program Consultation and Accreditation
American Psychological Association
750 First Street, NE
Washington, DC 20002-4242
Phone: (202) 336-5979
Fax: (202) 336-5978
The PhD in School Psychology prepares graduates to meet the Texas State Board of Examiners of Psychologists (TSBEP) training requirements for both the Licensed Psychologist (LP) and the Licensed Specialist in School Psychology (LSSP) licenses, as set forth in TSBEP Board rule 463.10 (LP) and Board rule 463.9 (LSSP). Graduates must also pass the required exams (for LP - the Examination for Professional Practice in Psychology; for LSSP - the National School Psychology Examination; and for both licenses the Jurisprudence Examination), and complete the requisite LP/LSSP application(s). If you are a resident of another state, contact our department to determine whether our program fulfills licensure training requirements in your home state.
Page last updated 5:11 PM, April 26, 2023