Nancy P. and Thaddeus E. Paup Lecture Series
The Nancy P. and Thaddeus E. Paup Lecture Series was created through the generosity of Nancy and Ted Paup to provide the TWU and Denton communities with speakers who are bold, innovative and renowned experts in their fields.
The Paups, who reside in Fort Worth, are longtime supporters of TWU. Nancy, a former TWU Regent who received her bachelor's and master's degrees in education from the university, is a fundraising consultant and former corporate relations and membership manager of the Amon Carter Museum of American Art. She currently serves on the Advisory Council for the Institute for Women's Leadership. She also previously served as a board member of the TWU Foundation. Ted is the president of Paup Mineral Management, L.L.C.
Fall 2019 Inaugural Events
"Do it Scared"
Featuring Kathryn Childers
Thursday, September 19, 2019
7:30 – 8 a.m.: Complimentary Breakfast
8 – 9 a.m.: Presentation
Ashton Gardens
2001 Ashton Gardens Lane
Corinth, TX 76210
About the Speaker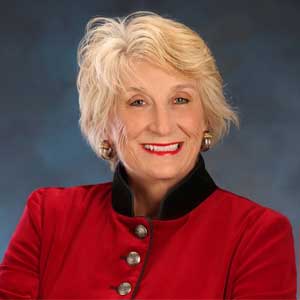 Kathryn Childers' decision to just "do it scared" led to her an appointment as one of the first five female special agents in the U.S. Secret Service. After smashing that glass ceiling, she protected the president, First Family and foreign heads of state, as well as John and Caroline Kennedy. A master of reinvention, Childers went on to become a broadcast journalist, award-winning community advocate, author and publisher, as well as wife and mother. She will share stories of her amazing life's journey while encouraging you to identify and "own" your personal "scared"—the first step to courage.
For questions about registration: (940) 898-2896
Lunch and Learn for TWU Students
"What's in Your Backpack?"
Featuring Kathryn Childers
TWU students can enjoy a free lunch and get great career advice from one of the first female Secret Service agents.
Thursday, September 19, 2019
12:30 – 1:30 p.m.
Student Union 207
About the Presentation
Kathryn Childers will coach students to "sell their sizzle" by weaving nuggets of advice garnered during her 60 exciting years and four amazing careers into this presentation. She will show how to leverage one's "backpack of experience," nail an interview and be interested versus interesting with on-stage interviews. She also will show students tactics to get them and their resumes off the shelf and noticed, and discusses the importance of developing a short elevator speech which includes offering three things no one would believe about themselves.
Spring 2020 Events
To Be Announced
Page last updated 8:37 AM, August 7, 2019