Doctor of Philosophy in Occupational Therapy
As a practicing occupational therapist, you've touched the lives of your patients, adapted to changes in the profession and felt the pull to share your knowledge. Embrace your calling to contribute to evidence-based practice through research, and to shape the next generation of occupational therapists by earning your Doctor of Philosophy in Occupational Therapy degree.
The Doctor of Philosophy in Occupational Therapy (PhD) degree prepares occupational therapists for advanced scholarly careers in academia and practice. Our graduates will have demonstrated the ability to contribute new or expanded knowledge, skills and attitudes to the profession of occupational therapy, as evidenced by publications in peer reviewed journals and national presentations at peer reviewed professional conferences.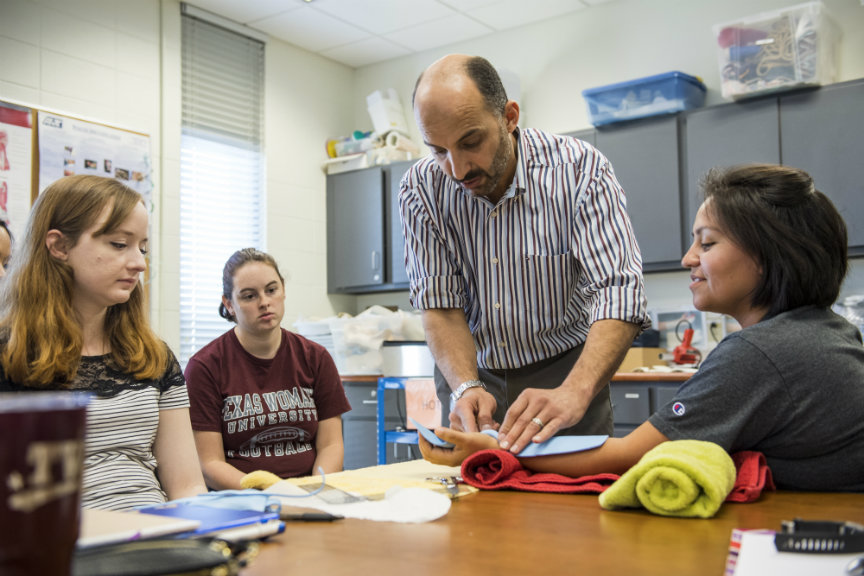 Our curriculum consists of three components, core coursework, qualifying examination and dissertation. Students typically enroll for 3-6 credit-hours per semester, and complete the degree with in 4-6 years. (Students must complete their degree, including dissertation, within 10 years.) Faculty mentors are located at the Denton, Dallas and Houston campuses. Courses are conducted primarily online with one or two campus visits per semester, rotating between the Dallas and Houston centers.
Program Requirements
The PhD program requires a minimum of 90 semester credit hours of masters/doctoral level coursework beyond the bachelor's degree — a minimum of 44 semester hours will be completed as a part of the doctoral program curriculum. A full listing of required courses is available in the graduate catalog. Curriculum includes:
Core course work
Research Tools
Electives
Qualifying Examination & Dissertation
Next steps
The PhD in Occupational Therapy at TWU is based on a mentorship model. Applicants must first match research interests and speak directly with a potential faculty mentor before entry into the program. Candidates must have a current occupational therapy license and are required to meet the general requirements for graduate admission, as well as the School of Occupational Therapy PhD requirements for admission.
Application deadlines
Applications are accepted at any time, but best consideration can be given to those received by April 15 prior to the desired Summer or Fall start-date.
Contact us
For additional information, please contact Patricia Bowyer, OTR, EdD, Professor and Coordinator of Post-professional Programs.
Page last updated 2:28 PM, March 7, 2019