Doctor of Occupational Therapy (Entry-Level)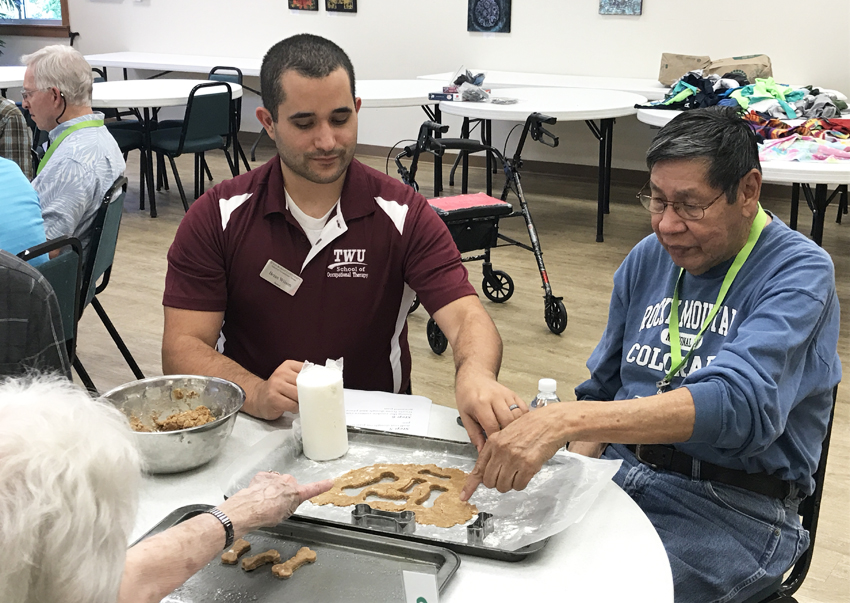 Occupational therapists help people engage in activities that give their lives meaning. As an occupational therapist, you will be a health care provider who asks your clients "what matters to you?" and then designs solutions to help them succeed.
The entry-level Doctor of Occupational Therapy (OTD) degree educates professional occupational therapists by providing them with a strong foundation of knowledge, encouraging active learning and critical reflection, and fostering integrity and compassion. Our program will prepare you to:
Enter the field ready to practice with confidence, creativity and caring.
Continue on a path of scholarly inquiry as you practice the art and science of occupational therapy.
Practice according to ethical principles that benefit clients individually as well as society as a whole.
Provide leadership within the profession of occupational therapy.
Contribute to health care and social policies of the state, the nation and the world.
The entry-level occupational therapy doctoral degree program has applied for accreditation and has been granted Preaccreditation Status by the Accreditation Council for Occupational Therapy Education (ACOTE) of the American Occupational Therapy Association (AOTA), located at 6116 Executive Boulevard, Suite 200, North Bethesda, MD 20852-4929. ACOTE's telephone number c/o AOTA is (301) 652-AOTA and its web address is www.acoteonline.org. The program must complete an on-site evaluation and be granted Accreditation Status before its graduates will be eligible to sit for the national certification examination for the occupational therapist administered by the National Board for Certification in Occupational Therapy (NBCOT). After successful completion of this exam, the individual will be an Occupational Therapist, Registered (OTR). In addition, all states require licensure in order to practice; however, state licenses are usually based on the results of the NBCOT Certification Examination. Note that a felony conviction may affect a graduate's ability to sit for the NBCOT certification examination or attain state licensure.
Students must complete all Level II fieldwork and the doctoral capstone within 29 months of initiating the first fieldwork.
Program requirements
The entry-level OTD degree requires 90 credit hours over 9 semesters in 3 years to complete. The program begins once a year in the summer session, and applications are accepted the preceding year.
See full program requirements in the Graduate Catalog.
Tuition and Annual Cost Estimates
The following information is an estimate of cost for the 2022-23 school year and should only be used as a guideline. Tuition and fees are subject to change.
View OTD tuition and annual cost estimates
Admission requirements
Admission to the Doctor of Occupational Therapy (entry-level)
Program Contact
Admission Deadlines
This program begins once a year in the summer session. Applications are accepted the preceding year.
July 1 – Apply Texas application opens
July 22 – Occupational Therapist Centralized Application Service (OTCAS) application opens
October 1 – Final deadline (CST 11 pm) – OTCAS application must be complete and verified and all documents received. It is strongly recommended that applicants submit by September to allow for timely verification.
If you are applying on or near October 1st, you will want to make certain that you have submitted your OTCAS and Apply Texas applications with transcripts sent to both OTCAS and TWU. Please scroll down to the "How to Apply" section for important details.
If your application process is complete and verified, you should get an email saying that it has been sent to the admissions committee for review, so please check your email regularly.
We will be having mandatory virtual interviews on Friday, November 18th and November 19th, by emailed invitation only. Details should be emailed by the beginning of November.
Admission Requirements
Baccalaureate degree completed at the time of enrollment.
GRE test scores are no longer required.
Minimum overall grade point average (GPA) of 3.0 calculated on the last 60 credit hours of your bachelor's degree at the time of application (no post-bac hours will be included in the last 60), or minimum overall GPA of 3.0 on 12 or more graduate credit hours.
Prerequisite courses GPA of 3.0 or higher and no grade below C. Advanced Placement credit will not be accepted. All prerequisite courses must be completed at the time of application. For prerequisite equivalency approvals, email ot@twu.edu the course title, university attended, and course description (required). Prerequisite Courses:

Elementary Statistics- a course in basic descriptive and inferential statistical methods
Anatomy and Physiology I & II Lecture / Lab- You can take separate Anatomy and Physiology courses with labs but you cannot mix an A&P course and then the separate Anatomy or Physiology course
Lifespan Developmental Psychology- Psychology of Personality is not equivalent to Developmental or Abnormal Psychology
Abnormal Psychology

Competency in Medical Terminology demonstrated by a passing grade in a medical terminology course (college credit or continuing education certificate). This may be submitted after acceptance, prior to OTD program entry.
Complete a minimum of 20 contact hours with one licensed occupational therapist within two years of application.
A minimum of three evaluator references. One reference must be from the licensed occupational therapist the applicant conducted their minimum 20 contact hours with. The other two evaluators should be academic and/or professional references. Applicants should select evaluators that will show their breadth of experience from different sites or institutions.
All students in the TWU OTD Program must comply with background checks, random drug screening, and immunization requirements in order to progress through experiential learning and fieldwork.
TWU Alumni Advantage Admission Requirements
Texas Woman's University students or graduates who qualify may apply for an Alumni Advantage into the OTD program. In addition to the above requirements, the Alumni Advantage Admission requires:
Texas Woman's University baccalaureate degree be completed at the time of enrollment with a Pre-OT track degree plan in Child Development, Family Studies, Health Studies, Kinesiology Exercise Science, or Psychology.
A minimum of 30 hours completed at Texas Woman's University at the time of application.
Overall GPA of 3.7 on the last 60 credit hours at the time of application.
Prerequisite courses GPA of 3.5 or higher and no grade below B.
One of the evaluator references must be from a TWU faculty member in the pre-OT major under whom the applicant has completed a course of study.
How to Apply
Apply for admission to the TWU Graduate School. IMPORTANT: When you complete the Apply Texas application, you must select:

Target University: Texas Woman's University (Denton)
Semester of Entry: Summer (for the following year)
Major: Occupational Therapy (OTD-Entry Level) with your campus of choice - Denton, Dallas, or Houston.
You must submit your transcripts to the Office of Admissions Processing at Texas Woman's University. If you would like to know the status of your application, see if your document(s) has been received, or find out what documents you are missing, please check your WebAdvisor account using the Applicant's tab. In order to access WebAdvisor, you must first set up your Pioneer Portal Account. If you need assistance, please contact https://twu.edu/technology/ .
Submit TOEFL and TSE/Test A (if applicable).
Apply to The TWU School of Occupational Therapy through OTCAS. If you experience technical difficulty completing the OTCAS application, visit the OTCAS help page.

Use a permanent email address when applying to OTCAS.
Observation hours must be manually entered into OTCAS. Backup documentation is not required.
Notify the three Evaluators they will receive a reference request from OTCAS. Applicants are encouraged to follow-up with evaluators to ensure the references are submitted prior to the deadline.
Technology Requirements for the Program
Page last updated 7:55 AM, October 11, 2022