MS in ESN - Houston Campus
Graduate in as little as 2 years | 34-40 credit hours | Flexible course and practicum locations
Why earn your MS in ESN at TWU's Houston program?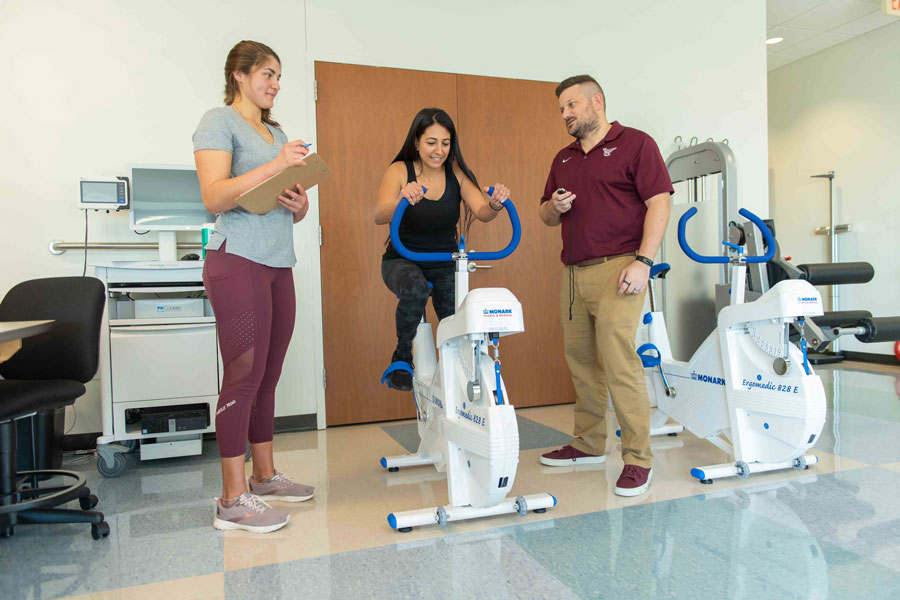 Thesis or coursework only options
Flexibility to complete the MS in Exercise and Sports Nutrition your way by choosing thesis or coursework-only option.
Thesis option: 28 credit hours of required coursework, six credit hours of thesis coursework and a final oral exam (thesis defense).
Coursework-only option: 23 credit hours of required coursework and 17 credit hours of additional coursework.
Dietetic internship opportunity
TWU's Houston campus ESN program offers a highly competitive year-long internship focusing on medical nutrition therapy for students. The program affiliates with more than 25 prestigious internship sites in the greater Houston area.
The dietetic internship/master's program prepares you to become an RDN ONLY if you already have a nutrition-related bachelor's degree. If you do not have a nutrition-related bachelor's degree and want to be an RDN, we recommended completing our BS in Nutrition (Dietetics) program first before pursuing the dietetic internship/master's program.
Learn more about the Dietetic Internship Master's Degree Program Guide.
Sports nutrition practicum rotation opportunities
Gain practical experience working with athletes in intercollegiate and professional teams, local school districts, as well as in hospitals, private practice registered dietitian nutritionists (RDN) and corporate wellness centers.
As part of the Exercise and Sports Nutrition degree requirement, you will participate in and complete 3 semester credit hours of structured, supervised practical experiences, potentially including both on and off-campus experiences. A minimum of 45 clock hours of supervised practice is required for each semester's credit hour.
Recent or upcoming practicum rotation sites may include:
IRONMAN Sports Medicine Institute – Memorial Hermann
Rice Athletics
University of Houston Athletics
Conduct research with TWU faculty
At TWU, you have the opportunity to participate in research with faculty in any of the on-campus laboratories. Research opportunities related to nutrition, or exercise and sports nutrition include:
Effects of exercise and dietary interventions to improve fitness and reduce cardiovascular disease (CVD) risk factors
Efficacy and safety of nutritional supplements to improve endurance capacity, muscular strength, body composition, and post-exercise recovery
Secondary analysis of National Health and Nutrition Examination Survey (NHANES) data to assess dietary intake and identify predictors of health and disease in the U.S.
Assessment of dietary intake, resting metabolic rate (RMR), and body composition in athletes and individuals with CVD or cancer
Effects of resistant starch on glycemic control, gut microbiome, and weight management in individuals with overweight/obesity and/or type 2 diabetes
Assessment of food insecurity and impact of food assistance programs on college campuses
Career Opportunities
TWU's ESN program prepares you to work as a sports nutritionist or wellness coach in a variety of settings. Opportunities include working in:
Professional and amateur sports teams or collegiate athletics
Hospitals, clinics or rehabilitation centers
Government agencies or public schools
Private practice
Courses and Curriculum at TWU
The MS in ESN program core courses focus on nutrition, exercise physiology, sports nutrition and research methods. Internship and practicum requirements provide hands-on skills and training in clinical and laboratory settings.
Admission to the M.S. in Exercise and Sports Nutrition
Program Contact
Shane Broughton, PhD, (ESN Denton)
Chair & Professor
OMB 307
kbroughton@twu.edu
940-898-2637
Wesley Tucker, PhD, (ESN Houston)
Assistant Professor
713-794-2379
WTucker1@twu.edu
Application Deadlines
Fall — June 15
Spring — October 1
Summer — April 1
* Our department has rolling admission for all of our graduate programs, however, to ensure a proper start time, we recommend having your application completed by the dates listed above.
Admission Requirements
Undergraduate semester credit hour prerequisites, including

Chemistry, including Organic and Biochemistry (9-12 hours)
Human Anatomy and Physiology (3-4 hours)
Introduction to Nutrition (3 hours)
Upper-level Nutrition, Advanced Nutrition: Macronutrients and Micronutrients and Nutrition through the Lifecycle (6-9 hours)

GRE is not required.
Minimum 3.25 GPA on a 4.0 scale for the last 60 undergraduate semester credit hours and all post-baccalaureate and graduate semester credit hours.
Applicants who meet the above criteria with exception of GPA may qualify for provisional admission if they have at least a 3.0 GPA (4.0 scale) on the last 60 undergraduate semester credit hours. If the applicant has previously earned graduate credits from TWU or another regionally accredited graduate program, the first 12 credit hours completed will be considered in lieu of the last 60 undergraduate hours.
How to Apply
Apply for admission to the TWU Graduate School.
Scholarships and Financial Aid for MS in ESN students
In addition to university-wide types of financial aid, there are also scholarships specifically for the Department of Nutrition and Food Sciences.
Explore the full list of available scholarships for graduate ESN students through the TWU Pioneer Scholarship System.
Request Info about our MS in Exercise and Sports Nutrition Houston campus
Page last updated 11:05 AM, August 4, 2022