MS Exercise and Sports Nutrition
Graduate in as little as 2 years | 34-40 credit hours* | Denton or Houston
Become a leader in exercise and sports nutrition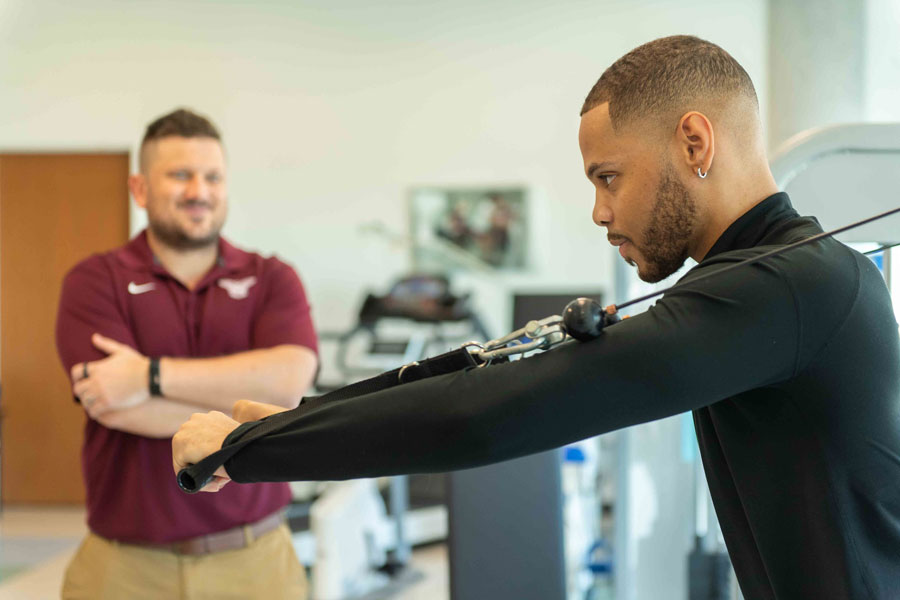 Earn your Master's degree in Exercise and Sports Nutrition (ESN) at TWU. Explore research and study opportunities that allow you to determine how diet and exercise impact health and athletic performance.
Build your sports nutrition and research skills in a variety of settings, including the classroom, health-related settings, and high school, university and professional athletic teams.
*Individual requirements may vary.
The MS in Exercise and Sports Nutrition along with the dietetic internship prepares graduates to take the national Registration Examination for Dietitians and apply for a license to practice through the Texas State Board of Examiners of Dietitians. Licensing of dietitians in Texas is voluntary. If you are a resident of another state, contact our department to determine whether our program fulfills requirements to apply for licensure in your home state.
Study ESN on TWU's Denton or Houston campus
Find more information about degree options, program requirements, dietetic internships, research and career path opportunities in the MS Exercise and Sports Nutrition (ESN) programs at the Denton and Houston campuses.
The Success of Our Alumni
Jace Rhoden is currently the consultant dietitian for the NHL, AHL teams and Dallas Stars hockey organization, the Director of Nutrition at Mesquite Specialty Hospital, where he is lead clinical dietitian and food service manager. Finally, he runs his company, Fit For Him, providing nutrition and exercise services. Jace continues to expand his practice in both clinical and sports nutrition.
Jennifer Fiske started at FC Dallas as a grad student during her ESN practicum, grew her position into a paid internship and worked with FC Dallas as the team nutritionist for 2 years. Fiske's experience led her to be the Health Education Coordinator at DFW Airport, working to increase comprehensive health education. Fiske is currently the Wellness Program Administrator for Frisco ISD.
Paradis is the Director of Olympic Sports Nutrition at the University of South Carolina. Paradis worked in private practice as a sports dietitian and strength coach for five years, developing his own studio. His clients ranged from high school and college athletes to professional cyclists and hockey players to competitive bodybuilders and powerlifters.
Wolff is a Clinical Assistant Professor at Iowa State University. Dr. Wolff has worked in a variety of settings including clinical, population health, research and private practice nutrition counseling with adults and children. She previously worked in the Population Health Division at Children's Medical Center in Dallas, Texas and researches school wellness initiatives.
Goodson is a registered dietitian and consultant in the Dallas-Fort Worth area with an emphasis in overall health, wellness and sports nutrition. She has worked with the Dallas Cowboys, the Texas Rangers, TCU Athletics, FC Dallas Soccer, and many PGA Tour players. Goodson is the owner of RD Career Jumpstart, a business to help dietetic students and registered dietitians reach their dream career.
Request Info about our MS in Exercise and Sports Nutrition
Page last updated 10:17 AM, August 31, 2022