Certificate of Biliteracy
In just four consecutive semesters, you could add a graduate certificate in biliteracy to your investment in bilingual students' academic achievement.
Program Features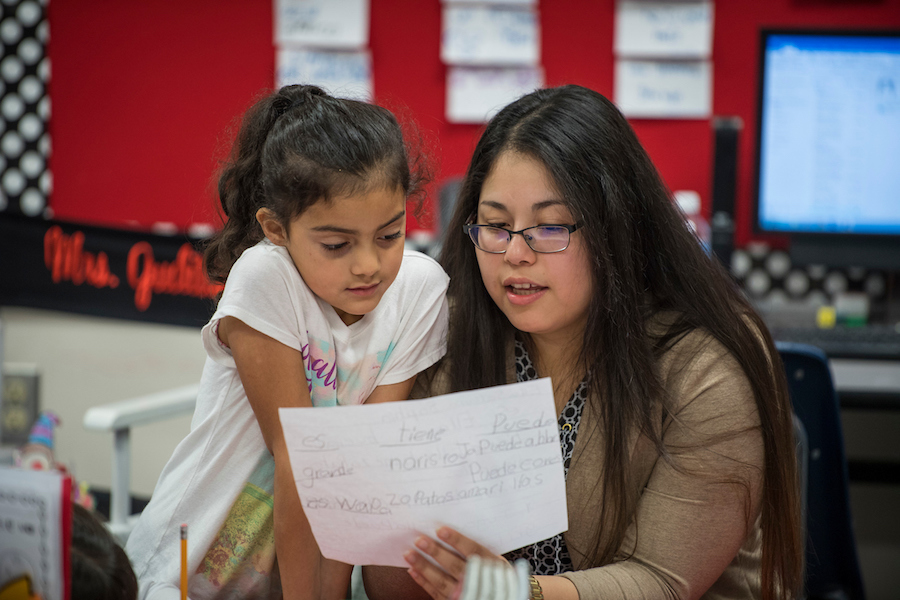 Certification with 12 credit hours over four consecutive semesters
Courses count toward an MEd in Reading with the opportunity to become a certified reading specialist, or choose to receive the graduate certificate only
Hybrid courses meet three to four Saturdays in Denton during the semester
You do not need to be bilingual to take these courses since the focus is on understanding any student's biliteracy development regardless of their languages. Courses are offered in English
TWU faculty could offer these courses at your school or district if there is enough interest
Why it matters
The number of bilingual students in U.S. public schools grew 64% between 1995 and 2010
More schools are offering dual language, ESL and world language classes in grades Pre-K through 12
Texas has adopted the Seal of Biliteracy for high school diplomas
Courses
The certificate consists of four courses offered in the Reading Department. The courses already exist as four of the beginning courses taken to pursue an MEd in Reading.
This certificate program gives you options:
Take only the four courses for the certificate
Continue in the TWU master's in reading education program
Add the certificate to a graduate degree from a different program
READ 5423 Literacy Practice to Theory
This course focuses on how one engages in literacy practices in more than one language while connecting these practices of language use to theories such as translanguaging, code-switching, and linguistic interdependence.
READ 5443 Literacy Assessment and Instruction
Evaluate existing formal assessments in reading, writing and listening/speaking (oral language) for a learner at a specific age level who is learning English as a second (or additional) language. You also will evaluate formal language proficiency assessments for at least one language other than English. (You will be able to do this without possessing any proficiency in that language.) Students will create their own informal assessments in reading, writing, and oral language for students learning English as a second language.
READ 5503 Phono/Orthos Systems in Literacy Learning
Learn about the phonology and orthography systems of the English language while comparing these systems to other languages. You will create curricular and instructional innovations to teaching English language systems to one who speaks a different language.
READ 5453 Processes & strategies for Comprehending Texts
In the final course, you will learn about how one comprehends texts in a second language and strategies to use to assist in this comprehension. You will develop curricular and instructional innovations to use with a specific age level of bilingual learner to facilitate first-language and second-language comprehension of age-appropriate texts.
For more information
Mandy Stewart, PhD
Associate Professor, Reading
mstewart7@twu.edu
940-898-2232
Contact reading@twu.edu or 940-898-2227 for more information about any graduate program in the Department of Reading
Page last updated 1:14 PM, July 29, 2019