TWU Nights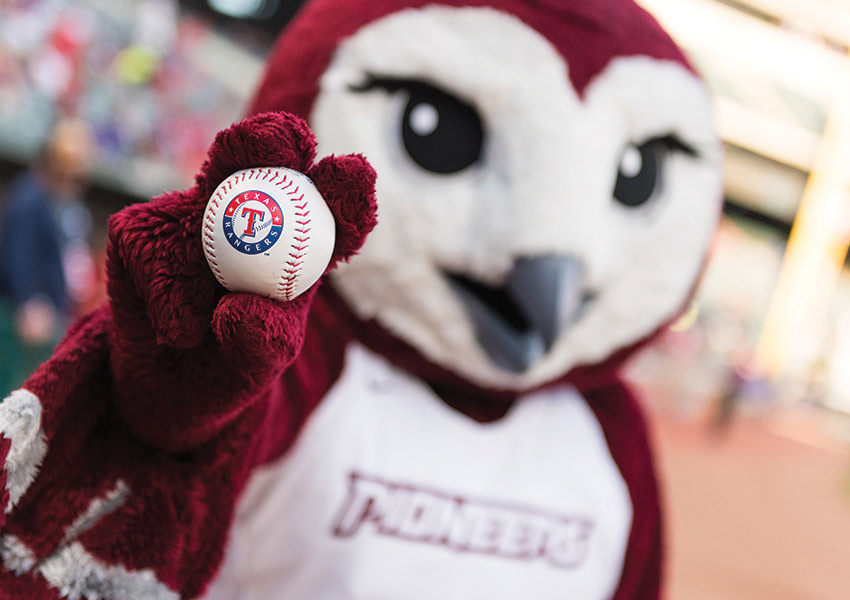 TWU Nights are over but you can still purchase your own limited-edition, 2023 TWU-branded Rangers or Astros hat for only $10 each! Click the links below to purchase online now and select your pickup location. Hats will NOT be shipped.
Texas Rangers 2023
Join us on April 22 at 6:05 p.m. as the Rangers take on the Oakland Athletics at Globe Life Field! Charter buses will be available.
Hats: The first 800 fans who purchase tickets via link above will receive a limited edition co-branded Rangers hat.

Hats can be picked up at the Theme Night kiosk located on the main concourse by section 117 the day of the game, starting when gates open through the end of the 3rd inning.

Scan your ticket at the kiosk, once it is validated you will receive your cap, vouchers are no longer needed.
Group Ticket Sales: If you would like to purchase 20 or more tickets please contact Jeremy Christopher.
TWU will provide transportation from Denton to Arlington for current TWU students, faculty and staff who hold a valid TWU ID. The bus will depart the Denton campus at 3:30 p.m., in the parking lot near Dance-Gymnastics Laboratory Building (DGL) . Buses will return to the Denton campus after the game at approximately 10:30 p.m. Fans interested in riding the bus must preregister and complete the form. Registration will close at midnight on Monday, April 10, or when the bus reaches capacity and all seats are filled.
For more information, please contact the Student Union.
Houston Astros 2023
Mark your calendars and join us at Minute Maid Park on Friday, April 28 as we watch the HOUSTON ASTROS vs. PHILADELPHIA PHILLIES! It will be a night to remember! Tickets will go on sale in March.
The first 150 fans who purchase a ticket will receive a limited edition TWU-themed Astros hat. Tickets must be purchased through the link above to be eligible for the hat. Hats can be picked up at the TWU branded table located on the main concourse outside of section 131 by the ramp that takes you to the upper levels. The best entrance to enter the ballpark is the right field entrance. Hats will be available starting when gates open through the end of the 2nd inning. You will have to show your ticket to receive your hat.
If you have any special ticketing requests outside of the sections designated within the link provided, ex. Budweiser Brew House, Impact Party Deck, and Field Club sections, please contact Pablo Ortiz,.
Transportation is not provided from the Houston campus, but students are encouraged to carpool and go with a friend! For parking information, see details for Minute Maid Park.
For questions and additional information contact Dr. Charlene Adams, Student Life-Houston representative at 713-794-2157. Students may also contact the Student Union staff.
Page last updated 4:54 AM, May 12, 2023