MS in Nutrition
In as little as 12 months and less than $15,000, you can earn your master's degree and be ready for the next step in your career. With 100% online options in Denton and Houston.
Program features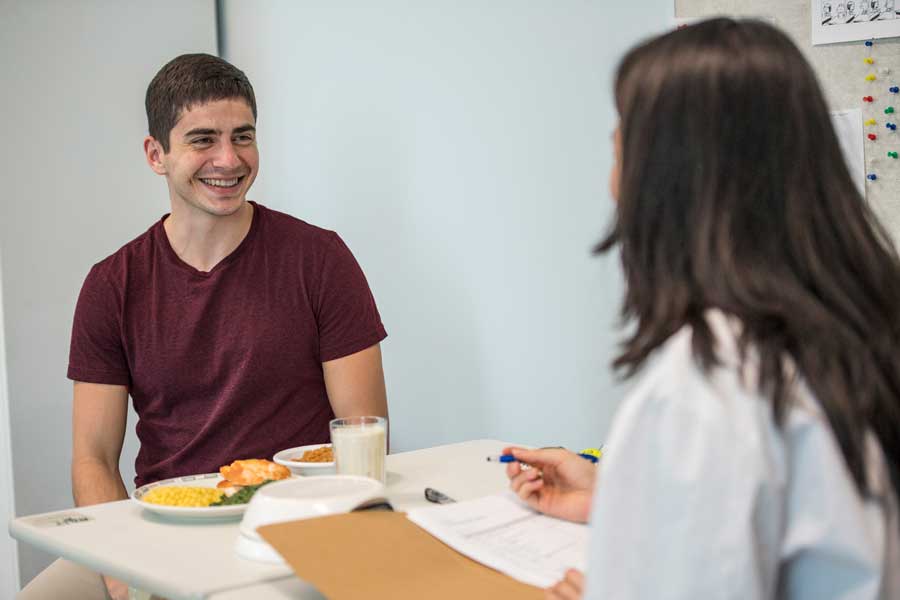 Degree completion in as little as 1 year, or 30 credit hours*
High quality, affordable education and career preparation
Thesis, coursework-only and 100% online options
Electives that merge the science of nutrition with a broader view of wellness, community and the environment
Small classes with

accessible, knowledgeable and supportive faculty

, including flavor scientists and an emulsion chemist

Scholarship recipients receive in-state tuition
Courses take place on TWU's Denton campus and Houston campus
*Individual requirements may vary.
The MS in Nutrition along with the dietetic internship prepares graduates to take the national Registration Examination for Dietitians and apply for a license to practice through the Texas State Board of Examiners of Dietitians. Licensing of dietitians in Texas is voluntary. If you are a resident of another state, contact our department to determine whether our program fulfills requirements to apply for licensure in your home state.
Why Nutrition at TWU?
Dietetic internship opportunities
Texas Woman's Nutrition and Food Sciences Department offers Dietetic Internships on the Denton and Houston campuses. Visit our Master's Dietetic Internship Programs page for more information.
Home to the only school nutrition internship program in Texas
Texas Woman's Nutrition and Food Sciences offers the only School Nutrition Specialist (SNS) Internship program in the state. The program is also one of only three approved by the School Nutrition Association nationwide.
This highly selective program prepares you to assess the nutritional needs of diverse populations, especially school-aged children at risk or of limited income. Currently, our students have a 100 percent job placement rate after completing the SNS Internship.
Available on TWU's Denton and Houston campuses.
Learn more about the School Nutrition Specialist (SNS) Internship.
Explore thesis, coursework-only and 100% online options
In the thesis option, you will complete a thesis with an oral defense and take less semester credit hours
The coursework-only option allows you to take more semester credit hours in replacement of completing a thesis and oral defense
The 100% online option mirrors the coursework-only option but allows you to complete your degree at your own pace
Learn more about program requirements for each option below.
Research opportunities
At TWU, you have the opportunity to participate in research with faculty in any of the on-campus laboratories. Research possibilities include:
Examining the effect of berries on bone health and prevention of osteoporosis
Evaluating the impact of various protein sources on exercise recovery
Diabetes control
Influence on parameters involved in the regulation of ovulation
The effect of dietary fats on neurological behavior and neuroinflammation
Community nutrition options include the development of community education programs and evaluation and design or outreach opportunities.
Career opportunities
Career opportunities for graduates include:
Research and development in the food industry
Academia
Writing and publishing
Nutrition consultancy
Marketing for nutrition companies
Salaries in these areas vary widely. The Bureau of Labor Statistics lists a median annual income of $60,370 per year for dietitians and nutritionists with a much faster than the average growth rate.
Program requirements
Thesis Option
In this program option, you will complete a total of 30 semester credit hours broken down into:
11 credit hours of required coursework

10-12 credit hours of additional courses in major (may include s

ix-nine credit hours in an i

nternship experience, independent study or cooperative education)

Three-four credit hours of additional coursework

Six credit hours of thesis coursework
A full list of courses and requirements are available in the course catalog.
Coursework-only and 100% Online Options
In this program option, you will complete a total of 36 semester credit hours broken down into:
12

credit hours of required coursework
16 credit hours

of additional courses in major

Nine additional courses (may include

coursework from another department, or coursework transferred from another institution with approval)

A capstone seminar during your final semester
A full list of courses and requirements are available in the course catalog.
Admission requirements
Admission to the M.S. in Nutrition
Program Contact
Monique LeMieux, Ph.D.
Assistant Professor
nutrfdsci@twu.edu
940-898-2636
Application Deadlines
Fall — June 15
Spring — October 1
Summer — April 1
Admission Requirements
Undergraduate semester credit hour prerequisites, including:

Chemistry, including Organic and Biochemistry (9-12 hours)
Human Anatomy and Physiology (3-4 hours)
Introduction to Nutrition (3 hours)
Upper-level Nutrition, Advanced Nutrition: Macronutrients and Micronutrients and Nutrition through the Lifecycle (6-9 hours)

Minimum 3.25 GPA on a 4.0 scale for the last 60 undergraduate semester credit hours and all post-baccalaureate and graduate semester credit hours.
Applicants who meet the above criteria with exception of GPA may qualify for provisional admission if they have at least a 3.0 GPA (4.0 scale) on the last 60 undergraduate semester credit hours. If the applicant has previously earned graduate credits from TWU or another regionally accredited graduate program, the first 12 credit hours completed will be considered in lieu of the last 60 undergraduate hours.
Email addresses for three individuals familiar with your academic capabilities, who can provide letters of recommendation to be requested through and submitted into the application.
How to Apply
Begin by finding your program in TWU's Program, Majors & Degrees listings to see if your program has additional admission requirements and application deadlines prior to applying. (This information is for all programs. The application deadline for your specific program will be listed in the Program Requirements. Use that deadline as it applies below. (Example: if a program only admits once a year and has a Fall deadline for 2023 of March 1, you would need to be looking to apply to the next deadline for Fall 2024.)
Apply online.


Apply to Graduate Programs according to the start semester and application portals below:


Spring 2024 - All programs apply via ApplyTexas EXCEPT applicants to the College of Business, Child Life, or Child Development master's programs or the Child Development and Early Education PhD program who should apply via the TWU Online Graduate Application Portal.

Note: When applying through ApplyTexas, you will need to submit any required Documents directly to the program website.

Summer & Fall 2024 - All graduate programs apply via the TWU Online Graduate Application Portal. Required documents will be asked for and uploaded into the application.



Pay the application fee.
The $50 fee, ($75 fee for International applicants), which applies to all new and returning applicants can be paid by:

Credit card - Online through the portal you applied on (either ApplyTexas or TWU's Online Graduate Application).
Certified check or money order by mail or electronically - payable to TWU, sent by mail to:
TWU Admissions Processing, 301 Research Circle, Room 220; Denton, Texas 76204
(include your full name and ID number).
Cash (no personal checks) - Pay at the Bursar's Office. After paying, bring the receipt to Admissions Processing (2nd floor of GRB).
Fee Waivers - Graduate applicants who are certified McNair Scholars are eligible for a McNair Scholar application Fee waiver. Submit the request using the Application Fee Waiver Submission Form.



Submit transcripts to TWU.

Domestic Applicants must submit official transcripts for each college or university attended, both undergraduate and graduate. See the Information on Transcripts website for more details.
International Applicants are now required to provide an evaluation prepared by a NACES or AICE member evaluation service. International transcripts should not be sent directly to TWU. See the International Admission website for more details.
For more information on graduate admissions or to contact an admissions official, visit the Graduate Admissions website.
Students who wish to apply for a Graduate Assistantship must meet the General Criteria for Appointment of Graduate Assistants.
MS in Nutrition Graduate Student Handbook 2022-2023
NFS 5332 Application for MS Capstone Seminar if completed NFS 5314
For more information
Online program (coursework only)
Denton
K Shane Broughton, PhD
Chair
SRC 204
kbroughton@twu.edu
940-898-2636
Houston
Mindy Patterson, PhD, RDN
Associate Professor
Houston Center 7023
mpatterson14@twu.edu
713-794-2375
On campus program (thesis and coursework only)
Denton
K Shane Broughton, PhD
Chair
SRC 204
kbroughton@twu.edu
940-898-2636
Monique LeMieux, PhD
Associate Professor
SRC 204
mlemieux@twu.edu
940-898-2712
Houston
Derek Miketinas, PhD, RDN
Assistant Professor
dmiketinas@twu.edu
713-794-2256
Page last updated 10:23 AM, September 6, 2023