May 2021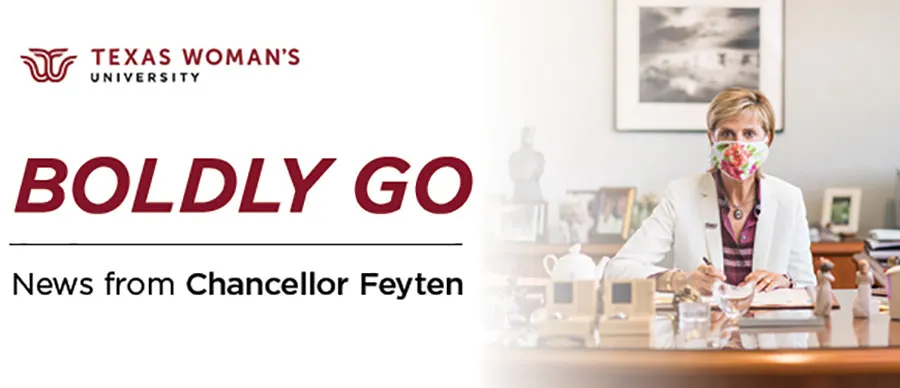 Texas Woman's Takes Historic Step Forward
Dear Friends:
On Wednesday, Gov. Greg Abbott signed into law a bill establishing the Texas Woman's University System as the first in the nation with a woman-focused mission. Becoming the state's seventh higher education "system" will help our university maintain its distinctive identity and give us new opportunities to make sure our voice is at the table in higher education policy decisions.
This positioning will make it easier for our Denton-based university system to bolster operations on our Dallas and Houston campuses, expand programming, accelerate community and corporate partnerships, increase philanthropy and have a greater impact on the state's workforce.
We are especially grateful for the support of our local legislators, state Sen. Drew Springer and state Rep. Lynn Stucky, who were instrumental in crafting and shepherding this legislation to fruition. While this legislative action happened on my watch, it is bigger than any of us. The Texas Woman's University story spans 120 years. Our vision for this moment was made possible by standing on the shoulders of giants who came before us: giants in the faculty, giants among our alumni, giants in the staff and prior administrations, and giants in the community—readers like you—championing the value of a distinctive institution like Texas Woman's.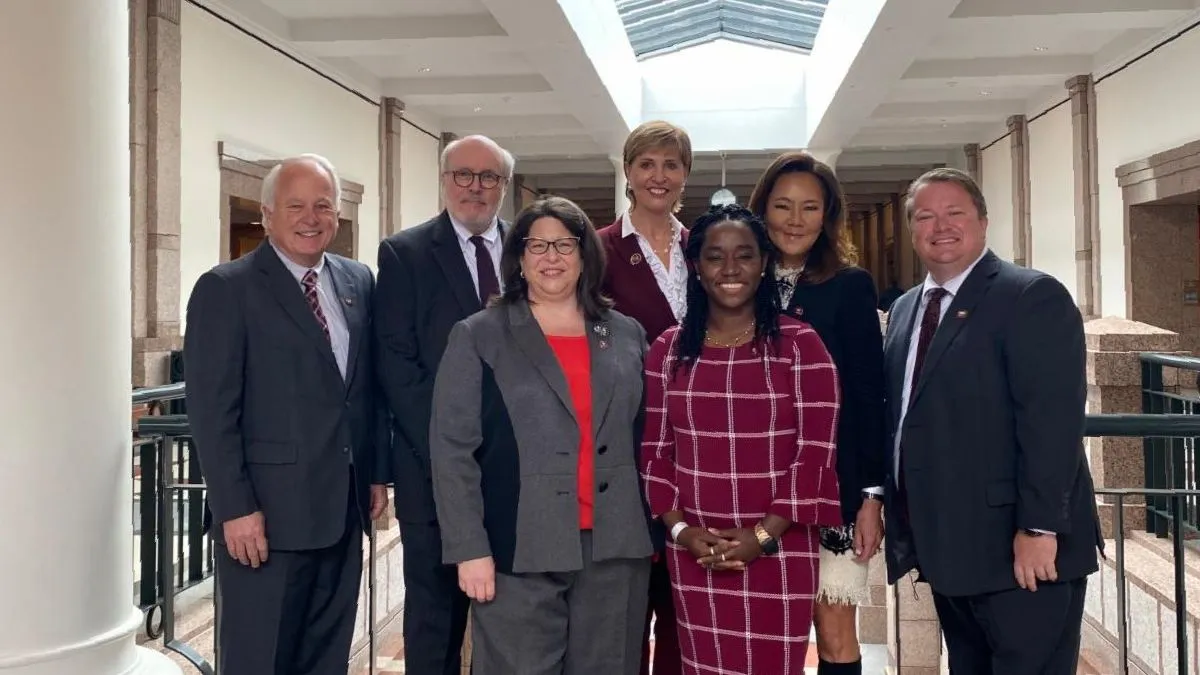 From left, Dr. Brian May, Regent Bob Hyde, Regent Jill Jester, Chancellor Carine Feyten, Student Regent Dawna-Diamond Tyson, Regent Kathleen Wu and Kevin Cruser inside the Texas capitol building.
---
Always blazing new trails...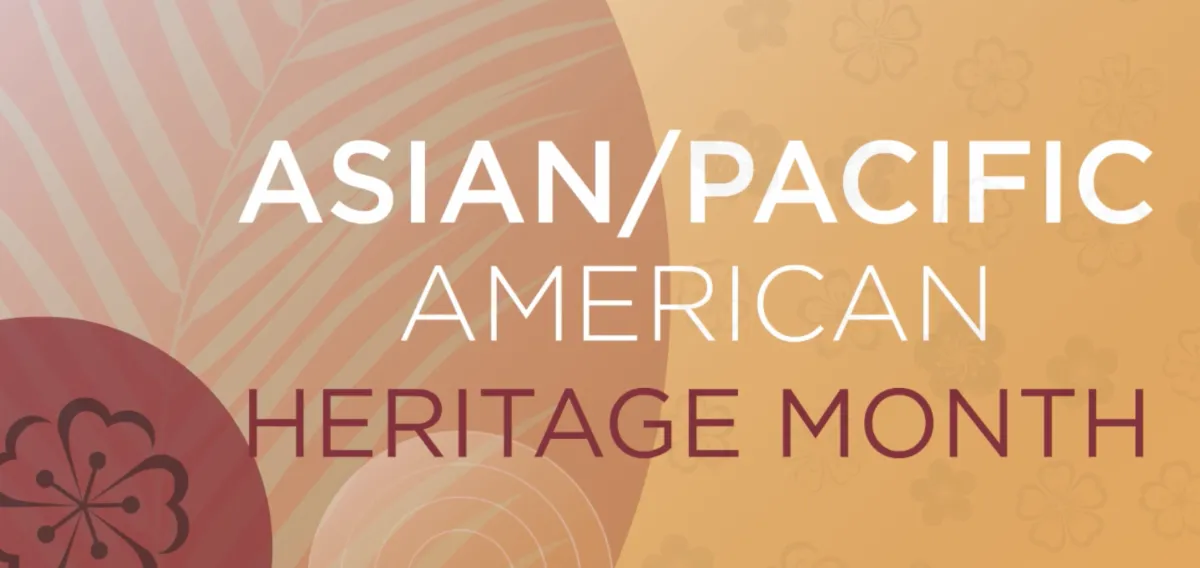 After a school year challenged by COVID-19, I join so many others who are pleased that we all are beginning to see a transition to a new normal. This month we extended special appreciation to some of our key pandemic frontliners: teachers and nurses.
As a majority-minority institution and one of the most diverse higher education institutions in the country, the university also paid special recognition this month to our Asian and Pacific Islander faculty, staff and students, who make up 10% of our student body. I think you will find these stories compelling!
---
A second novel commencement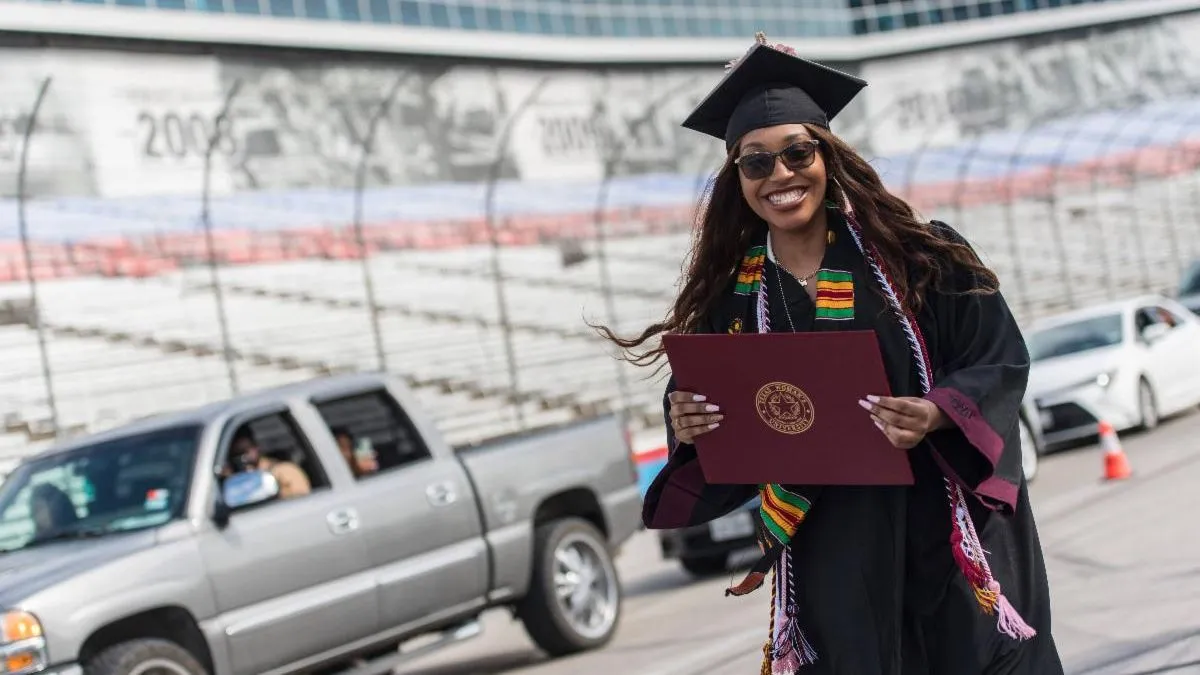 Given the social distancing and mask requirements of the pandemic, we held our commencement ceremonies in Denton and Houston off campus for the second time since the start of the pandemic. I invite you to check out the joy and exuberance of our graduates "crossing the finish line" that we captured in this video taken at the Texas Motor Speedway, and also in photos taken in a decked-out corporate parking garage in Houston.
You may also enjoy reading about some of our exceptional recent graduates—from our nutrition researcher headed to med school and physical therapist pursuing neurologic rehabilitation to our all-female kinesiology team that tackled space headaches in astronauts in this spring's NASA design competition.
---
Biology students admitted to highly competitive pre-med program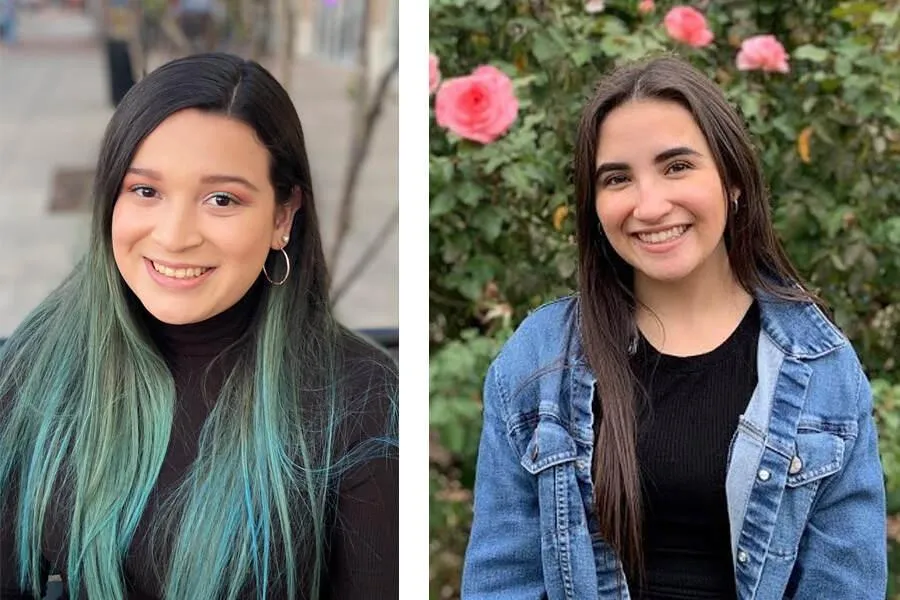 From left, JAMP scholars Elizabeth Gaytan and Gratzelly Marquez
And we have many more outstanding students coming up behind these high-achieving graduates!
Undergraduate biology students Elizabeth Gaytan and Gratzelly Marquez recently were named Joint Admission Medical Program (JAMP) scholars. This program guarantees Elizabeth and Gratzelly admission to one of the state's 11 medical schools. They also will receive financial and academic support during their studies, along with access to resources and mentors that will enable them to excel in their chosen disciplines.
JAMP was created by the Texas Legislature to support and encourage highly qualified, economically disadvantaged Texas residents pursuing a medical education. In 2020, only 100 scholars were admitted out of 347 applicants from 70 public and private four-year undergraduate institutions statewide.
---
Athletics programs continue to expand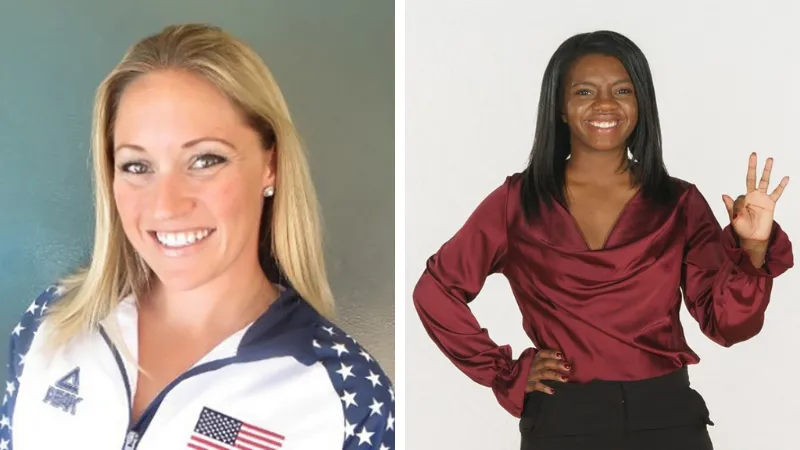 From left, U.S. Olympic medalist Sara Lilly will coach synchronized swimming this fall, and coach Jasmine Owens will launch our new STUNT program.
One of the many challenges colleges and universities faced during the pandemic was the cancellation or restrictions on athletics programs. Although our fall sporting events were cancelled, student-athletes carried forward their winning streak by posting a combined grade point average of more than 3.0 for the 78th consecutive semester (since 1982!). Nearly half of our athletes earned perfect 4.0 GPAs!
Notably, U.S. Olympic medalist Sara Lilly, who joined us early last year before the onslaught of the pandemic, continued to recruit and build our new synchronized swimming program that will begin competing this fall.
We also are launching a new competitive STUNT team this fall that will take technical elements of cheerleading in a four-quarter format under the coaching of Jasmine Owens. Jasmine, who joined us in January, already has filled a roster for fall, thanks to her strong connections with youth cheer and STUNT groups and her stellar reputation. She was a collegiate cheer and STUNT student assistant at Oklahoma State where her team won four STUNT national championships and, in her senior year, she was National STUNT athlete of the year.
Among other athletics highlights: Our Pioneer Pride Dance Team (new in 2017) competed in the national championships and brought home the third-place trophy. Our gymnasts had a full season and turned in amazing individual performances at the national championships—with one of our students named the national champion on floor exercise; another winning fifth place on the vault; one earning fifth place on the beam; one who finished as national runner-up on the bars; and a freshman who won the individual national championship on the vault and was heralded as national runner-up on both the beam and floor.
---
Health sciences alumna featured in national statue exhibit of female STEM leaders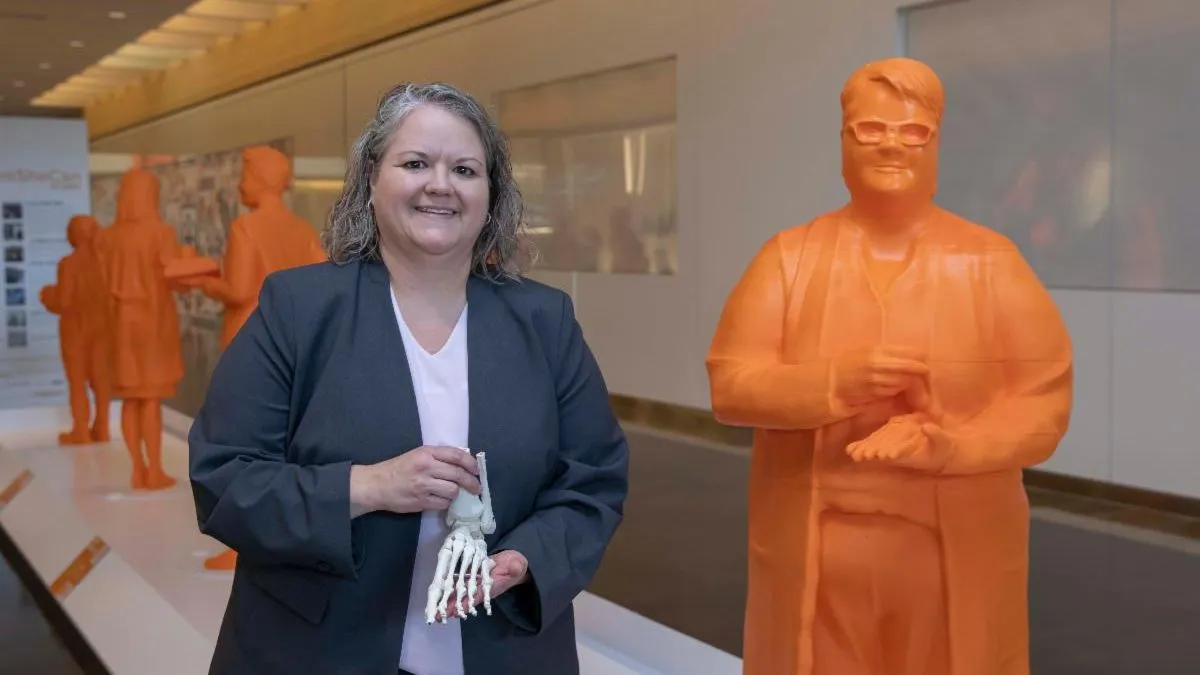 Kirsten Tulchen-Francis poses with her statue for the exhibit. Courtesy photo.
If you live in the Dallas area, I recommend you visit a special exhibit of outstanding women in STEM now at NorthPark Center through October 24. It is the largest number of statues of women ever assembled in one location at one time—and we are all so proud that among the more than 120 female pioneers in science, technology, engineering and math is our kinesiology-biomechanics alumna Kirsten Tulchin-Francis (PhD '12).
As division director of Movement Science at Scottish Rite for Children, she studies how children and teens with orthopedic conditions walk, jump and play so she and her team can help doctors determine the best treatment plans to get them moving again.
She also leads the design and execution of research projects and is working on two ongoing COVID-related studies, both focused on physical activity levels in children during the pandemic. The first study is a parent-report survey and is a collaboration with Heather Roberts, PhD, associate professor in the TWU School of Occupational Therapy, and several faculty members at UNT and UTA. The second study, also in collaboration with Dr. Roberts, involves collecting quantitative data on the activity levels of children during the shelter-in-place restrictions in April. So far, both studies have found a reduced level of physical activity in children can be harmful to their development.
Dr. Tulchin-Francis was selected by the American Association for the Advancement of Science as one of its IF/THEN Ambassadors, who serve as national role models for the next generation of female pioneers in science, technology, engineering and math. They each have a 3-D printed statue on display, and the exhibit has been featured in New York City's Central Park and Dallas' Love Field. #IfThenSheCan - The Exhibit is an initiative of Lyda Hill Philanthropies and is designed to activate a culture shift among young girls to open their eyes to STEM careers.
---
Faculty and student ingenuity advance university successes during pandemic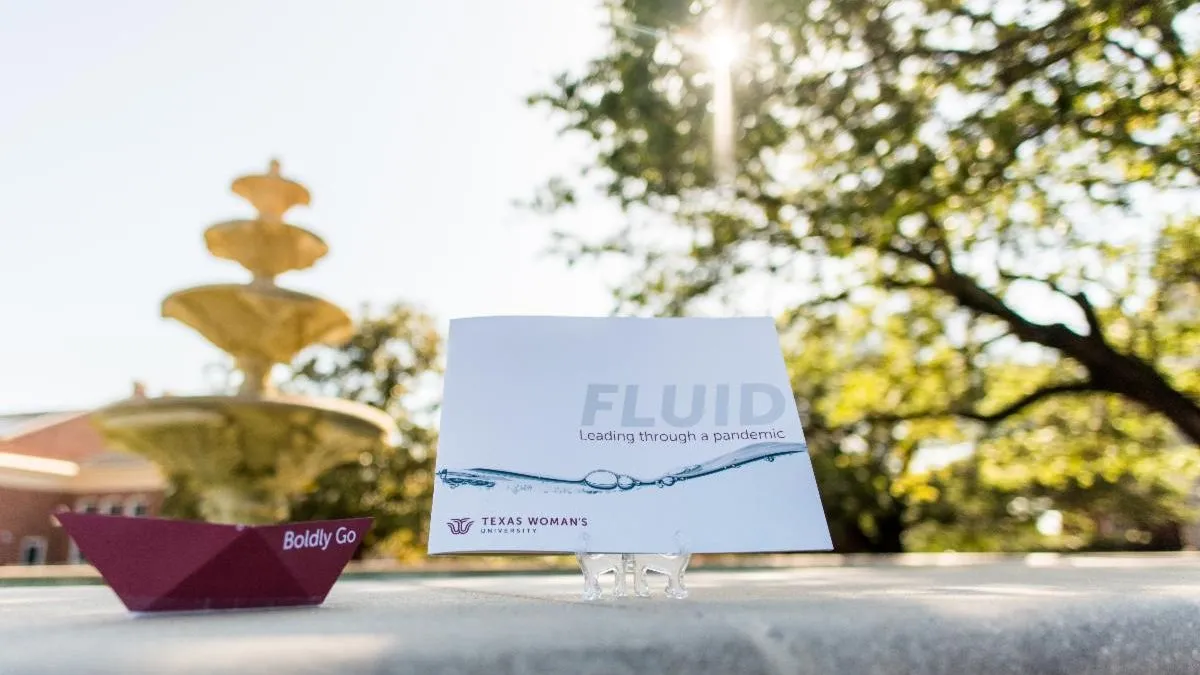 You can flip through this new publication, which is available online.
In my recent publication, Fluid: Leading through a pandemic, I share stories of how fortunate our university has been to have our faculty, staff and students find innovative ways to advance the institution and our communities.
Our faculty, staff and students were always looking for ways to weather the pandemic storm. As a result, we are actually in an even stronger position this year than last! Our enrollment is up, we launched new innovative academic programs, and we continued to grow and improve our campuses.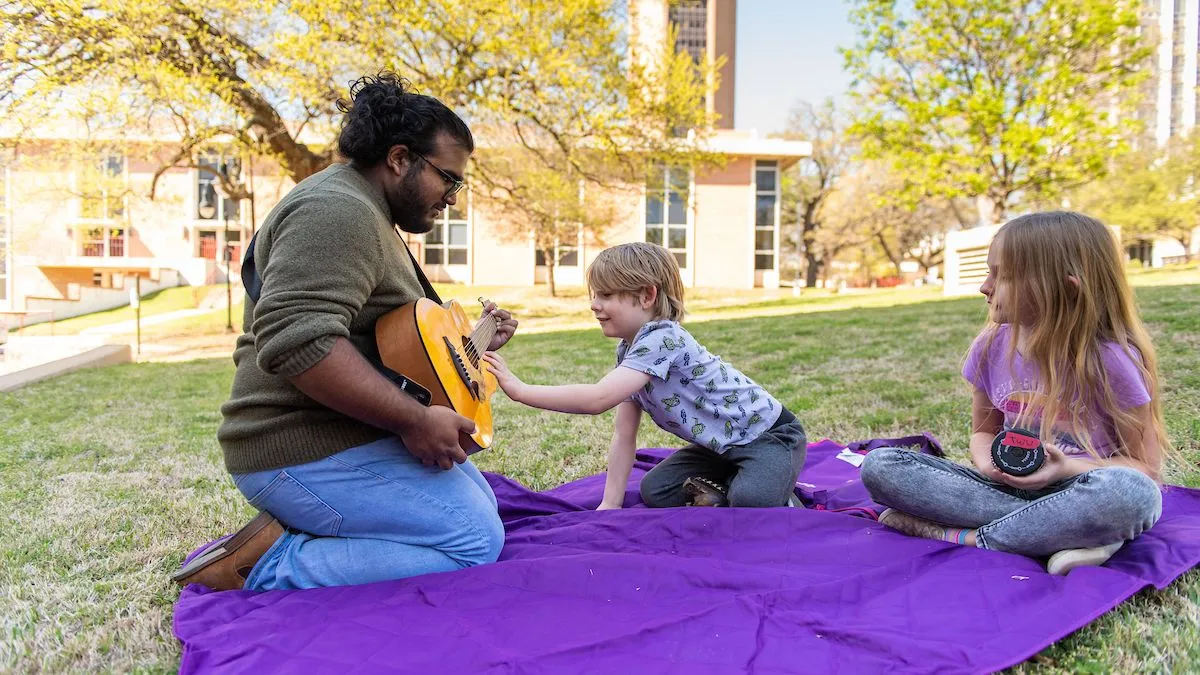 TWU music therapy student Abel Abraham works with children on the Denton campus.
For instance, our music therapy program faculty Drs. Lauren DiMaio, Della Molloy-Daugherty and Rebecca West teamed up to create an innovative, holistic and social justice-driven curriculum with new opportunities for student-client connection and community collaboration.
Dr. DiMaio partnered with the Visiting Nurse Association Hospice to provide the first-ever virtual grief choir for community members who have lost loved ones. Two students arranged music for the choir to learn over the semester and composed a closing song for the members to use after the group ended in April.
And this spring, the program partnered with our Dallas Stroke Center. Through collaborations among professors Robin Abellera, Michelle Herzer, Alisa Woods and Dr. West, TWU's music therapy and speech therapy programs offered co-treated sessions for community members recovering from strokes.
Although the pandemic presented a number of barriers to travel and treatment, faculty provided international practicum opportunities for students to apply their skills abroad, including partnerships in Colombia, South Korea and Thailand.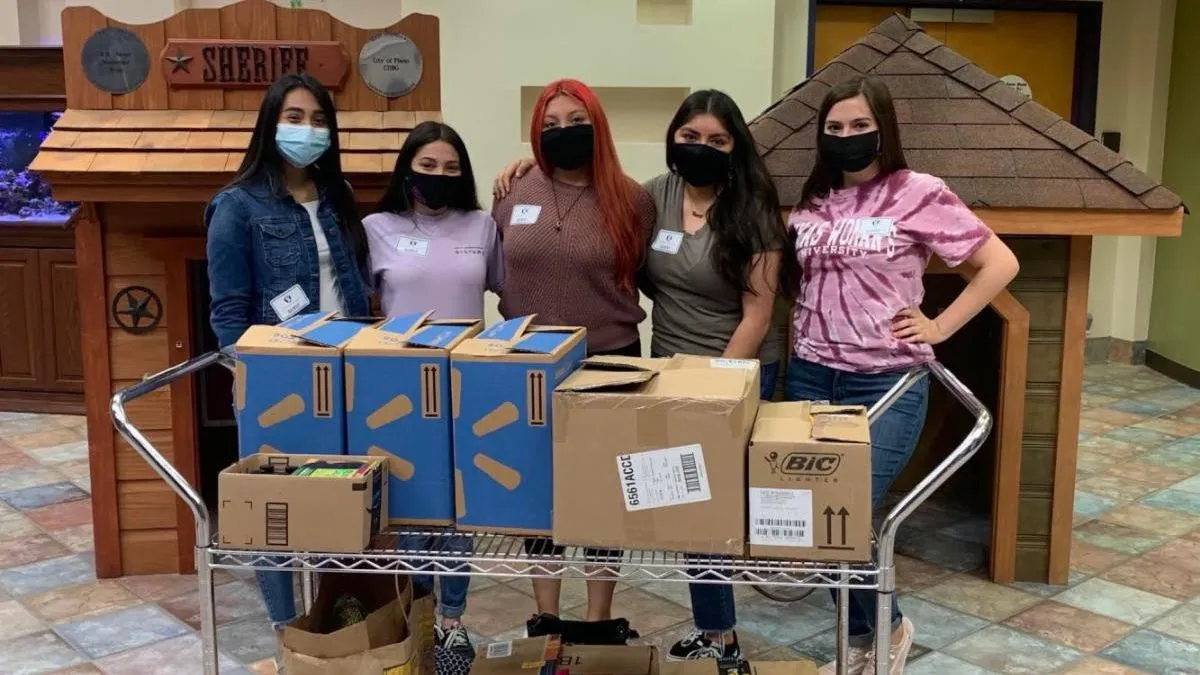 Photo courtesy of Jacqueline Valdez-Ortiz
I also was delighted to recently read in our student newspaper, The Lasso, about a student social work class project called "WomxnEmpowerWomxn" that involved collaboration with The Children's Advocacy Center in Collin County. This project resulted in donation of African American hair products and hijabs for Muslim girls.
This center is dedicated to serving survivors of sexual and physical abuse along with human trafficking in Collin County and assists Denton, Dallas and Tarrant counties and provides a safe, child-friendly environment to support children going through the criminal justice system.
This project initially started as an assignment in TWU's Social Work Macro Practice Class by Daniela Castillo Vazquez, Daisy Guerrero, Jennifer Nuno, Alesia Ortiz and Jacqueline Valdez-Ortiz.
---
New books feature TWU regent and alumna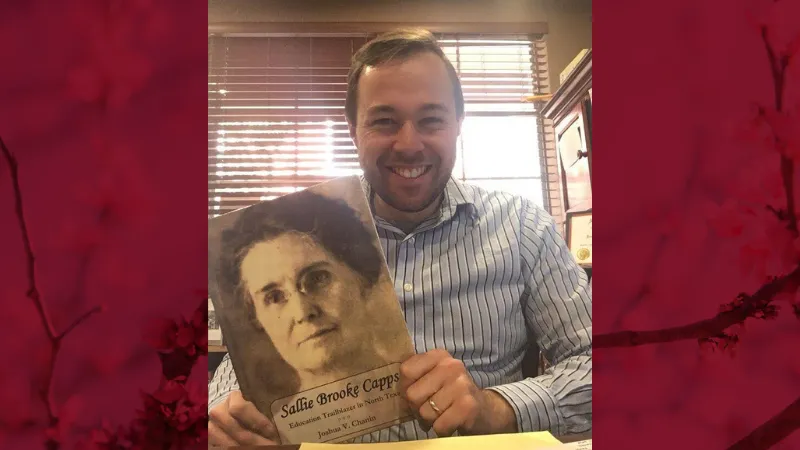 Author Joshua Chanin poses with book on Sallie Brook Capps. Photo courtesy of Joshua Chanin.
I am always fascinated to discover the trailblazing work and stories of our alumni and other women who have influenced our university, and I recently came across a couple that I think you will find of interest.
One is a story in a new book about Sallie Brooke Capps. She "tirelessly advocated for better academic opportunities for young women and children in North Texas during the Progressive Era." She also is credited for her key role in the early years of our university, when we were known as the College of Industrial Arts, and in the development of kindergartens in Texas. Sallie served as a regent from 1911 to 1929.
Enid and Frederic Collins work out a new bag design in Medina, Texas, in the 1950's. Courtesy / Jeep Collins
Another story of interest is about famed purse designer Enid Collins, who studied in our fashion design program. She designed bejeweled box-shaped purses with flowers, birds, ocean scenes and the like that were particularly popular in the 1960s and '70s.
Collins' son, Fredericksburg jewelry designer Jeep Collins, is the author of "Enid," published in April and available here. It presents an "inside view of how his parents came to design and manufacture the bags out of sheer poverty, never dreaming that Saks Fifth Avenue, Lord & Taylor and boutiques nationwide and beyond would end up featuring them in their windows."
---
Before signing off, I wanted to give a special shout-out to our Student Regent Dawna-Diamond Tyson. Dawna-Diamond, who is TWU's first graduate student regent, just completed her one-year term on the board. She served an outstanding term, which included participating in the senate hearings in Austin, despite challenges presented by the pandemic. We are so proud of the leadership that she has shown and predict a bright and promising future!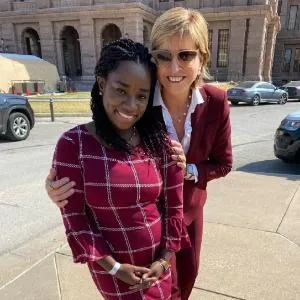 Thanks for your interest in Texas Woman's. As always, email me with your comments or questions. I am delighted that you have spent a few minutes with me today.
Warm Regards,

Follow Carine M. Feyten, Ph.D.
---
Texas Woman's is the nation's largest university primarily for women.
‌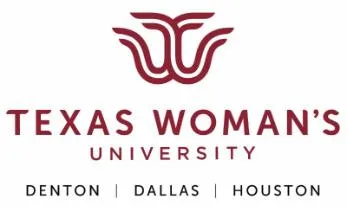 Page last updated 12:59 PM, October 19, 2022