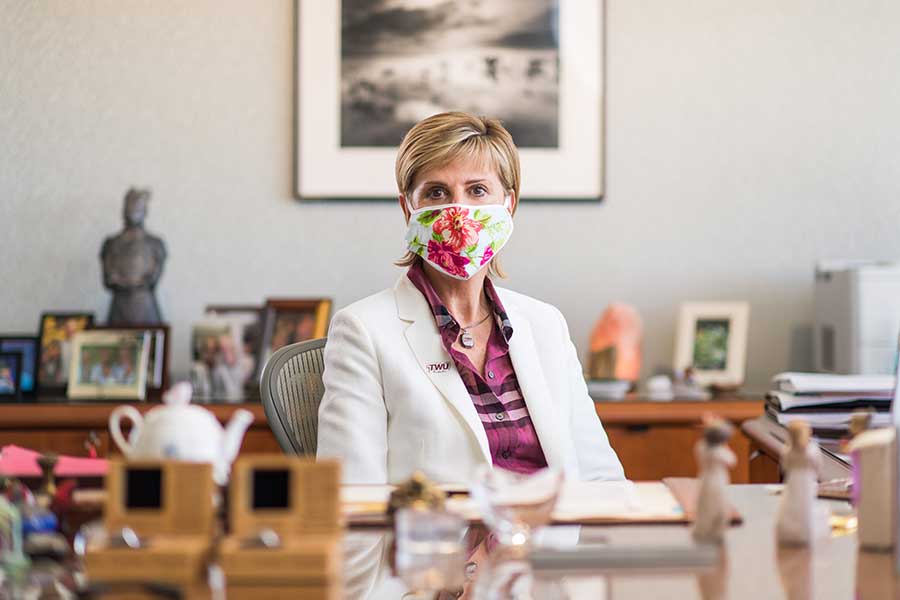 Dear Friends:
The promise of a bright 2020 turned dim quickly when the COVID-19 pandemic gripped the world. In a week's time, our faculty and staff pivoted to a mostly digital environment and students adjusted abruptly.
Fortunately, Texas Woman's pioneered solid distance-education programs decades earlier, making for a smooth transition. Soon, creative minds discovered new approaches to delivering quality instruction. Choir practice moved to an acousticallyfriendly parking garage and Shakespearean sonnets were performed in a drive-in setting.
In a year marked by unprecedented challenge, we defied conventional wisdom. We enrolled more students, launched new programs, acquired more institutional and faculty honors and even expanded the footprint of our Denton campus. And our alumni, whose collective economic impact on Texas is an estimated $1.84 billion, contributed mightily to our state's vitality.
Fitting to our legacy, many of our faculty, staff and students became health heroes. Some raised funds to purchase badly needed PPE for health care workers; others helped with COVID testing efforts and patient care; and some of our alumni traveled to COVID hot spots to backfill hospital staffing shortages.
We distributed $1 million in grants to help women entrepreneurs keep their Texas businesses afloat. And when social distancing concerns forced us to scratch our traditional commencement activities, we produced unique, safe graduation ceremonies so exuberant graduates could celebrate with their loved ones close by.
We summoned every ounce of resilience, creativity and compassion from our campuses in Denton, Dallas and Houston, and as the months passed, it was clear that higher education institutions everywhere were weathering the same pandemic storm — just in different boats. Our fluid nature allowed us to find a path forward.
This brochure is a tribute to all who demonstrated perseverance in helping advance Texas Woman's. They inspire us in all they do.
Carine M. Feyten, PhD
Chancellor and President
We are in the same storm, but not in the same boat.
Anchoring a distinctive position
Adding to its longtime distinction of being the nation's largest woman-focused university, a "best-value" institution and an innovator in health, education and business, Texas Woman's recently was recognized as the most diverse institution in Texas (fifth most diverse in the U.S.) and a leader in online graduate programs in nursing and education.
TWU has a profound impact on Texas' vitality. In addition to having an annual economic impact of $1.8 billion, we confer half of all doctoral allied health degrees and 24% of doctoral nursing degrees from Texas public universities each year, and 85% of our graduates find jobs or enroll in graduate school within a year of getting their degree.
Nation's "Best Colleges for Students with Children"
#1
in Texas for student diversity, 5th in the nation (tied)
#1
in DFW area for graduates' earnings vs. cost
#1
Changing course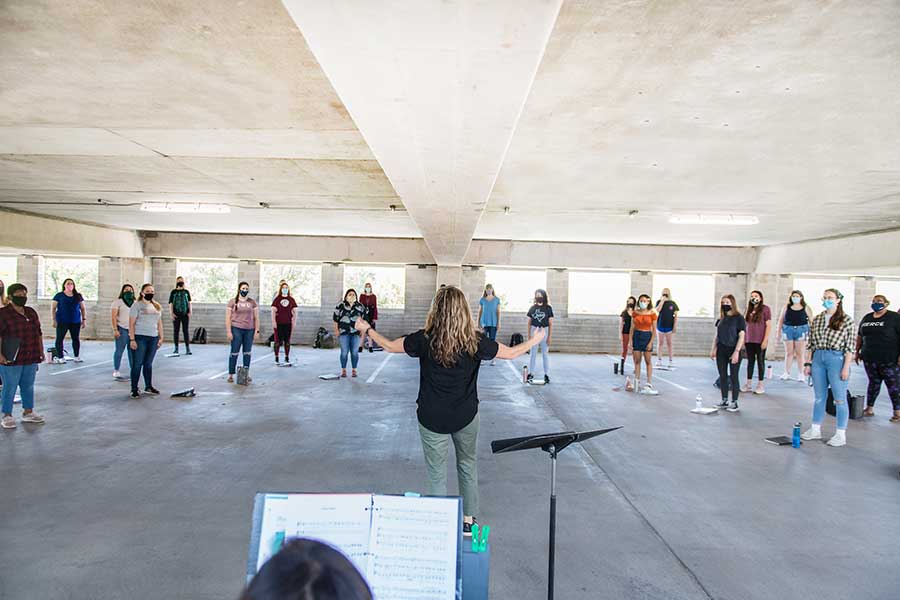 Adapting activities to suit safety The pandemic forced a quick transition in lesson plans across all Texas Woman's campuses, but it was faculty and student ingenuity that led to creative approaches for conducting otherwise routine activities while maintaining safety. Perhaps there were no better examples of this innovation than those demonstrated by the university's creative community.
The Department of Dance held is first virtual performance, "1200 Seconds," a collection of 20 60-second dance solos streamed online to viewers. Students showcased choreographed talents from living rooms, kitchens, garages and back yards to express life under lockdown.
The parking garage in Denton's Oakland Complex was a perfect acoustical setting for the Chamber Singers and Concert Choir, which delivered precision performances to delighted visitors. A few hundred feet away, a parking lot was the stage for a drive-in event featuring theatre students performing Shakespearean sonnets as patrons watched from their vehicles and listened through their car stereos.
Texas Woman's legacy of meaningful applied research, despite the pandemic. Xiaofen Du, Ph.D., in nutrition and food sciences published her work on the benefits of watermelon rinds on post-exercise recovery, and the Golf Channel interviewed kinesiology's Young-Hoo Kwon, Ph.D., on developing a better swing. Kwon should know; it was one of his graduate students, Chris Como, who golf icon Tiger Woods hired as a consultant in 2014.
More on Dr. Kwon's work
It took 11 years, but the payoff was big for a team of researchers led by associate professor Michael Bergel, Ph.D., who discovered three key compounds that can save cancer patients' lives. Bergel's team earned a patent for its work on the compounds, called "bisamidoximes," which inhibit growth of human breast, lung and colon cancer cells — without killing healthy human cells.
More on Dr. Bergel's work
Did you know the way a person walks can predict future diseases or injuries? Health Sciences Dean Christopher Ray, Ph.D., and colleagues earned a patent for their process of predicting medical conditions based on a person's gait, or walking motion. Experts analyze video data to predict injuries and diseases, including falls, osteoarthritis, Parkinson's disease and cardiovascular disease. Through early detection – particularly in geriatric patients – doctors can intervene for the best possible health outcomes.
More on Dr. Ray's work
Advancing health heroes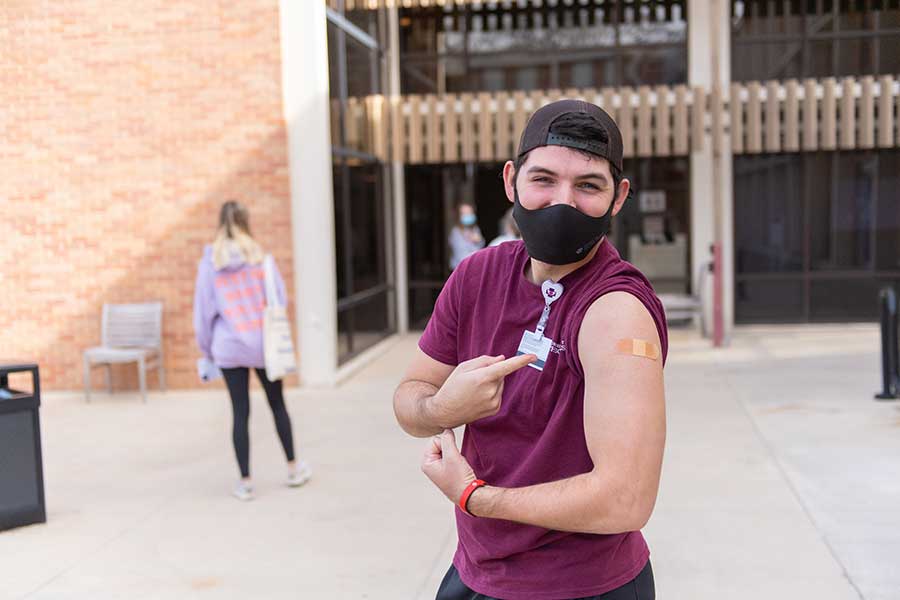 Heroes do wear masks
When COVID cases spiked across the U.S. early in 2020, health care workers faced a perilous shortage of personal protective equipment (PPE). Fuqin Liu, Ph.D., an associate professor of nursing, mobilized fellow health care professionals to raise funds to purchase PPE for first responders throughout the region. Within weeks, the volunteer effort raised $239,500 and collected hundreds of thousands of pieces of critical gear for health providers in Texas and Oklahoma.
Nursing alumni volunteer at COVID hot spots
Furloughed from clinics that offered mostly elective surgeries, nurses Courtney Waddle (BS '12) and Maybelle Anderson (BS '12) volunteered to ease front-line staffing shortages at hospitals in COVID-ravaged New York City. They provided critical support to patients treated in hallways; relatives unable to visit dying family members; and health care workers forced to re-use soiled protective gear.
Students find reward in pandemic response
Dallas and Houston nursing students got an experience no textbook could match in supporting the COVID response. Students took up to 600 daily calls at centers to offer guidance to concerned, symptomatic patients. "I am glad I'm able to provide a valuable service during this difficult time," said Houston nursing student Douglas Schwartz.
COVID vaccinations given by TWU nursing students
3,200+
Nursing PhDs conferred by Texas public universities from TWU
24%
Pass rate on state licensure exam for TWU nursing graduates
95%
Channeling student success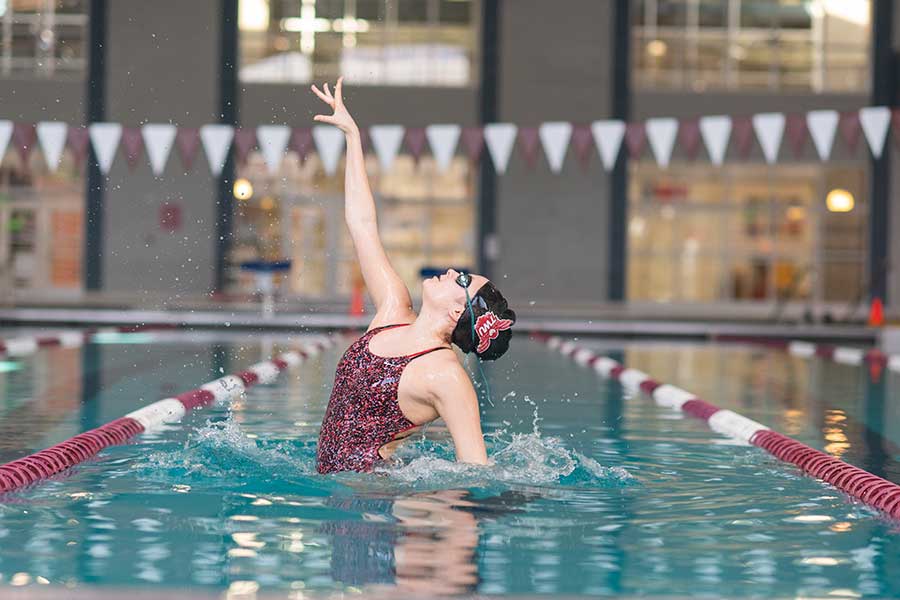 Keeping students healthy in mind, body and spirit has taken on new meaning during the pandemic. TWU integrated a psychologist with first-year residential students and used grant funds to hire a part-time case manager who helped students in COVID-19 quarantine and isolation. Despite facing many challenges, students enjoyed opportunities to connect with each other during Block Party, Pioneers on Ice and other socially distanced events and found ways to excel in and out of the classroom.
With new competitive sports teams slated to start soon, including synchronized swimming, TWU Athletics continues to make a splash. Although fall sporting events were canceled, student-athletes carried forward their winning streak by posting a combined grade point average of more than 3.0 for the 77th consecutive semester.
Undergraduate students transferred to TWU
49%
Graduation rate for foster care youth (vs 3% state average)
68%
Employed or enrolled in grad school within 1yr of graduation
84%
Crossing the finish line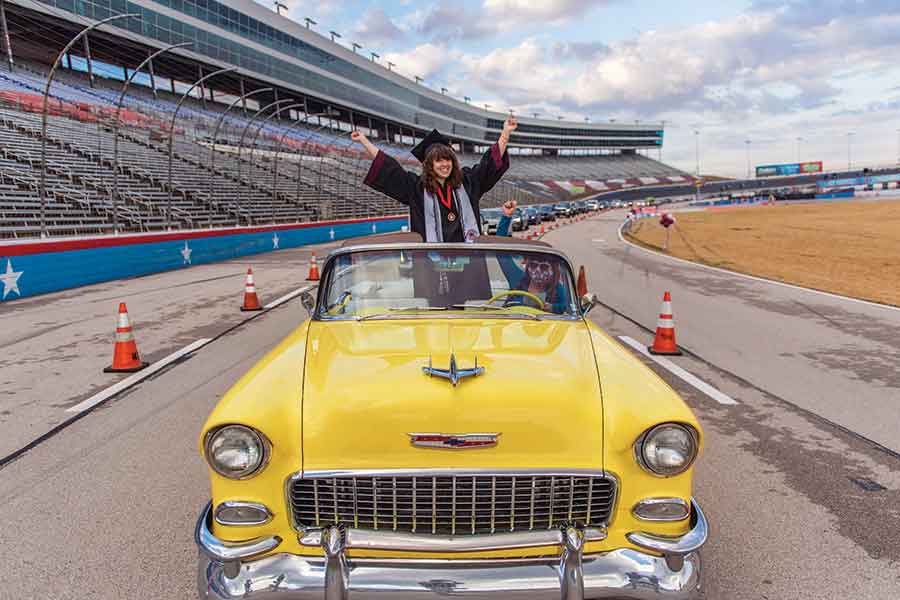 COVID-19 forced the university to scratch plans for an in-person graduation ceremony in Spring 2020, paving the way for a one-of-a-kind graduation celebration in December. All graduates in 2020 were invited to take a victory lap at Fort Worth's Texas Motor Speedway as part of the university's two-day drive-thru commencement ceremonies. At the finish line, graduates exited their cars and crossed the racetrack's checkered stripe while hoisting their diploma covers. It was an exhilarating experience for nearly 1,300 pandemic-weary graduates and their families who participated in the event.
Another drive-thru event was held in Houston at Heavy Construction Systems Specialists.
Major grant programs give boost to women entrepreneurs.
The pandemic hit women-owned businesses in Texas hard, so TWU's Center for Women Entrepreneurs launched a $1 million grant program to get them back on their feet. The center awarded $10,000 grants to 100 struggling businesses and provided training on how to adapt and expand their businesses to the changing environment. The center also launched a $250,000 grant program in Spring 2021 to help women veterans in Texas boost their existing businesses or start new ones.
More on grants from CWE
Broadcast executive tapped to run women's leadership center.
With a history of forging crucial partnerships, public broadcasting executive Mary Anne Alhadeff was a perfect fit for the Jane Nelson Institute for Women's Leadership. At Dallas' KERA, she increased the station's budget by 250% and promoted a record number of women to management posts. As the institute's chief, she will advocate for more women leaders in business and elected office.
More on Alhadeff's role
New exhibit space at Old Main pays homage to Texas' trailblazing women
In our quest to showcase the indomitable spirit of Texas' women pioneers, TWU completed the Sue S. Bancroft Leadership Hall in our stately Old Main Building. The space has a series of interactive platforms to showcase these trailblazers – from suffragists to civil rights advocates – and the extraordinary struggles they endured.
Visit the Institute
Collaboration is integral to success, and TWU has many partnerships that produce impactful programs benefiting students, faculty and communities. Among them is the Dallas County Promise, a tuition-assistance pact with high schools that improves student recruitment, access and retention.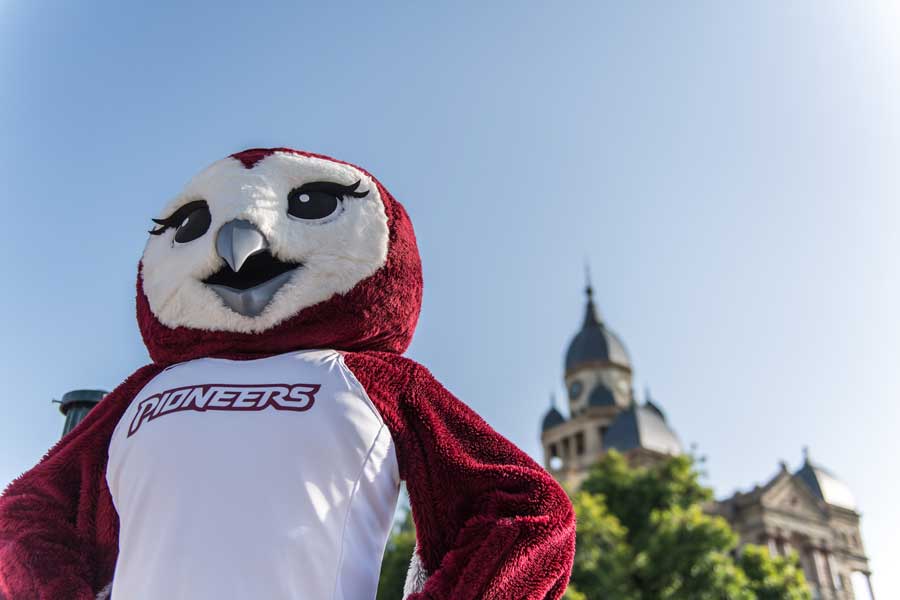 The Go Center is a mobile college-and career-readiness information hub, and TWU has partnered with 17 high schools to provide students with essential resources to help them chart a post-secondary school path.
As the first Texas university to offer distance education in speech-language pathology, TWU introduced innovative coursework to rural enclaves. The partnership with the Texas Education Agency now involves 19 Education Service Centers, helping educate critically needed speech-language pathologists across Texas.
As part of its $900,000 Blockchain Innovation Challenge, the American Council of Education awarded a grant to a TWU-lead team establishing a shared platform that gives students access to portable educational records they can share with schools or prospective employers.
Overcoming winter's spell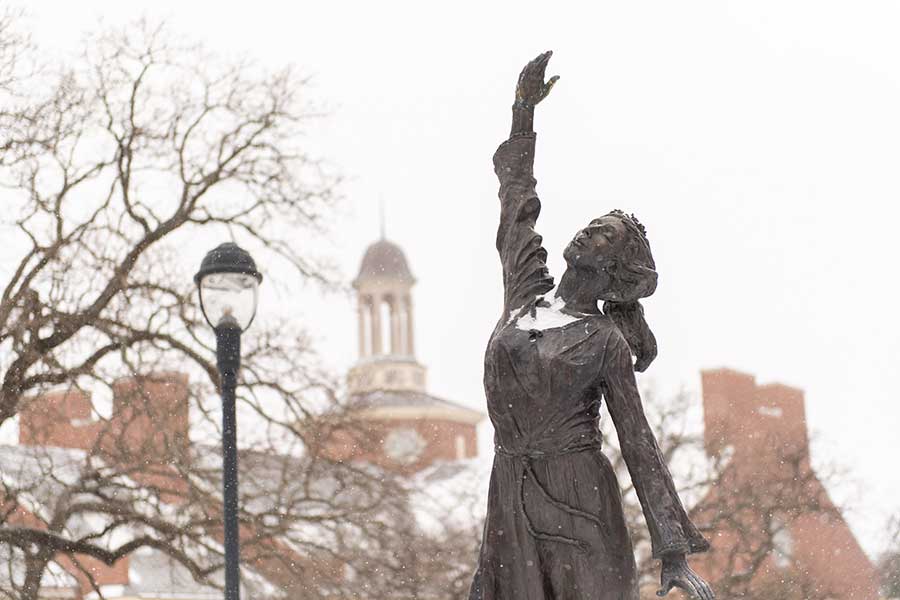 Much like the pandemic was the "storm" we all weathered, a late-winter freeze caught most of Texas unprepared for the onslaught of lingering challenges: power outages, failing generators, broken pipes, water-logged facilities and food shortages.
All three TWU campuses were impacted in varying degrees, but the university emerged and transitioned immediately into recovery mode. It was a grim reminder of Mother Nature's force – but a revelation, too, of TWU's resilient spirit.
As part of its largest building boom in decades, the university completed the state-of-the-art Scientific Research Commons, an 80,000 square foot facility that provides students with collaborative research experiences on par with those they will encounter in their professions. The building is home to a new master's degree in biotechnology – one of only two such programs in the state – which adds to TWU's health legacy.
The stately Hubbard Hall was updated to include high-tech conference, meeting and lecture spaces, and an inviting food court and gaming area. The renovated building is a central focus for the Denton campus and is a hub for activities, learning and rejuvenation.
To further raise TWU's visibility, the university added an exterior light display to the Administration Conference Tower that bathes the building in brilliant colors to celebrate events such as Breast Cancer Awareness Month. TWU also refreshed landscaping at the Dallas campus and installed eye-catching signage that luminates the Houston campus.
Seeing the glass half full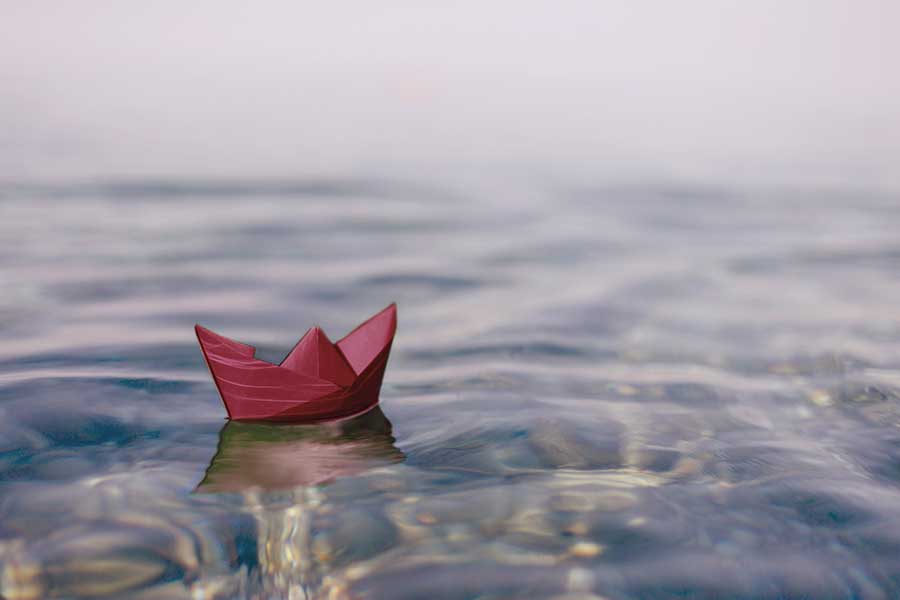 Texas Woman's has now endured two pandemics.
(The first was the Spanish flu in 1918). But despite the most recent turbulent waters, the university navigated a successful path forward to become an even brighter beacon. New challenges are now on the horizon.
The university has embarked on an expansion initiative that will give our Denton, Dallas and Houston campuses greater impact on Texas through expanded partnerships, increased programming and robust research.
We have enhanced our role in the health industry with a wider breadth of programs – such as health administration, music therapy and nutrition – and we are producing more professionals in disciplines critical to Texas.
Likewise, we have broadened the scope of educational programs, such as bilingual and special education, to better serve our state's changing demography. We look forward to our growing role of making Texas prosperous, and we do so with renewed vigor and purpose.