In pursuit of science: TWU alumna inspires girls interested in STEM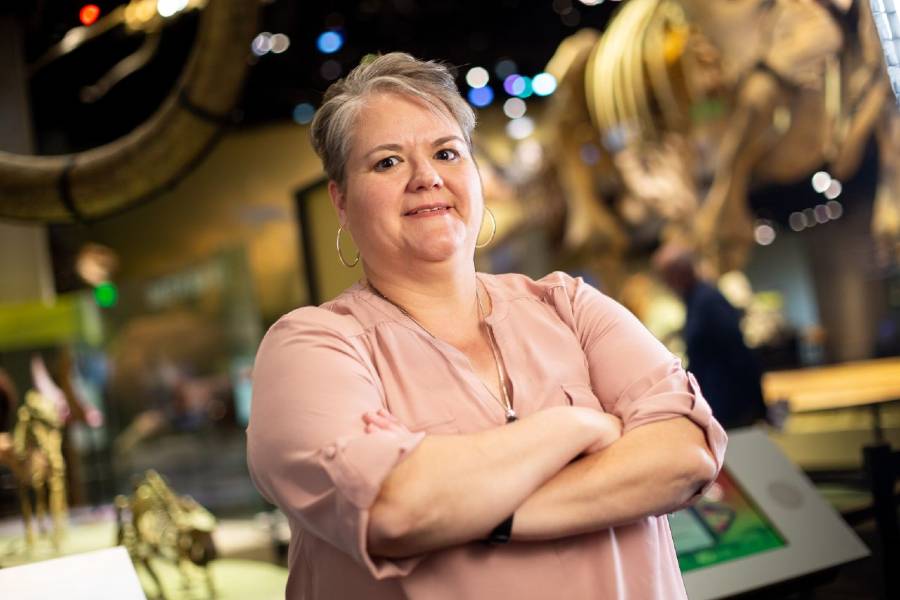 May 19, 2021 - DENTON - Texas Woman's kinesiology-biomechanics alumna Kirsten Tulchin-Francis (PhD '12), a self-proclaimed science and math geek, has spent more than 23 years combing those two passions with athletics and medicine to achieve success in the field of biomedical engineering. Her experiences as a researcher and teacher are now inspiring other generations of females to make names for themselves in the science, technology, engineering and math (STEM) fields.
Discovering a love of science
Tulchin-Francis first discovered her fascination with science at age 14 after tearing her ACL playing soccer and being forced to wear a brace designed for older players.
"As a petite, young female athlete, it never fit me right," she said. "One day I took it off, threw it down and said, 'I'm going to design a better brace!'"
That determination eventually led to her earning her bachelor's degree in engineering and her master's degree in biomedical engineering before coming to TWU to pursue her PhD in Kinesiology with an emphasis in biomechanics and motor behavior.
"After working in two amazing clinical gait [walking] analysis labs as an undergraduate and a graduate student, I knew that motion analysis and clinical orthopedic research was what I wanted to do as a career," she said. "Six years into working at Scottish Rite for Children, I aspired to run a clinical lab of my own, but I knew I would need a PhD to achieve that goal. TWU was just a perfect fit for me. The coursework was directly applicable to my interests in biomechanics research, and the faculty's expertise in the quantitative analysis and technical aspects of motion capture was exactly what I was looking for in a PhD program."
Using research to solve problems
As the division director of Movement Science at Scottish Rite for Children, Tulchin-Francis studies how children and teens with orthopedic conditions walk, jump and play.
"We use motion capture technology to analyze and understand how each part of the body moves," she said. "By measuring changes before and after treatment, we help doctors determine the best treatment plans to get kids moving again."
Tulchin-Francis also leads the design and execution of research projects and is working on two ongoing COVID-related studies, both focused on physical activity levels in children during the pandemic. The first study is a parent-report survey and is a collaboration with Heather Roberts, PhD, associate professor in the TWU School of Occupational Therapy, and several faculty members at UNT and UTA. The second study, also in collaboration with Roberts, involves collecting quantitative data on the activity levels of children during the shelter-in-place restrictions in April. So far, both studies have found a reduced level of physical activity in children, which can be harmful to their development.
"The WHO and CDC recommend 60 minutes of moderate-to-vigorous physical activity for children and adolescents every day, which is directly related to improved mental and physical health as well as improved social development," said Tulchin-Francis. "Based on the preliminary results of these studies, we feel it is vital to continue to educate parents on the importance of their children remaining active, and we encourage parents to assure their children increase their physical activity this fall, regardless of whether they are participating in in-person classes, connected [virtual] learning, homeschooling or some combination herein."
Finding a passion for teaching
In addition to her work at Scottish Rite, Tulchin-Francis also serves as an assistant professor for the prosthetics and orthotics (P&O) program at UT Southwestern (UTSW) Medical Center. Although she didn't initially intend on being a teacher, she has found it to be another inspiring outlet for her passions.
"Shortly after I started at Scottish Rite, I had an opportunity to co-teach a biomechanics class one semester at UTSW," she said. "Now I've been with the P&O program for almost 15 years, and I love teaching. I think any of my past students will tell you that my passion for biomechanics comes across strongly when I teach."
Inspiring others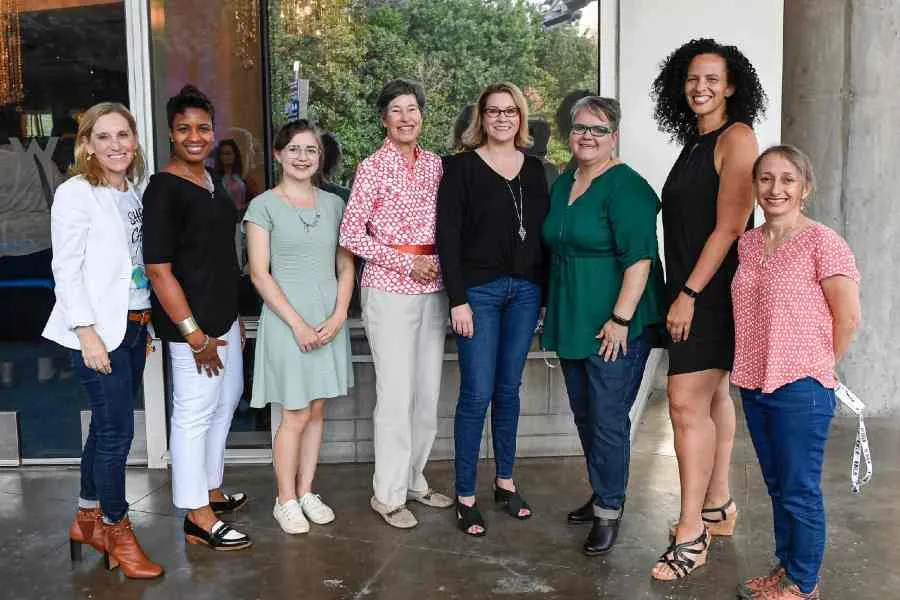 Much as she was inspired to pursue science, Tulchin-Francis herself is inspiring other females. In recognition of her achievements, she was selected by the American Association for the Advancement of Science (AAAS) as one of its IF/THEN Ambassadors, who serve as national role models for the next generation of female pioneers in science, technology, engineering and math (STEM). The more than 120 ambassadors each have a 3-D printed statue on display in an exhibit at Dallas' NorthPark Center through October 24, 2021. Previews of the exhibit were on display at the Central Park Zoo in New York City, Dallas Love Field and NorthPark. #IfThenSheCan - The Exhibit, which is an initiative of Lyda Hill Philanthropies, is designed to activate a culture shift among young girls to open their eyes to STEM careers. This is the largest number of statues of women ever assembled in one location at one time.
"I am extremely honored to have been selected as an AAAS IF/THEN Ambassador," said Tulchin-Francis. "While our society has improved its diversity in STEM over the last few decades, we still have a very long way to go. IF/THEN is about encouraging girls to follow their dreams and finding ways to infuse their interest in STEM with their passions, like I did. For me, STEM + medicine + sports/activity = biomechanics!"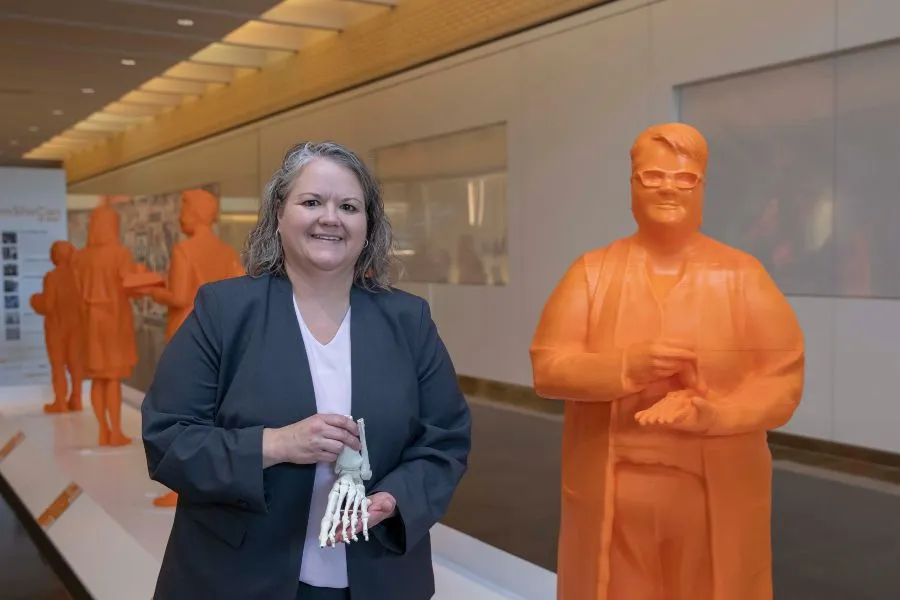 Tulchin-Francis encourages parents to bring their kids, both girls and boys, to walk through what she believes is a powerful exhibit.
"These statues represent remarkable, real-life, female innovators and leaders in STEM, many of whom have overcome the stigmas and barriers that so many young girls continue to face, even today," she said. "I am incredibly humbled to have a statue alongside my fellow IF/THEN Ambassadors, and I loved taking a #statueselfie!"
Media Contact
Ray Willhoft
Director of Communications, Jane Nelson Institute for Women's Leadership
940-898-4584
rwillhoft@twu.edu
Page last updated 1:40 PM, May 19, 2021