TWU physical therapy graduate serves as advocate for professional diversity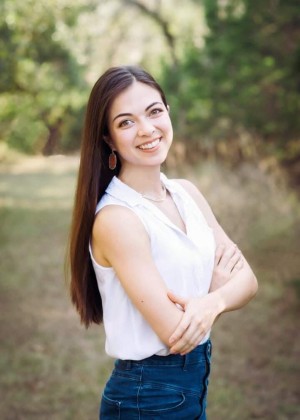 April 14, 2021 - DALLAS - During her time at Texas Woman's, Doctor of Physical Therapy (DPT) May 2021 graduate Mira Pearce served as a graduate research assistant, student office assistant, class officer and podcast production assistant in a special interest group of the Academy of Neurologic PT. But it was her work as organizer for a new diversity event that resonates the most with her passion for advocating for underserved communities.
Born in Vancouver, B.C., but growing up in Newton, Massachusetts, and later Austin, Pearce found herself drawn to kinesiology and pre-PT for her undergraduate degree in an unexpected way. Her interest in the human body was born during her service in AmeriCorps National Civilian Community Corps, where she served for a year after graduating high school.
"For six months of that year, I worked as a wildland firefighter with the U.S. Forest Service in the Eldorado National Forest in Northern California," she said. "Having never been one to call myself 'athletic,' I discovered just how much my body was capable of with proper training. What started as an interest in the changes in myself grew into a fascination with the physiological processes associated with human movement."
After learning more about the profession and its opportunities to create positive changes in others' lives, choosing a career in physical therapy was a clear choice for Pearce.
"Being a physical therapist allows me to get to know my patients on a deeper level and empower them with an ever-expanding toolbox," she said.
Pearce knew she wanted to stay in Texas, and the DPT program at the TWU T. Boone Pickens Institute of Health Sciences - Dallas Center was consistently ranked highly, so it was the perfect choice for her. At TWU, not only did she find exceptional faculty and administrators, but she also discovered a student culture that became her favorite part of the program.
"While DPT cohorts in other universities may focus on competition and opportunism, ours was incredibly supportive and cohesive as a class," she said. "Throughout the program, it felt like we were in it together, and we experienced it all as a team. I've made several lifelong friends, and I look forward to seeing each classmate excel as a future clinician."
Though the DPT curriculum has research experiences built in, Pearce had the additional opportunity to work as a research assistant for a stroke study run by Assistant Professor Hui-Ting Goh, PT, PhD. The study explores the effect of transcranial magnetic stimulation on the perception of post-stroke fatigue. As the assistant, Pearce screened participants and performed data collection, giving her first-hand experience with people who had strokes.
In August 2020, inspired by the disproportionate effects of COVID-19 on minority communities and the growth of the Black Lives Matter movement, Pearce decided to organize a virtual Advocacy Dinner for Diversity. This event was the first of its type for TWU, and she invited Lisa VanHoose, PT, PhD, MPH, executive director of the Ujima Institute, to speak about her experiences as an advocate for underserved communities and strategist dedicated to increasing diversity within the health professions, alongside panelists Victoria Junious (DPT '21) and Megan Francisco, PT, DPT.
"Part of my inspiration to create this event was my belief that the health care workforce must support and reflect the communities we serve, especially those that are marginalized," Pearce said. "As of now, the profession of physical therapy is not a good representation of the people we serve. Though it is improving, we still lack representative diversity and many PT institutions have not adequately addressed the inequities in access to this career."
Pearce also was inspired by her membership in BRIDGE, a student organization dedicated to improving the cultural competency of healthcare students and creating a safe space to discuss the intersectionality within health care experiences.
"My goal for creating the Advocacy Dinner for Diversity was to reflect the growing social movement to raise awareness and promote institutional change to fight against systemic racism," she said. "I wanted to open a conversation and provide a platform for voices that deserved to be heard, especially those of Black physical therapists, as well as encourage other clinicians and students to do the same. This experience was eye-opening and invigorating, and I intend to continue my advocacy for professional diversity in the future."
Pearce, who received an Outstanding Student Award from the TWU Alumni Association, hopes to remain in the Dallas area and work in an outpatient neurological rehabilitation practice. She plans to eventually participate in a physical therapy specialty practice residency program as well, and she remains grateful for everything she learned from TWU.
"TWU has provided outstanding academic preparation, but I most appreciate the opportunities I have gained and the faculty who have guided me."
Media Contact
Ray Willhoft
Director of Communications, Jane Nelson Institute for Women's Leadership
940-898-4584
rwillhoft@twu.edu
Page last updated 2:07 PM, April 30, 2021