MBA – Women in Leadership
In as little as 15 months and for around $20,000, you can have your MBA and be ready for the next step in your career. 100% online. No GMAT or GRE required.
All graduate students, regardless of gender, benefit from studying the women's perspective of leadership to better address the challenges of today's business environment.
MBA - Women in Leadership program features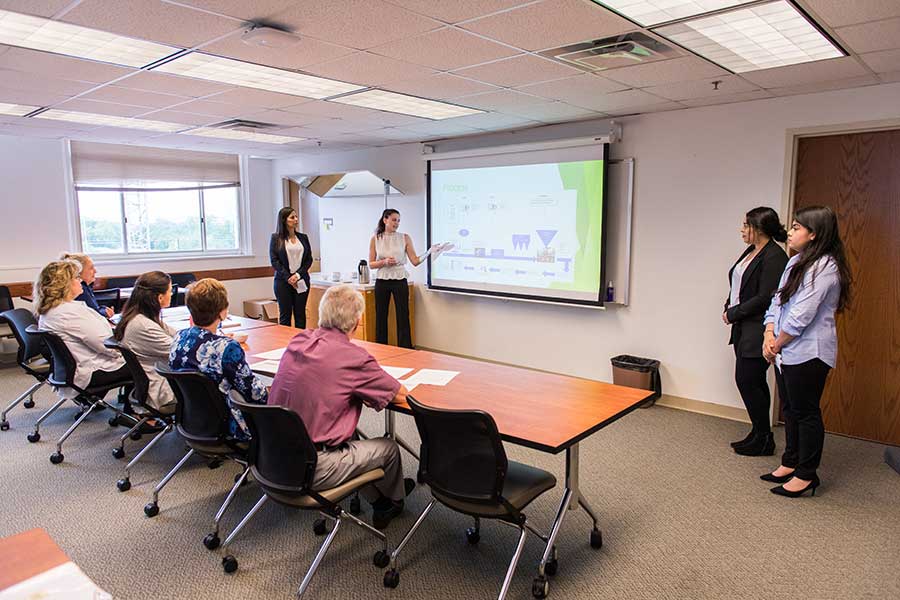 Accelerated 7-week online class formats
100% online (international students cannot apply for this program)
Small classes with accessible, knowledgeable and supportive faculty
No GMAT or GRE required
Degree completion in as little as 15 months or 36 credit hours*
*Individual requirements may add up to 9 credit hours of program prerequisites
Why TWU?
Accredited and highly ranked
The College of Business is now accredited from AACSB International

—The Association to Advance Collegiate Schools of Business (AACSB), considered the world's leading association of business schools. Less than 6% of business schools worldwide have earned this distinction.
Texas Woman's also ranks 6th (tied) among U.S. universities for diversity, according to U.S. News & World Report.
We recognize the importance of women's leadership
In the U.S., women make up nearly half of the labor workforce, yet only 1/3 are managers. While the number of female managers has increased slightly, there is a decrease of women in senior roles. Studies show companies perform better financially with women in leadership roles.
TWU's MBA - Women in Leadership directly addresses this issue.
We build women leaders
Only 5.4 percent of Fortune 500 CEOs are women, and only 25 percent of senior managers and executives within those companies are women. TWU is working to help change that.
More than 70 percent of our faculty and staff across the university are women. While COB faculty prepare you to tackle the male-dominated world of business, our outreach staff work closely with employers to bring networking and employment opportunities to campus.
We are home to the Jane Nelson Institute for Women's Leadership
Tailored career planning
The Career Connections Center provides advising services and tailored career planning, including networking and salary negotiations. Fast-track your job search using the Career's Handshake, a unique resume reviewing and job opening database that works to fast-track your job search.
The College of Business takes it one step further with a team of Outreach and External Relations staff that work with the Career Connections Center to keep our business students in-the-know on employment opportunities and networking events.
Admission requirements
Admission to the Master of Business Administration
Program Contact
Pushkala Raman, Ph.D.
Graduate Program Director
mba@twu.edu
Application Deadlines
The College of Business admits students on a continual basis. Please contact the College for more information.
Admission Requirements
GPA of at least 3.0 for the last 60 hours of undergraduate coursework. For applicants who have completed post-baccalaureate or graduate coursework, a GPA of at least 3.0 for such coursework is also required.
Applicants with a GPA of at least 2.50 in the last 60 hours of undergraduate coursework may be considered for provisional admission.
Prerequisite coursework will be required of some applicants based on their desired course of study and previous academic and/or professional record.
Applicants are expected to be proficient in the current tools of Business: Microsoft Office suite of products (Word, PowerPoint, Excel, and Access). Admitted applicants that need to enhance their proficiency in any of these areas will have free tutorials available via Lynda.com.
No GRE/GMAT required.
For more information
Pushkala Raman, PhD
Graduate Program Director
mba@twu.edu
940-898-2458
Page last updated 3:33 PM, May 2, 2023