MBA – General Business
In as little as 15 months and for around $20,000, you can have your MBA and be ready for the next step in your career. 100% online. No GMAT or GRE required.
Gain a deeper understanding of operations and management across many fields in the business industry.
MBA - General Business program features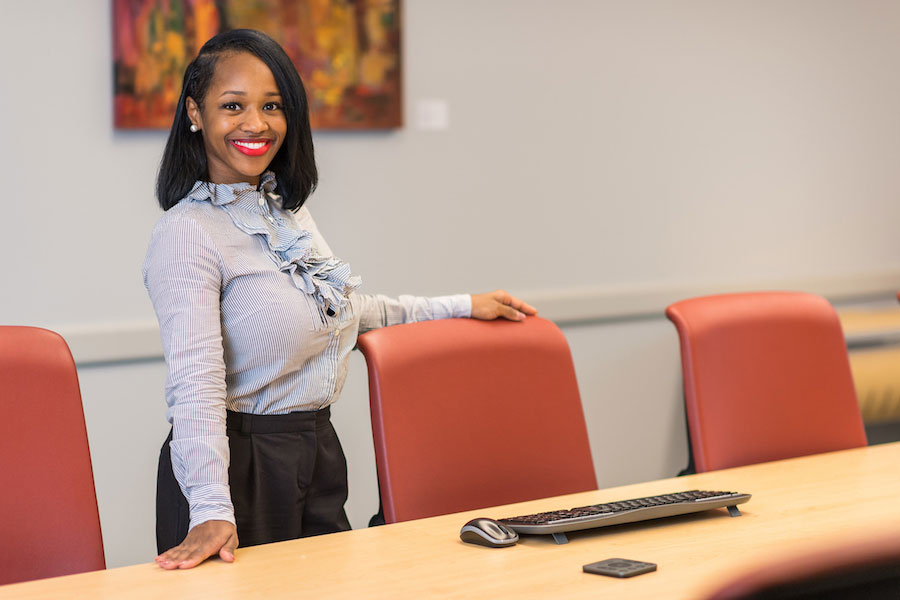 * International students holding an F-1 visa can apply for an MBA in General Business but must follow federal regulations related to the maximum number of online courses allowed per semester.
**Individual requirements may add up to 9 credit hours of program prerequisites.
Why TWU?
Accredited and highly ranked
The College of Business is now accredited from AACSB International

—The Association to Advance Collegiate Schools of Business (AACSB), considered the world's leading association of business schools. Less than 6% of business schools worldwide have earned this distinction.
Texas Woman's also ranks 6th (tied) among U.S. universities for diversity, according to U.S. News & World Report.
Multifaceted knowledge across the business industry
Learn to sharpen your skills and get a deeper understanding of general business and analysis through a framework of planning, coordination, effective decision making and business process improvements.
Online courses for working professionals
Our degree offers online courses, providing you with the flexibility to work and go to school to advance your career. You'll get a rich understanding of how to manage organizations and lead employees, skills you can apply to the workplace immediately.
We build women leaders
Only 5.4 percent of Fortune 500 CEOs are women, and only 25 percent of senior managers and executives within those companies are women. TWU is working to help change that.
More than 70 percent of our faculty and staff across the university are women. While COB faculty prepare you to tackle the male-dominated world of business, our outreach staff work closely with employers to bring networking and employment opportunities to campus.
For our budding entrepreneurs, TWU's Center for Women Entrepreneurs is the state's only university center dedicated to women's entrepreneurship and business ownership. The Center provides tools for you to succeed including access to training/coaching, funding, mentoring and networking opportunities.
Tailored career planning
The Career Connections Center provides advising services and tailored career planning, including networking and salary negotiations. Fast-track your job search using the Career's Handshake, a unique resume reviewing and job opening database that works to fast-track your job search.
The College of Business takes it one step further with a team of Outreach and External Relations staff that work with the Career Connections Center to keep our business students in-the-know on employment opportunities and networking events.
"Having a full-time job and being married with two children could have been intimidating when trying to decide if I had the time to go back to school. The mix of classroom and online format at Texas Woman's provided me the flexibility I needed and still gave me the in-class-brick-and-mortar experience I felt was important."
Careers & salaries*
TWU's MBA - General Business prepares you to compete in a labor market with a growing need for well-trained managers. You'll learn about several important business disciplines including accounting, business ethics, finance, human resources and strategy. With this degree, you have multiple career opportunities including:
*Median salaries, according to the U.S. Bureau of Labor Statistics
Admission requirements
Admission to the Master of Business Administration
Program Contact
Pushkala Raman, Ph.D.
Graduate Program Director
mba@twu.edu
Application Deadlines
The College of Business admits students on a continual basis. Please contact the College for more information.
Admission Requirements
GPA of at least 3.0 for the last 60 hours of undergraduate coursework. For applicants who have completed post-baccalaureate or graduate coursework, a GPA of at least 3.0 for such coursework is also required.
Applicants with a GPA of at least 2.50 in the last 60 hours of undergraduate coursework may be considered for provisional admission.
Prerequisite coursework will be required of some applicants based on their desired course of study and previous academic and/or professional record.
Applicants are expected to be proficient in the current tools of Business: Microsoft Office suite of products (Word, PowerPoint, Excel, and Access). Admitted applicants that need to enhance their proficiency in any of these areas will have free tutorials available via Lynda.com.
No GRE/GMAT required.
For more information
Pushkala Raman, PhD
Graduate Program Director
mba@twu.edu
940-898-2458
Learn more at one of our graduate information sessions.
Page last updated 2:44 PM, April 28, 2023