TWU dean earns patent for new way to predict injuries and diseases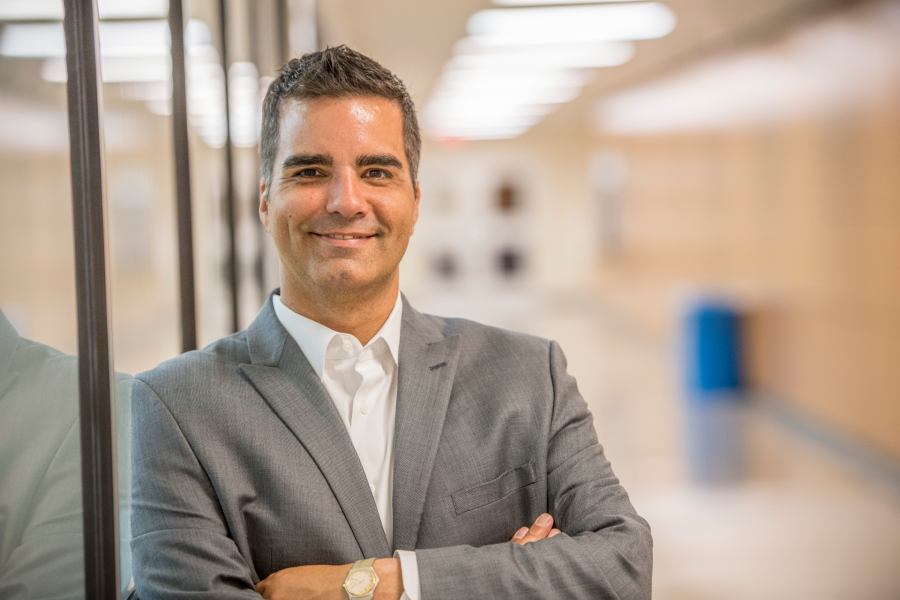 December 14, 2020 - DENTON - Texas Woman's College of Health Sciences Dean Christopher Ray, PhD, believes in improving people's lives, whether through supporting his students and faculty or conducting his own research on geriatric health. By recently earning a patent with two other academic colleagues for a way to predict and prevent medical events and conditions, he is exemplifying the college's mission of advancing the health and well-being of diverse communities.
Detecting and preventing injuries and diseases
Ray's new patent, which he created with Gian-Luca Mariottini and Aaron Staranowicz, centers on systems, apparatuses and methods that can predict medical events and conditions based on an analysis of a patient's gait, or manner of walking. Multiple calibrated video cameras are configured to capture data pertaining to the gait of a patient as they walk. That data can then be used to predict a variety of injuries and diseases, including falls, osteoarthritis, Parkinson's disease, Dementia spectrum disorders, Alzheimer's disease, lower extremity orthopedic injuries, peripheral neuropathy and cardiovascular disease, among others.
Detecting potential issues early enables intervention at a point that has the greatest chance for positive outcomes. According to Ray, issues in aging compound upon one another. For example, a vestibular issue can lead to an unsteadiness, which results in reduced physical activity and independence. If six months go by before an older adult seeks treatment, then they have lost six months' worth of cardiovascular health, muscle strength, etc. This leads to increased challenges in treatment—and with their overall health.
"It is important that we have ways to detect these issues as early as possible and seek therapeutic remediation to both treat and preserve existing health even before a condition rises to the level of a doctor visit," said Ray.
A collaboration long in the making
Ray's patent is the result of a 10-year research collaboration that started between the engineering and kinesiology departments at UT Arlington, when he was a faculty member and center director there.
"We were trying to evaluate the use of low-cost robotics to capture kinematic data on older adults in their home to detect gait changes that could be early warning signs of chronic and acute health issues," he said. "This work really sought alternatives to expensive biomechanics systems often used to measure movement to see if these technologies could be sensitive enough to detect clinically meaningful change."
After spending time in research studying geriatric physiological conditions, Ray realized the compounding impact each issue causes on other systems. Therefore, early detection and alternative therapeutic exercise becomes essential.
Ray discovered that gait is a sensitive indicator of change in numerous conditions. For example, medications that make you dizzy result in a few millimeters wider gait, lower body orthopedic issues cause bilateral asymmetry, step length changes can be related to cardiovascular conditioning and increased double stance time (shuffling the feet) is an early indicator of dementia spectrum disorder. Many of these changes can be identified early, which is crucial for older men and women.
"As with most medical conditions, the earlier we detect and start treating the problem, the better the outcomes for the individual, especially in older adult populations," said Ray.
Applications for the patent
Now that Ray and his colleagues have earned the patent, their next step is to discuss its potential with companies that can license it and commercially address the things they were able to do in the lab and research setting.
"I think this work has tremendous potential to shape the future of smart homes or residential facilities that seek to innovate on how we monitor older adults and maintain health and independence," said Ray. "I can see this data used in conjunction with smart watches to evaluate clinically meaningful changes in step volume, sleep patterns and other daily screens to remotely monitor and provide a holistic picture of health as we seek to better serve the growing population of older adults both in their homes and in residential facilities."
The importance and value of research
Since joining TWU in 2016, Ray has had 484 citations on his continuing research, which focuses on geriatric pain, disabilities and balance. He believes it is important to TWU and the College of Health Sciences that faculty continue to work on their research projects in addition to teaching, so he places tremendous value on the academic scholar.
"Institutions like TWU have a mission to impact our communities and region and beyond," he said. "The ways we can fulfill this mission include running high-demand distinctive educational programs that result in highly trained students and conducting research that positively impacts our scientific discipline, our professions and the greater knowledge. We are continually developing evidence-based practices that benefit healthy aging and the prevention of chronic disease. We make people's lives better."
Dr. Ray is dean of the College of Health Sciences at Texas Woman's University, which encompasses numerous nationally ranked programs across three schools, two departments and four clinics at its three campuses in Denton, Dallas and Houston. Most students graduate with below state average student debt, and more than 97% of students are gainfully employed within one year of graduation, with most graduates earning above state average starting salaries compared to peers.
Media Contact
Ray Willhoft
Director of Communications, Jane Nelson Institute for Women's Leadership
940-898-4584
rwillhoft@twu.edu
Page last updated 11:04 AM, December 14, 2020