Kinesiology program swinging success on cable program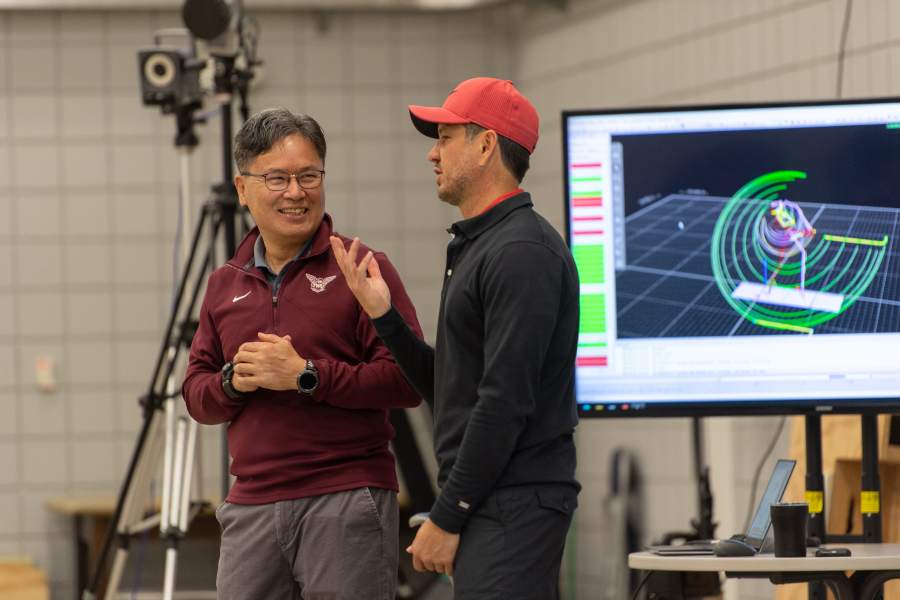 June 23, 2021 - DENTON - Golfing enthusiasts know that the swing is critical to a solid game. And true cachet in the golf world is knowing enough about the mechanics of a swing to help golf pros improve their game. In 2014, former Texas Woman's biomechanics graduate student Chris Como arguably landed the gig of a lifetime when he was selected to consult with Tiger Woods.
Since then, Como has helped other PGA Tour pros improve their swings, too. He visited the TWU Denton campus on Feb. 10 to film a segment for the Golf Channel program, Swing Expedition, which is now available for streaming (preview of the episode available here). The show features interviews with famous instructors and covers their unique teaching methods and philosophies.
For the segment recorded at TWU, Como visited with his former teacher, Young-Hoo Kwon, PhD, professor and director of the Biomechanics Laboratory in the School of Health Promotion & Kinesiology. The two spent time in the biomechanics lab analyzing golf swings, no doubt advancing theories that will help golfers at every level.
Media Contact
Matt Flores
Assistant Vice President, University Communications
940-898-3456
mattflores@twu.edu
Page last updated 8:38 AM, June 23, 2021