TWU professor leads effort to collect medical equipment to fight pandemic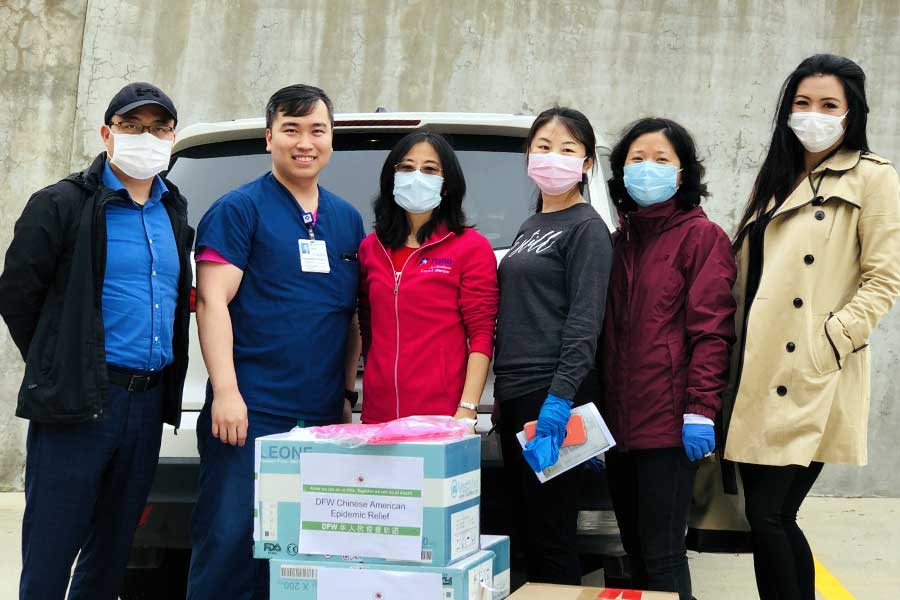 Sometimes, heroes really do wear masks.
That might be the best way to characterize Dr. Fuqin Liu during this coronavirus pandemic. Liu, an associate professor in TWU's College of Nursing in Denton, assembled a large cadre of North Texans to collect badly needed personal protective equipment for health care professionals who are responding to the crisis.
"We hear cries for help, but not every healthcare system is responding," said Liu, who frequently donates her time to assist the medically underserved.
Liu, a Chinese American, learned about the COVID-19 crisis early on because her brother works as a nurse in China. Aware of what was to come in America, Liu became vigilant in supporting healthcare professionals and their needs in the United States.

She knew the need for medical equipment during the global pandemic would escalate quickly and spearheaded an effort to create DFW CARE (Chinese American Relief for Epidemic), which raised funds and collected and distributed critical protective gear to area medical facilities. The organization wrapped up its collection and distribution campaign on April 25. In all, the group raised $239,500 and distributed 156,000 masks (including 70,000 KN95), 100,000 gloves, 3,000 goggles, 2,000 pieces of protective clothing, 600 isolation garments, and hundreds of barrels of sterile wipes.
The items were distributed to more than 100 hospitals, medical institutions, nursing homes and first-responder entities.

Liu reached out for help on March 17 using WeChat, a social media app popular within the Chinese culture, after speaking to a student whose medical facility was in desperate need of protective equipment.

Within a half hour, the WeChat group swelled to more than 100 members. A week later, the group grew to 500. Among those in it were more than 50 members who volunteered to distribute the equipment. The organization worked virtually nonstop for 40 days, with teams dedicated to everything from assessing needs to delivering the essential equipment, some of it to facilities as far away as Oklahoma.

"I would consider this a grassroots movement that has quickly turned into a little machine working together and running well," said Liu. "Everyone is so devoted. I would have never expected that it would grow to this size, but I think it's commendable how everyone has worked together."
Many volunteers, who themselves must wear protective equipment, knew only how one another looked with their masks on.
"I've never seen people so motivated," said Liu. "I don't know most of them, but the whole community is really caring and concerned."
In one week during the effort, DFW CARE delivered to six different hospitals in one week, including UT Southwestern Medical Center and the VA North Texas Health Care System in Dallas.
Liu said members were aware that questions arose about whether they were disrupting the supply chain by delivering the equipment. In many cases, the group was merely connecting medical facilities with existing vendors. In others, they leveraged personal contacts in China to find badly needed equipment some facilities couldn't wait for through the supply chain.

"We were working out of compassion and concern for the health and safety of front-line health care providers," Liu said. "We got to work with so many wonderful people.
Together, we fought for forty days and nights toward a common goal."
For more on Dr. Liu and her efforts, listen to her interview with KRLD.
Page last updated 3:42 PM, September 27, 2021