BS in Dental Hygiene (BSDH) Professional Entry-Level
Launch your career as a dental hygienist at Texas Woman's, one of the few universities in Texas to offer an accredited bachelor's degree in dental hygiene.
Program Features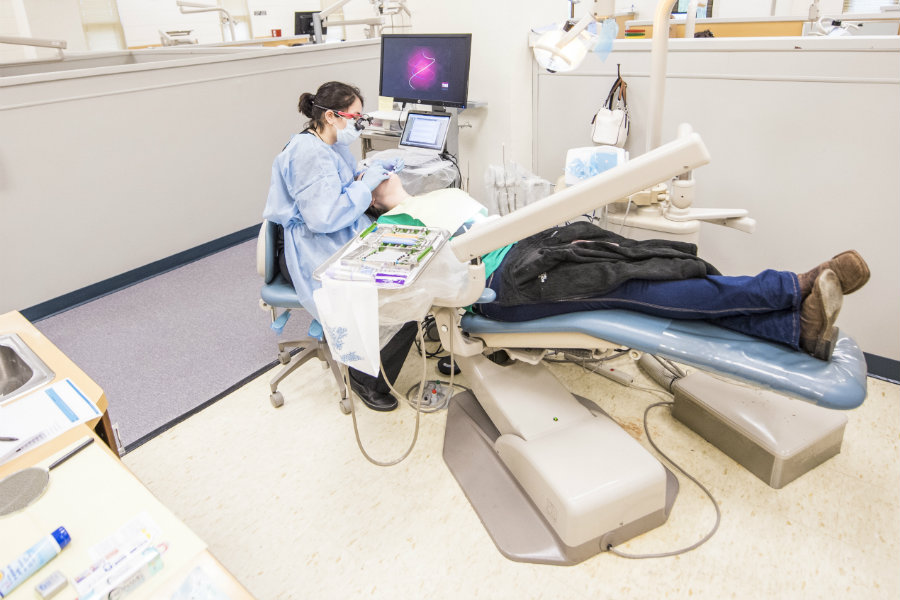 A full list of courses and requirements are available in the course catalog.
The BS in Dental Hygiene prepares graduates to take the National Board Dental Hygiene Examination and the Clinical State Board Examination and to apply for a license to practice through the Texas State Board of Dental Examiners. If you are a resident of another state, contact our department to determine whether our program fulfills requirements to apply for licensure in your home state.
*Individual requirements may vary.
Why study dental hygiene at TWU?
Experiential learning in TWU's Dental Hygiene Clinic
In TWU's Dental Hygiene program, you will be trained by experienced TWU faculty in our on-site Dental Hygiene Clinic, which provides low-cost teeth cleanings, X-rays, oral cancer screenings, teeth whitening and a variety of other services to the community. You will be supervised by licensed, experienced dental hygienists and dentists.
Dental hygiene students have the potential to be exposed to bloodborne pathogens. Refer to the TWU bloodborne pathogen policy.
Scholarship opportunities
Department of Communication Sciences & Oral Health has several scholarships available only to dental hygiene students. Visit the dental hygiene scholarship opportunities site for information on specific scholarship and how to apply.
Supportive student organization
I chose TWU for the environment of the campus, the unique learning opportunities and the excellent services TWU provides for students. Through the professional entry-level dental hygiene program, I have been able to learn and care for populations in unique settings - even in Guatemala.
Career Opportunities
A bachelor's degree in dental hygiene opens career paths including:
Salary data provided by the U.S. Bureau of Labor Statistics. Find more information on dental hygiene careers through the American Dental Hygienist Association.
You also have the option of continuing your education and boosting your future earning potential with a graduate degree in Health Studies with a Dental Hygiene Focus.
*Job outlook for 2016-26 rated as much faster than average.
**Job outlook for 2016-26 rated as faster than average.
Frequently Asked Questions
What is the date range of the application process?
Applications for the Professional Entry-Level Program are accepted each year between Nov. 1 and Jan. 10 for summer entry. Applicants who are not current TWU students are strongly encouraged to apply to TWU by mid-December to be able to meet the program application deadline.
What is the minimum GPA requirement?
An applicant must have a cumulative college GPA of at least 3.0.
Which courses need to be taken before applying to the program or starting the program?
The foundational courses listed below MUST be completed before applying to the Dental Hygiene Professional Entry Program. Grades in these courses, including grades in repeated attempts, will be used to calculate a foundational GPA that will be used in the selection process.
English Composition I

English Composition II

Anatomy & Physiology I (or Anatomy I) + Lab

Anatomy & Physiology II (or Physiology I) + Lab

Microbiology + Lab

Nutrition

Statistics
Students must complete all prerequisite and core coursework prior to the first summer semester in the professional-entry program.
Is there a time limit for courses taken?
The foundational science courses and chemistry must have been completed within the past five years.
Is the HESI or shadowing hours required to apply?
Currently the TWU Dental Hygiene Program does not require applicants to sit for an entrance exam or admissions assessment before applying to the program, such as the HESI examination. We encourage applicants to have shadowing hours, but that is not a requirement for admission into the program.
How do I get information about the program before applying?
Current TWU students should meet with their academic advisor each semester to ensure that they are on track. More information can be found on our website and in the undergraduate catalog. If you still have questions, email csohadmissions@twu.edu.
What do I do if I cannot access the program application?
To complete the program application between November 1 and January 10, applicants must first create their TWU Pioneer Portal account and be logged in to their TWU Google Drive account using their TWU email address and Pioneer Portal password.
Admission statistics: How many apply to the program and how many are admitted each year?
The program typically receives over 140 applicants each year. Approximately 50 applicants are offered an interview, and 28 students are admitted each year.
What is the average GPA of admitted students?
The average foundational GPA of applicants initially offered admission to the program is 3.79 with a range of 3.44 to 4.0.
Admissions Information
Undergraduate Admission
When you apply to TWU, we will evaluate your academic achievement and preparation, as well as your standardized test scores. Admission to TWU is valid for four terms, unless you have attended another higher education institution.
Check out the links below for specific admissions information:
Questions about the admissions process? Contact the Office of Admissions Processing.
Office of Admissions
Texas Woman's University
P.O. Box 425649
Denton, TX 76204-5649
oap@twu.edu
940-898-3076 or 1-866-809-6130 ext. 3076
Admission to the B.S. in Dental Hygiene (Professional, Entry-​Level Program)
The program admits once a year and begins in the summer semester. Applications are only accepted between Nov. 1 and Jan. 10
Requirements
Cumulative college GPA of at least 3.0
Good academic standing with the college or university last attended
Completed required foundational coursework with a C or higher before applying to the program. Foundational coursework consists of:

Anatomy I or A&P I (including lab)
Physiology I or A&P II (including lab)
Microbiology (including lab)
Nutrition
Statistics
English Composition I and II

Completed anatomy & physiology, microbiology, and chemistry within the past five years
Completion of 57 credit hours of undergraduate coursework before entering the program in the summer semester. Specific required courses are listed in the Degree Requirements and include all the courses listed under the Texas Core Curriculum and Other Requirements sections
Knowledge of professional ethics and the dental hygienist's role in healthcare

This requirement may be met through individual research, study and/or completing DH 1101
Students who do not meet these requirements will not be considered for admission into the Professional Entry-Level Program.
How to Apply
Apply to TWU by Dec. 1 to meet the program application deadline (if not currently attending)

Submit all transcripts (except TWU transcripts) to Admissions Processing to be fully accepted into the university
Program applications will not be considered until copies of all transcripts have been received and reviewed by the Office of Admissions Processing, which may take several weeks
Acceptance to TWU does not guarantee admission to the dental hygiene program

After acceptance to TWU, complete the online Professional Entry-Level Program Application

The program admits once a year and begins in the summer semester
Program applications are only accepted between Nov. 1 and Jan. 10
Applicants enrolled in courses at a college other than TWU during the fall application semester must submit an official transcript that includes those fall grades to the Office of Admissions Processing by Jan. 10
To access the program application, students must be fully accepted to the university, have their Pioneer Portal account set up, and be logged in to the TWU Google Drive account. For technical questions, contact the TWU Service Desk

Items from college transcripts will be needed to complete the program application and include:

Course names and dates for all foundational prerequisite and Texas core curriculum courses
Names of all colleges and universities you have previously attended and the dates attended
About the Selection Process
A foundational grade point average (FGPA) is computed using an applicant's grades in the foundational courses. Both the cumulative GPA and the foundational GPA will be considered in making selections.

The foundational GPA will average grades from all attempts within a specified time frame for each foundational course

Competitive applicants will be invited for a personal interview with a selection committee

Invitation to an interview does not guarantee a place in the program but serves as part of the selection process
All expenses of the interview are the responsibility of the applicant
Notification of interview invitation will be made by mid-February.
Knowledge of the role that professional dental hygienists play in healthcare, specifically oral healthcare, and awareness of the professional code of ethics of dental hygiene are critical during the interview process. Information regarding the professional code of ethics of dental hygiene can be located here: American Dental Hygienists' Code of Ethics.

All required core and prerequisite courses must be completed prior to entry into the program in the summer semester
Note: Selected students join a cohort for the professional-entry program, starting in the summer.
Accreditation
TWU's dental hygiene program is accredited by the Commission on Dental Accreditation and has been granted the accreditation status of "approval without reporting requirements." The Commission is a specialized accrediting body recognized by the United States Department of Education. The Commission on Dental Accreditation can be contacted at (312) 440-4653 or at 211 East Chicago Avenue, Chicago, IL 60611.
Program Goals
Accurately analyze total patient care assessment data, develop a comprehensive plan of action, apply evidence based implementation measures, and evaluate patient outcomes utilizing professional values and ethics. (Patient Care and Teaching)
Effectively assess, implement and evaluate the oral health needs of community based programs. To promote and support service activities that are essential to the profession of dental hygiene and to the public. (Service)
Effectively evaluate and analyze scientific literature as a basis for evidence based practice. (Research, Patient Care & Teaching)
Commission on Dental Accreditation Posting Form for Third Party Comments
For questions contact
Admissions Coordinator
csohadmissions@twu.edu
940-898-2870
Page last updated 11:11 AM, May 16, 2022