BS in Dental Hygiene (BSDH) Professional Entry-Level
Launch your career as a dental hygienist at Texas Woman's, one of the few universities in Texas to offer an accredited bachelor's degree in dental hygiene.
Program Features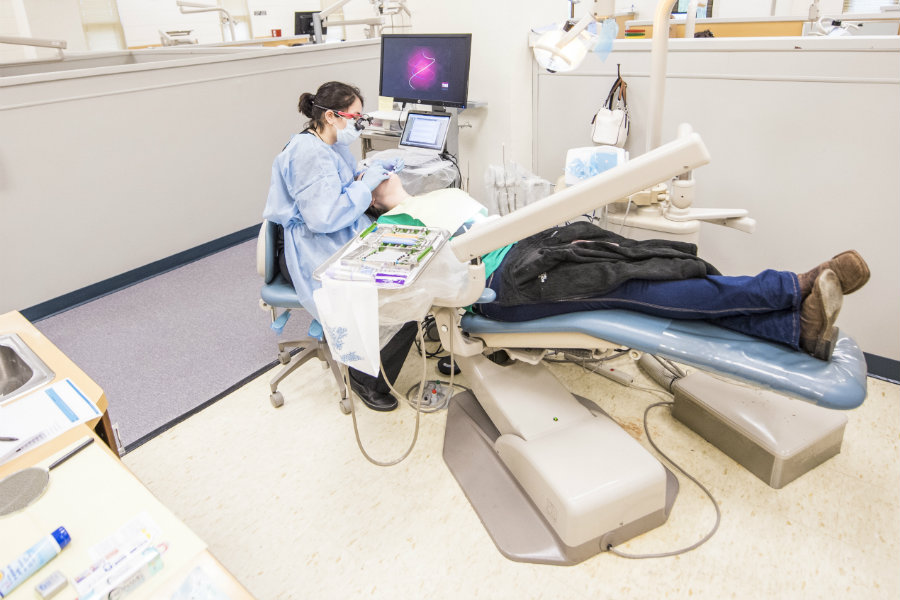 The BS in Dental Hygiene prepares graduates to take the National Board Dental Hygiene Examination and the Clinical State Board Examination and to apply for a license to practice through the Texas State Board of Dental Examiners. If you are a resident of another state, contact our department to determine whether our program fulfills requirements to apply for licensure in your home state.
*Individual requirements may vary.
Why study dental hygiene at TWU?
Experiential learning in TWU's Dental Hygiene Clinic
In TWU's Dental Hygiene program, you will be trained by experienced TWU faculty in our on-site Dental Hygiene Clinic, which provides low-cost teeth cleanings, X-rays, oral cancer screenings, teeth whitening and a variety of other services to the community. You will be supervised by licensed, experienced dental hygienists and dentists.
Dental hygiene students have the potential to be exposed to bloodborne pathogens. Refer to the TWU bloodborne pathogen policy.
Scholarship opportunities
Department of Communication Sciences & Oral Health has several scholarships available only to dental hygiene students. Visit the dental hygiene scholarship opportunities site for information on specific scholarship and how to apply.
Supportive student organization
I chose TWU for the environment of the campus, the unique learning opportunities and the excellent services TWU provides for students. Through the professional entry-level dental hygiene program, I have been able to learn and care for populations in unique settings - even in Guatemala.
Career Opportunities
A bachelor's degree in dental hygiene opens career paths including:
Salary data provided by the U.S. Bureau of Labor Statistics. Find more information on dental hygiene careers through the American Dental Hygienist Association.
You also have the option of continuing your education and boosting your future earning potential with a graduate degree in Health Studies with a Dental Hygiene Focus.
*Job outlook for 2016-26 rated as much faster than average.
**Job outlook for 2016-26 rated as faster than average.
Accreditation
TWU's dental hygiene program is accredited by the Commission on Dental Accreditation and has been granted the accreditation status of "approval without reporting requirements." The Commission is a specialized accrediting body recognized by the United States Department of Education. The Commission on Dental Accreditation can be contacted at (312) 440-4653 or at 211 East Chicago Avenue, Chicago, IL 60611.
Program Goals
Accurately analyze total patient care assessment data, develop a comprehensive plan of action, apply evidence based implementation measures, and evaluate patient outcomes utilizing professional values and ethics. (Patient Care and Teaching)
Effectively assess, implement and evaluate the oral health needs of community based programs. To promote and support service activities that are essential to the profession of dental hygiene and to the public. (Service)
Effectively evaluate and analyze scientific literature as a basis for evidence based practice. (Research, Patient Care & Teaching)
Commission on Dental Accreditation Posting Form for Third Party Comments
For questions contact
Penny Tomlinson
Admissions Coordinator
MCL 830
ptomlinson@twu.edu
940-898-2042
Page last updated 12:16 PM, June 13, 2019