RDH-to-BSDH - Online
Expand your career opportunities by turning your associate's degree into a bachelor of science in dental hygiene at Texas Woman's.
Program Features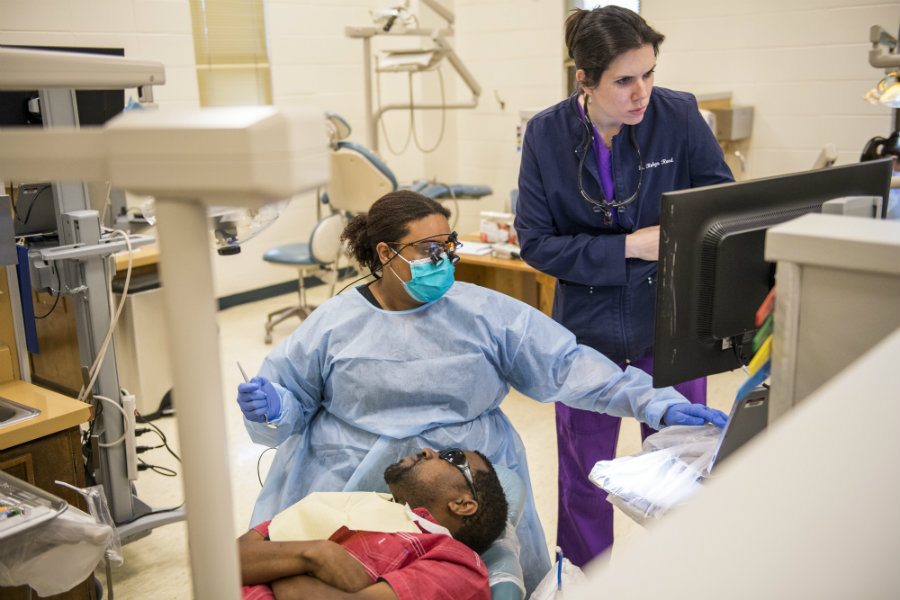 *Individual requirements may vary.
Why continue your dental hygiene studies at TWU?
A private school education at a public school price
Part of the Texas Woman's experience is keeping costs low and education quality high:
No. 2 in the state for adding value to

student's

earning potential, according to

The Economist Magazine

4th among all Texas public universities at keeping total college costs down, according to College for All Texans
For a breakdown of cost of attendance, check out our Tuition and Fees Estimator.
Apply courses to a master's degree in Health Studies
The RDH-to-BSDH program allows you to substitute two graduate-level courses for upper division undergraduate classes. Grades of a B or higher in the graduate courses can be applied to a TWU MS in Health Studies with Dental Hygiene focus.
Career Opportunities
A bachelor's degree in dental hygiene opens career paths including:
Salary data provided by the U.S. Bureau of Labor Statistics.
You also have the option of continuing your education and boosting your future earning potential with a graduate degree in Health Studies with a Dental Hygiene focus.
*Job outlook for 2016-26 rated as much faster than average.
**Job outlook for 2016-26 rated as faster than average.
Program Requirements
As a full-time student, you can complete the 120 required semester credit hours in as little as one year with:
90 transfer credit hours, including 84 lower-division community college credits
Minimum of 30 hours taken at TWU, including 18 hours of dental hygiene courses and 12 hours of core or electives
Additional requirements:
Earn a C or higher in all TWU dental hygiene courses
Complete the Texas core curriculum to earn your bachelor's degree.
A full list of courses and requirements are available in the course catalog.
Admission Requirements
Undergraduate Admission
Undergraduate admission to Texas Woman's University is based on a number of criteria including academic achievement, academic preparation and standardized test scores. An offer of admission from TWU is valid for four terms, if the applicant has not attended another institution of higher education. If students do not attend TWU within four terms, they must reapply, pay the application fee, and submit the appropriate credentials. Applicants who would like to make changes to an application should contact the Office of Admissions Processing or complete the Application Change form. For specific undergraduate admission requirements, please refer to the links below.
Contact Information
Admission to the R.D.H. to B.S. in Dental Hygiene (Online)
Requirements
Graduated from or currently enrolled in an associate's degree program accredited by the Commission on Dental Accreditation

Students are eligible for early entry into the RDH-to-BSDH program if they are in the final year of a dental hygiene program and obtain written approval from the current dental hygiene program director

Licensure as a dental hygienist

Early-entry applicants must submit a copy of their dental hygiene license after completing the associate's degree program and passing national board exams

A cumulative GPA of at least 3.0 on transferable college work (students may be admitted provisionally without a 3.0 GPA)
Regular access to a computer that meets standards compatible with TWU distance education and high-speed Internet access
How to Apply
Apply to TWU as a transfer student
After acceptance to TWU, apply to the dental hygiene RDH-to-BSDH program. To complete the program application, applicants must first create their TWU Pioneer Portal account and log in to their TWU Google Drive account using their TWU email address and Pioneer Portal password.
To complete the program application, applicants must submit:

A scanned copy of their dental hygiene license (except for early-entry applicants). Early-entry applicants need a letter of eligibility and support from the program director of the associate's degree dental hygiene program. Contact dh@twu.edu to request a copy of this specific form to be used.
A brief essay on their professional goals, including any information relevant to consideration of the application. The essay should include the applicant's name and student ID at the top of the form.

Program application deadlines (applicants should apply to the university prior to these deadlines):

Fall: Aug. 1
Spring: Dec. 15
Summer: May 15
For questions contact
Penny Tomlinson
Admissions Coordinator
MCL 830
ptomlinson@twu.edu
940-898-2042
Leslie Koberna, RDH, BDSH, MPH/HSA, PhD
Clinical Professor
RDH-to-BSDH Advisor
MCL 911E
lkoberna@twu.edu
940-898-2889
Page last updated 4:14 PM, June 14, 2019