MBA - Sport Management
In as little as 15 months and $17,000, you can have your MBA and be ready for the next step in your career. 100% online. No GMAT or GRE required.
Want to enter or advance your career as a leader in the sport industry? TWU's MBA in Sport Management teaches the skills needed to manage various operations in the ever-evolving and universal world of sports. If you are zealous about learning and applying business concepts in the sporting industry, this is the degree for you.
TWU also offers this degree plan as part of a 4+1, where you can earn both the BS in Kinesiology-Sport Management and MBA –Sport Management in an accelerated format.
Program Features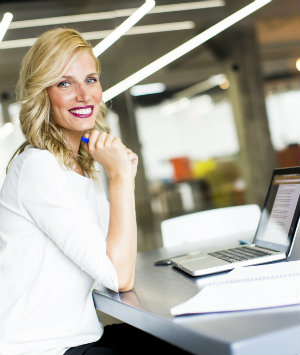 No GMAT or GRE required

Accelerated 7-week online class formats

100% online

Degree completion is as little as 15 months or 36 credit hours

*

TWU's

4+1 BS in Kinesiology and MBA program

:

Earn two degrees in just 5 years: your BS in Kinesiology-Sport Management + MBA (8 credit hours of MB core courses, plus 12 CHs in graduate-level Sport Management classes)*
*Individual requirements may add up to 9 credit hours of program prerequisites.
Why Sport Management at TWU?
Closing the gap of women leadership
Women are greatly underrepresented in leadership roles within the global sporting industry. Sport management is growing in Texas and no matter your gender, equal representation is important. TWU is addressing this gap.
Admissions Requirements
Admission to the TWU Graduate School
When you apply to the TWU Graduate School, we will evaluate your academic achievement and preparation, as well as your standardized test scores if required. All students must meet the University requirements as outlined in the Admissions to the TWU Graduate School. In addition, most graduate programs have additional admission requirements that must be completed. These requirements can be found on each graduate program website. After acceptance, you will need to begin your program within one year, unless a deferral has been approved by the program.
Check out the links below for specific admissions information:
*Admission to the Master of Business Administration
How to Apply
Apply for admission to the

TWU Graduate School.
Submit a

résumé

to mba@twu.edu.
No GRE/GMAT required
Application Deadlines
The College of Business admits students on a continual basis. Please contact the College for more information.
Program Contact
Margaret Young
Associate Dean for Academic Affairs and Director of Graduate Programs
mba@twu.edu
Admission Requirements
GPA of at least 3.0 for the last 60 hours of undergraduate coursework. For applicants who have completed post-baccalaureate or graduate coursework, a GPA of at least 3.0 for such coursework is also required.
Applicants with a GPA of at least 2.50 in the last 60 hours of undergraduate coursework may be considered for provisional admission. Students admitted under this provisional admission must earn a GPA of at least 3.0 on first nine graduate hours at TWU with no grade below "B". Failure to maintain this GPA may result in removal from the program.
Individuals applying to dual-degree programs must apply and be accepted to each program (both MBA and MHA)
Prerequisite coursework will be required of some students based on their desired course of study and previous academic and/or professional record.
Students are expected to be proficient in the current tools of Business: Microsoft Office suite of products (Word, PowerPoint, Excel, and Access). Admitted applicants that need to enhance their proficiency in any of these areas will have free tutorials available via Lynda.com.
For More Information
mba@twu.edu
940-898-2458
Learn more at one of our graduate information sessions.
Page last updated 4:25 PM, April 24, 2020