Bachelor of Science in Biology with Teacher Certification
Did you know?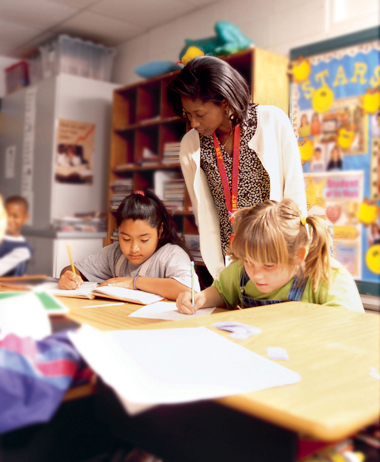 Science teachers are in demand.
In the state of Texas, science has been identified as a teaching shortage area. As a result, many schools now offer stipends and bonuses in order to recruit more teachers specializing in science fields. Texas teachers also may be eligible for student loan forgiveness through programs such as Federal Teacher Loan Forgiveness, TEACH for Texas Loan Repayment Assistance, Public Service Loan Forgiveness and Federal Perkins Loan Cancellation.
Texas educators must complete a bachelor's degree and certification exam in the area they would like to teach.
Our bachelor of science degree in biology with teacher certification leads to the completion of a Texas Secondary Teaching Certificate. Prospective educators majoring in biology may choose from three certification tracks, including grades 4-8 science, grades 7-12 composite science and grades 7-12 life science.
Degree details
Degree plans (programs of study)
Admission requirements
Undergraduate Admission
When you apply to TWU, we will evaluate your academic achievement and preparation, as well as your standardized test scores. Admission to TWU is valid for four terms, unless you have attended another higher education institution.
Check out the links below for specific admissions information:
Questions about the admissions process? Contact the Office of Admissions Processing.
Office of Admissions
Texas Woman's University
P.O. Box 425649
Denton, TX 76204-5649
oap@twu.edu
940-898-3076 or 1-866-809-6130 ext. 3076
Admission to the Educator Preparation Program
Teacher Certification
In addition to the general undergraduate admissions requirements, to obtain acceptance into the undergraduate Educator Preparation Program (and prior to taking EDUC 3003, EDUC 3482, EDUC 4113, EDUC 4243, and Clinical Student Teaching) students must have:
A cumulative GPA of 2.75

(includes all courses, whether posted to TWU transcript or used on a degree plan. Excludes developmental and repeated courses);

Completed EDUC 2003 with a C or higher;

Demonstrated basic skills in reading, written communication, and mathematics by meeting the requirements of the Texas Success Initiative;

Completed the Digital Literacy Pre-assessment;

Successfully completed a pre-admission departmental interview with an interview panel;

A minimum of 12 to 15 semester credit hours in the subject-specific content area for the certification sought;

Completed department application for admission to the Educator Preparation Program;

Completed a Commitment Contract acknowledging awareness and understanding of the Professional Dispositions Policy and Educators' Code of Ethics;

Submitted a non-refundable Texas Education Agency Fee; and

Acknowledged and accepted admission to the Educator Preparation Program.
Please note:
All accepted students must maintain the admission requirements to remain in the TWU Education Preparation Program.

Admission requirements are determined by Texas Education Agency policies and are subject to change without notice.

Students seeking Bilingual certification must meet minimum proficiency in Spanish.
Students seeking Deaf/Hard of Hearing certification must meet minimum proficiency in sign.
Contact the Office of Educator Preparation Services (OEPS) at copeadvising@twu.edu or 940-898-2829 with any questions.
Need more information?
Contact Mandy Biggers, Ph.D., at mbiggers2@twu.edu or 940-898-2790, or fill out the following form:
The BS in Biology with Teacher Certification prepares educator candidates for the Texas Examinations of Educator Standards (TExES) exam (State Board for Educator Certification through the Texas Education Agency). If you are a resident of another state, contact the Office of Educator Preparation Services to determine whether our program fulfills requirements to take the certification exam in your home state.
Page last updated 12:26 PM, June 7, 2021