Undergraduate Program
Earn your bachelor of social work degree at TWU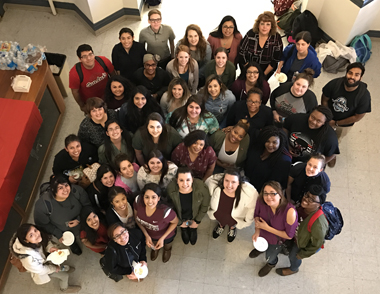 The undergraduate social work program at Texas Woman's University is accredited by the Council on Social Work Education. Our program is based on the generalist model and includes theoretical concepts, values and skills taught through participation in classroom, laboratory and field settings.
Our bachelor of social work (BSW) curriculum incorporates five main areas of study:
Human behavior and the social environment
Social welfare and social policy
Methods and skills of intervention
Research
Field experience
Content on values and ethics, diversity, populations at risk, and social and economic justice is infused throughout our undergraduate curriculum.
Field education
As a social work major, you will gain valuable field experience through placement at local social service agencies, under the direct supervision of a qualified social worker. Learn more about our undergraduate field education opportunities, including our Title IV-E child welfare training program.
Degree details
Master of social work (MSW)
The Joint MSW program between TWU and UNT will dissolve May 31, 2024. No additional students will be admitted to the Joint MSW program. TWU will offer a master of social work (MSW) beginning in Fall 2024. Admissions to the newly created TWU MSW program will open at a later date.
Admission requirements
Undergraduate Admission
When you apply to TWU, we will evaluate your academic achievement and preparation, as well as your standardized test scores. Admission to TWU is valid for four terms, unless you have attended another higher education institution.
Check out the links below for specific admissions information:
Questions about the admissions process? Contact the Office of Admissions Processing.
Office of Admissions
Texas Woman's University
P.O. Box 425649
Denton, TX 76204-5649
oap@twu.edu
940-898-3076 or 1-866-809-6130 ext. 3076
Admission to the Bachelor of Social Work
All applicants must meet the general undergraduate admission requirements.
All students interested in majoring in social work are encouraged to apply. Students must complete the following steps, prior to being admitted into the undergraduate social work program.
Apply to TWU. Go to ApplyTexas and select Bachelor of Social Work as your declared major. If you have already been accepted to TWU and would like to change your major to social work, please complete a Change of Major Form and have the social work program director sign the form.
Attend a scheduled social work program orientation. Orientations are held periodically during the fall and spring semesters. During orientation, students will sign a statement indicating awareness of and adherence to the NASW Code of Ethics and other program requirements. You will also provide your TWU ID number so that the social work program academic advisor can evaluate your GPA and completed semester credit hours. Please note, students must be core complete or close to core complete and have a 2.5 cumulative GPA in order to start social work courses.
Meet with the social work program academic advisor. The Academic advisor will schedule an appointment to meet with you to discuss your status. During the advisement appointment, the academic advisor will provide first-semester registration codes for students who are eligible to start courses. Students who are not eligible to start social work courses will be advised on the specific courses they need to take in order to become eligible. Students will also be provided a projected semester start date.
Complete and submit a social work program application. Students will officially apply to the social work program in SOWK 3513, midway through the semester. You will be able to access the application via your SOWK 3513 Canvas shell. This application should reflect a student's professional readiness and emotional suitability for social work practice education. Such qualifications include a service orientation to others, tolerance of diversity, an inclination toward participation in the promotion of social, economic, and environmental justice, respect for conditions of human need, professionalism, and leadership.
Receive an email from the social work program director. After the Admissions Committee has reviewed your application, you will receive an email from the program director detailing the admissions decision. The admissions committee (comprised of social work program faculty and staff) will rule in one of three ways:

Unconditional acceptance to the social work program – A student satisfies both academic and non-academic guidelines. An adviser is assigned and the student is informed of the need to meet with the adviser.
Conditional acceptance to the social work program – A student is found to have deficiencies that are considered needing remediation in either academic or non-academic areas. Conditional admission contracts are developed with both the faculty and the student.
Denied admission – A student is found to have deficiencies that are considered being beyond immediate remediation in either academic or non-academic areas.
Online resources
For additional information about the practice of social work, we recommend the following online resources:
Contact us
Advising
Leah Edwards
Academic Advisor I
Office: CFO 1207A
Phone: 940-898-3852
Email: ledwards11@twu.edu
Schedule an appointment with Leah
University and program information
Page last updated 9:35 AM, April 27, 2023