PhD in Nutrition
Earn your PhD in Nutrition at Texas Woman's and prepare for a career in academia or research.
Program features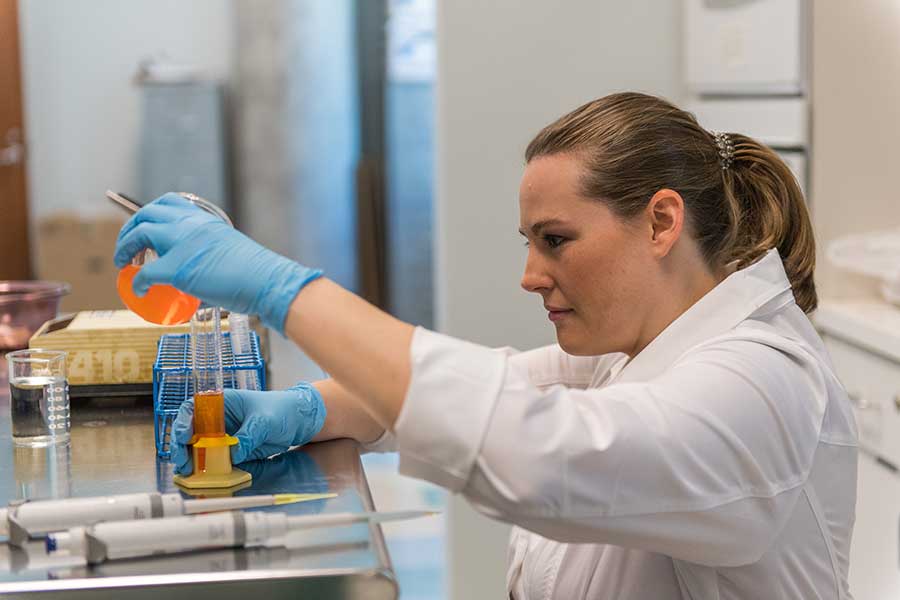 Degree completion in 90 credit hours*
High quality, affordable education and career preparation
Study and research nutrition and human metabolism, clinical nutrition, and applied nutrition or nutrition in the life cycle
Dissertation is required
5:1 doctoral student-faculty ratio at TWU
Scholarship recipients receive in-state tuition
Courses take place on TWU's Denton campus and Houston campus
*Individual requirements may vary.
Why Nutrition at TWU?
Research opportunities
Participate in research with TWU faculty in any of the on-campus laboratories. Currently, funded research includes:
Evaluating the flavor associated compounds in strawberries in an attempt to identify attributes associated with U.S. taste preferences

Studying watermelon to identify the specific agents contributing to flavor

Examining mushroom for their flavor notes and role they may play in satiety and their potential role in weight control
Program requirements
In this program, you will complete a total of 90 semester credit hours beyond the bachelor's degree, including:
11 credit hours of required courses

12 credit hours of research tools

10 credit hours of additional courses for the Doctor of Philosophy in Nutrition

Six credit hours for dissertation

An oral final exam that includes

defense of the dissertation and research it is based on
An additional nine courses are required for the emphasis in Food Science and Flavor Chemistry option and included courses in:
Biology

Chemistry, and/or

Physics
A full list of courses and requirements are available in the course catalog.
Admission requirements
Admission to the Ph.D. in Nutrition
Program Contact
Monique LeMieux, Ph.D.
940-898-2712
mlemieux@twu.edu
Application Deadlines
Fall — June 15
Spring — October 1
Summer — April 1
* Our department has rolling admission for all of our graduate programs; however, to ensure a proper start time, we recommend having your application completed by the dates listed above.
Admission Requirements
Undergraduate semester credit hour prerequisites, including:

Chemistry, including Organic and Biochemistry (9-12 hours)
Human Anatomy and Physiology (3-4 hours)
Introduction to Nutrition (3 hours)
Upper-level Nutrition: Macronutrients and Micronutrients and Nutrition through the Lifecycle (6-9 hours)

MS degree (or equivalent to US MS degree) and exhibit research experience that is equivalent to a thesis.
Minimum 3.5 GPA (4.0 scale) for the last 60 semester credit hours and all post-baccalaureate and graduate coursework.
The GRE is not required.
Applicants who meet all other requirements but lack up to 9 semester credit hours of prerequisite undergraduate courses may be admitted provisionally to this program. They will complete all 9 semester credit hours during the first two semesters of graduate work.
How to Apply
Apply for admission to the TWU Graduate School.
Collect and submit the following documents as separate PDF files in ONE email to NFSGradAdvising@twu.edu with the subject line (YOUR FULL NAME)-Doctoral Program. Please attach all items as PDFs.

Statement of purpose (one to two pages) that includes reasons for undertaking graduate work, explanation of study and research interests (including desired advisor), research/work experience, and professional goals.
CV or resume providing evidence of prior education, work experience, and research experience (PDF). Research experience should include any prior presentations or publications to which the applicant made significant contributions as well as any expertise in research techniques.
Two letters of reference. At least one must be academic in nature.
For more information
Monique LeMieux, PhD
Associate Professor
SRC 204
mlemieux@twu.edu
940-898-2712
Nutrition PhD Handbook 2022-2023 (PDF)
Page last updated 9:01 AM, January 23, 2023