Ph.D. in Nutrition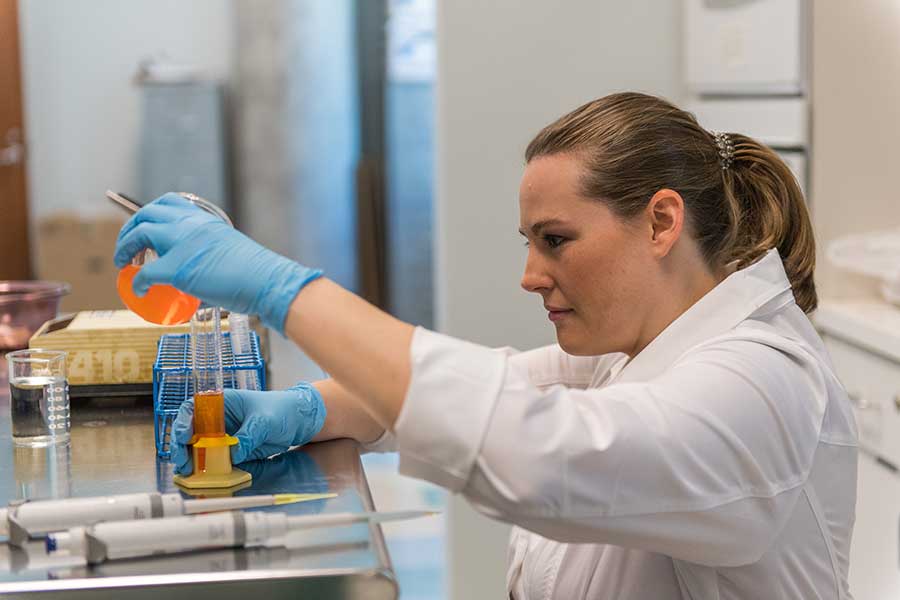 This program offers graduate-level courses in nutrition and human metabolism, clinical nutrition, and applied nutrition or nutrition in the life cycle. A dissertation is required.
This program is offered on our Denton and Houston campuses.
Careers & Salaries
If you are looking for a career as a university educator, research scientist or specialized professional within the field of nutrition, this is the degree program for you. Salaries vary widely, depending on which career focus you pursue after earning your Ph.D.
Why Nutrition at TWU?
As a doctoral student in this program, you will learn how to think like a critical, independent scientist. Our faculty members are pioneers in their fields. They will empower you to perform research of interest to you and conduct collaborative research with other departments, including:
Health Promotion and Kinesiology
Communication Sciences and Oral Health
Program Requirements
In the PhD in Nutrition program you will:
Complete the core requirements for the Nutrition & Food Sciences program
Submit a degree plan to the TWU Graduate School for approval
Submit a Ph.D. Qualifying Exam Application 2016-17 to the chair of the Ph.D. committee (after your degree plan is approved)
Pass the qualifying exam within six months of completing the core and research tool courses
See full program requirements in the Graduate Catalog.
Admission Requirements
Admission to the TWU Graduate School
When you apply to the TWU Graduate School, we will evaluate your academic achievement and preparation, as well as your standardized test scores if required. All students must meet the University requirements as outlined in the Admissions to the TWU Graduate School. In addition, most graduate programs have additional admission requirements that must be completed. These requirements can be found on each graduate program website. After acceptance, you will need to begin your program within one year, unless a deferral has been approved by the program.
Check out the links below for specific admissions information:
*Admission to the Ph.D. in Nutrition
Program Contact
Application Deadlines
Fall — June 15
Spring — October 1
Summer — April 1
Admission Requirements
Undergraduate semester credit hour prerequisites, including:

Chemistry, including Organic and Biochemistry (9-12 hours)
Human Anatomy and Physiology (3-4 hours)
Introduction to Nutrition (3 hours)
Upper-level Nutrition, Advanced Nutrition: Macronutrients and Micronutrients and Nutrition through the Lifecycle (6-9 hours)

MS degree (or equivalent to US MS degree) and exhibit research experience that is equivalent to a thesis.
Minimum 3.5 GPA (4.0 scale) for the last 60 semester credit hours.
Preferred minimum GRE score of 153 verbal and 146 quantitative; MCAT total score of 500-507 (125-126 critical analysis/reading; biological and biochemical foundations of living systems: 125-126); or GMAT 430 total or verbal score of 27 and quantitative score of 23.
Applicants who meet the above criteria with exception of GPA may qualify for provisional admission if they have at least a 3.0 GPA (4.0 scale) on the last 60 semester credit hours.
How to Apply
Apply for admission to the TWU Graduate School.
Take the GRE General Test and submit your GRE scores to TWU (or alternate test identified above.)
Collect and submit the following documents as separate PDF files in ONE email to the Program Coordinator with the subject line (YOUR FULL NAME)-Doctoral Program. Please attach all items as PDFs.

Statement of purpose (one to two pages) that includes reasons for undertaking graduate work, explanation of study and research interests, work experience, and professional goals.
CV or resume providing evidence of prior education, work experience, and research experience. Research experience should include any prior presentations or publications to which the applicant made significant contributions as well as any expertise in research techniques.
Page last updated 3:55 PM, July 18, 2019