MS in Food Science and Flavor Chemistry
In as little as 2 years, you can earn your master's and be prepared for a career as a flavor chemist, developing new flavors and reformulating old ones.
Program features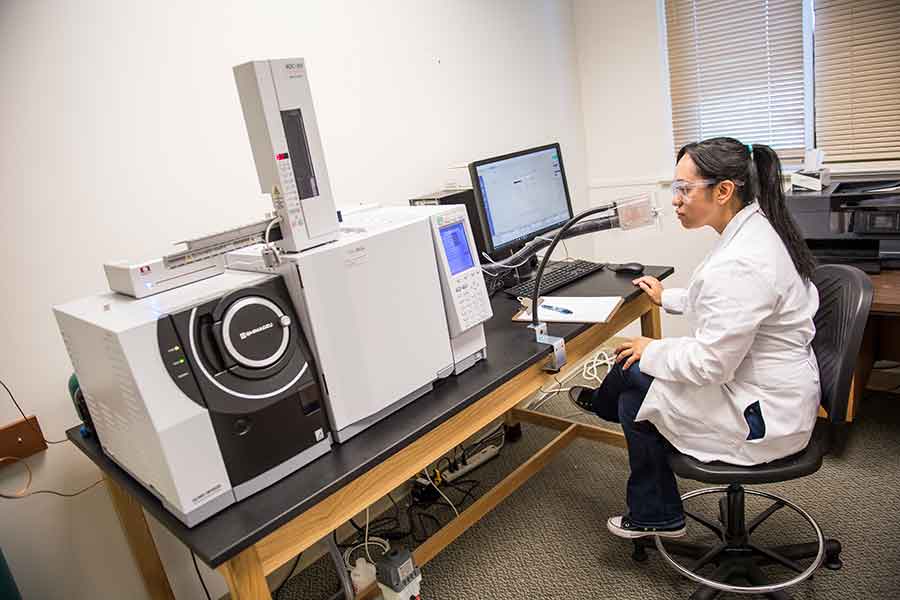 Degree completion in as little as 2 years, or 30 credit hours*

High quality, affordable education and career preparation

Study

food and flavor chemistry, sensory evaluation and food analysis

Small classes with

accessible, knowledgeable and supportive faculty

, including flavor scientists and an emulsion chemist

Scholarship recipients receive in-state tuition
Courses take place on TWU's Denton campus
*Individual requirements may vary.
Why Food Science and Flavor Chemistry at TWU?
Study in TWU's state-of-the-art food science laboratories
Get hands-on experience using unique equipment used in industry labs, including gas chromatography/mass spectrometry-olfactometry equipment and a microfluidizer that is one of the few available in the United States.
Research opportunities
Flavor chemists study food and break down food compounds scientifically so their taste and aromas can be replicated in the lab, developing new flavors and reformulating old ones.
Over the past two years, TWU has been awarded more than $700,000 in research studies by national food and beverage companies, including Dr. Pepper Snapple. Our flavor chemistry students perform the research in support of these studies:
Evaluating the flavor associated compounds in strawberries in an attempt to identify attributes associated with U.S. taste preferences

Studying watermelon to identify the specific agents contributing to flavor

Examining mushroom for their flavor notes and role they may play in satiety and their potential role in weight control
Career opportunities
Flavor chemists work in the government and private sectors. Companies that focus on pets, pharmaceuticals, cosmetics, food and beverages hire flavor chemists to work in areas such as:
Production
Regulatory control
Quality assurance
Research and development
Salaries in these fields vary widely. The Bureau of Labor Statistics lists a median annual income of $73,450 per year for food scientists and technologists.
Program requirements
In this program, you will complete:
Total of 30 semester credit hours

Thesis project
You may also declare a minor with this program.
A full list of courses and requirements are available in the course catalog.
More information and policies about the program are available in the 2022-23 student handbook.
Admission requirements
Admission to the M.S. in Food Science and Flavor Chemistry
Program Contact
Xiaofen Du
940-898-2667
xdu@twu.edu
Application Deadlines
Fall — June 15
Spring — October 1
Summer — April 1
* Our department has rolling admission for all of our graduate programs; however, to ensure a proper start time, we recommend having your application completed by the dates listed above.
Admission Requirements
Undergraduate semester credit hour prerequisites, including

Chemistry (9-12 hours)
Food Science (6-9 hours)

GRE is not required.
Minimum 3.25 GPA on a 4.0 scale for the last 60 undergraduate semester credit hours and all post-baccalaureate and graduate semester credit hours.
Applicants who meet the above criteria with exception of GPA may qualify for provisional admission if they have at least a 3.0 GPA (4.0 scale) on the last 60 undergraduate semester credit hours. If the applicant has previously earned graduate credits from TWU or another regionally accredited graduate program, the first 12 credit hours completed will be considered in lieu of the last 60 undergraduate hours.
Applicants who meet all other requirements but lack up to 9 semester credit hours of prerequisite undergraduate courses may be admitted provisionally to this program. They will complete all 9 semester credit hours during the first two semesters of graduate work.
How to Apply
Apply for admission to the TWU Graduate School.
Submit A two-page personal statement of interest specific to the area of flavor chemistry as a PDF file to NFSGradAdvising@twu.edu with the subject line (YOUR FULL NAME)-M.S. in Food Science and Flavor Chemistry.
For more information
Xiaofen Du, PhD
Assistant Professor
OMB 301
xdu@twu.edu
940-898-2667
Page last updated 4:06 PM, February 23, 2023