TWU Book Series launches first publication with author event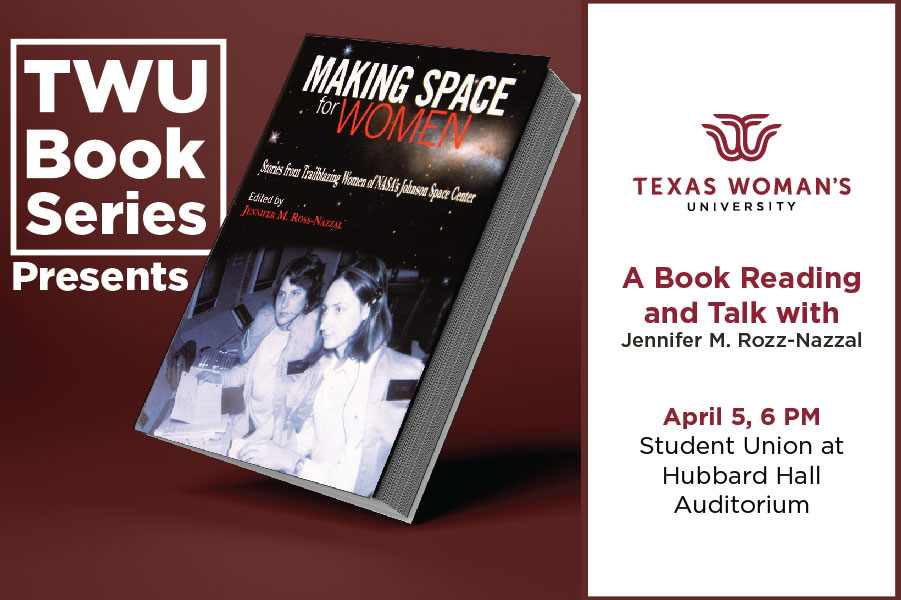 March 14, 2022 – DENTON – Texas Woman's University is celebrating the publication of Making Space for Women: Stories from Trailblazing Women of NASA's Johnson Space Center, the first book in the TWU Book Series, with a reading and talk by author Jennifer M. Ross-Nazzal on Tuesday, April 5, 2022, at 6 p.m. in the Student Union at Hubbard Hall Auditorium. The event is free and open to the public.
From the creation of the Manned Spacecraft Center to the launching of the International Space Station and beyond, Making Space for Women explores how careers for women at Johnson Space Center have changed over the past 50 years as the workforce became more diverse and fields once closed to women—the astronaut corps and flight control—began to open. Ross-Nazzal has selected 21 interviews conducted for the NASA Oral History Projects, including those with astronauts, mathematicians, engineers, secretaries, scientists, trainers, managers and more. The women featured not only discuss leadership, teamwork and the experiences of being "the first," but reveal how the role of the working woman in a predominantly white, male, technical agency has evolved.
Under the guidance of the Jane Nelson Institute for Women's Leadership at Texas Woman's University, and funded in part by the generosity of Nancy P. and Thaddeus E. Paup, the TWU Book Series is an interdisciplinary project celebrating the personal and public lives and work of courageous trailblazing women in fields such as the arts, sciences, politics, business, education, the military, health sciences and community service. It works with authors focusing on women's leadership, the untold stories of courageous women and matters affecting the lives of women. A sponsoring institute for Texas A&M Press, books developed as part of the series are passed to Texas A&M Press for peer review.
"We are thrilled with the publication of this first book in the series and are looking forward to our upcoming publications as well," said Sneha Bharadwaj, PhD, general editor. "The book series also is accepting book proposals, so we encourage interested authors to apply."
For more information on the TWU Book Series, visit https://twu.edu/twu-book-series/.
The Jane Nelson Institute for Women's Leadership at Texas Woman's University is dedicated to preparing more women to take on successful roles in business and public service. Its three specialized centers—Center for Student Leadership, Center for Women Entrepreneurs and Center for Women in Politics & Public Policy—ensure women have the education to establish careers as successful C-suite executives, the skills for building entrepreneurial businesses and the framework needed to run for public office.
Media Contact
Ray Willhoft
Director of Communications, Jane Nelson Institute for Women's Leadership
940-898-4584
rwillhoft@twu.edu
Page last updated 8:57 AM, March 14, 2022